Matthew D. Cohen
by
Jonathan from Irvine
Matthew held his staff aloft before him like Charlton Heston and cried out, "That's my brother!"
My brother Matthew and I grew up in New York City, in the 1980's. In high school, he began to drift away from my family. He grew his hair long, was rebellious, went to Renaissance fairs – in short, did everything that got my father's goat. My father wondered if Matthew was going to become a "bum." His outlook was not improved when my brother came back from a festival with a floor-length hooded loden wool cape and a six-foot-long bamboo staff. Matthew wore the cape and carried the staff outside in public; it was Manhattan, so nobody except my parents and the doorman to our apartment building even noticed.
In April of 1988, I came home for Passover by train from college in Connecticut, and arrived in New York's Pennsylvania Station. As soon as I exited from the car, I was swept up in a group of about twenty men, all trying to tear my heavy duffel bag out of my hands or slip their hands into my pockets, crying "He's mine, man!" "No, he's mine." A polite one went so far as to say, "Allow me to take your bag, sir." I was cut off from the rest of the passengers. I and my entire crowd of pickpockets and duffel-bag-thieves made our way up the stairs into the main waiting room. On the white marble stairs of the main waiting room, illuminated from behind, stood Matthew, wearing his cape, bearing his staff. Matthew held his staff aloft before him like Charlton Heston and cried out, "That's my brother!" He bounded down three steps at a time, the staff held before him at an angle, until he reached me. As he reached me, the small crowd of petty criminals scattered. Matt grabbed my duffel bag, threw it over his shoulder, and effortlessly bounded up the stairs and out of the building. I followed as fast as I could, panting as I tried to run up the steep stairs. Outside, I was about to hug Matthew when one of the duffel-bag-thieves came out of the door. "Why you give your business to this man?" he asked. "He's my brother," I replied. Matt's staff twitched a little, and the man opened the door of the station, spit in disgust, and slipped back inside. Matt and I finally did hug. Together, he and I crossed the street, and we walked happily underneath the blue sky towards our parents' apartment.
Matthew was a hero on several levels that day. On the obvious side, he risked life and limb to get me out of that waiting room. For all he knew, some of those people could have been armed. Second, I had thought that he was going to attack the people who had tried to rob me. He could have; he had a black belt in Aikido. Instead, he chose to rescue me without using violence of any kind; all he used was the element of surprise and the shock of his appearance. Third, Matthew had spontaneously showed up to meet me at the train station without telling me. Considering the state of our family at the time, this was a gesture of love which should have taught us that Matt's loyalty transcended his appearance.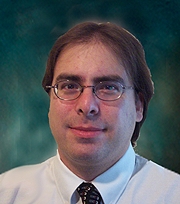 My brother lives in Minnesota now. Paradoxically enough, he has taken over the role of the solid, sensible son in the family. He has an important job, flies around the country on business, and he wears a tie to work every day. Still, I know that he is the same person he was when he was wearing tie-dyes and listening to the Grateful Dead: the one who saved me.
Page created on 8/8/2005 12:00:00 AM
Last edited 1/5/2017 11:11:38 PM
The beliefs, viewpoints and opinions expressed in this hero submission on the website are those of the author and do not necessarily reflect the beliefs, viewpoints and opinions of The MY HERO Project and its staff.