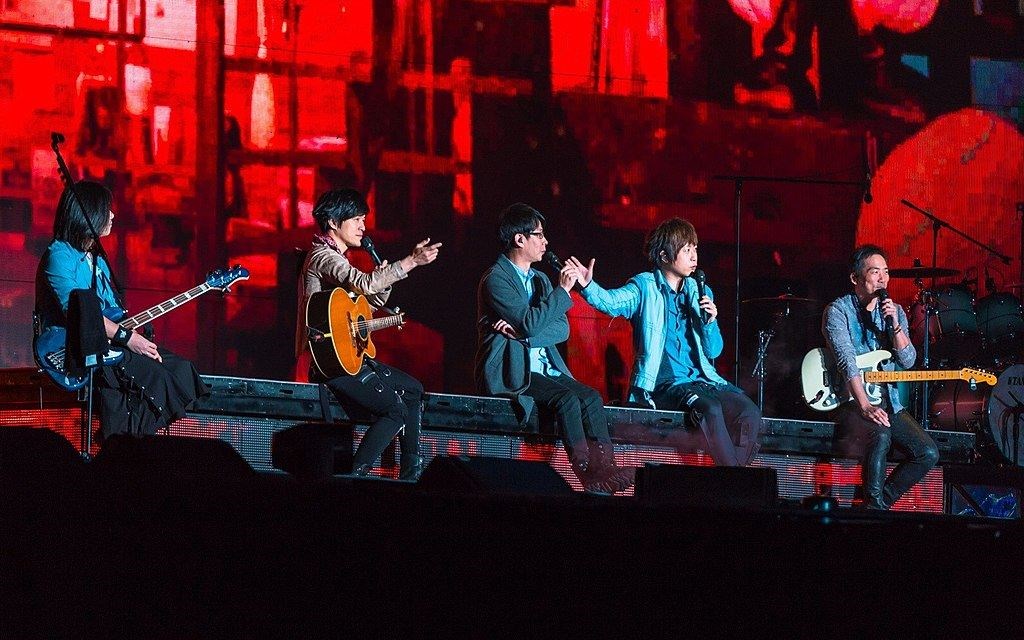 大梦谭 (Englishtan) / CC BY (https://creativecommons.org/licenses/by/2.5)
Mayday is a Taiwanese band with five people, and they are famous around the world. The members of the band are Ashin (singer), Monster (guitarist and regimental commander), Stone (guitarist), Masa (bassist) and Ming (drummer). They wrote a lot of songs. The band started in 1997, and they have created over 100 songs. At first, they were just five teenagers who loved playing in the band, but they tried hard and did their best to make themselves famous. Their music has been described by the outside world as "positive rock music," and never think rock is about clenching fists and being cynical. Their concerts are lively, enthusiastic and earn tears, and the theme of the song is inseparable from love, dreams and courage. They also care about public welfare and donate a lot of money to child education, disasters, elderly care, and health.
History
In the summer of 1997, the five boys who played band together during high school were not sure whether they should take the music route. At first, they sang songs in a pub, and the only audience was the owner of the pub. Before Yetai stage (野台開唱活動) started, the guitarist Stone joined the band. In order to sign up for the stage singing, they used Masha's online BBS code "MAYDAY" as the group name. It was officially renamed "MayDay" on March 29, 1997 and that day is the band's anniversary. MayDay is deeply influenced by the Beatles, and believes that rock music has the power to change the world and conveys the faith of love and peace.
On July 7, 2000, the band released the second studio album "Long Live Love," which has sold more than 350,000 copies. Because of the album, MayDay won the 12th Golden Melody Award for Best Band in 2001.
Their original intention
MayDay thinks that people will feel bad if they only care about themselves, not others. If you think of friends and family, in fact, everyone will be with you. "When I think of them, I feel warm and powerful, and once I grit my teeth, I pass." The friendship makes MayDay not only cooperate in music creation, but also create important power to support each other. For them, the best thing in their life is not to have a record and a concert, but to have these rare, super good friends.
MayDay also faced difficulties. For them, 99% of the creations are failures, because the creation is a result of 100% of your hard work, and only one result will be achieved in the end. So every time they finish the lyrics, they have to face the failure of 99 sentences. They believes that if people can deal with their own failures throughout their lives, even if they are not talented enough, but can get along with their own failures the best, the more they will continue to go after the success.
Their songs and stories touch me a lot, telling us to never be afraid of failure. Their friendship deeply touches me and changes my impression of rock music. Thanks for their passion to let me stand up when I want to give up.
Reference: CommonWealth (天下雜誌), Wikipedia
Page created on 5/8/2020 12:47:26 AM
Last edited 7/12/2020 7:31:34 AM