Courtesy of Comedy Central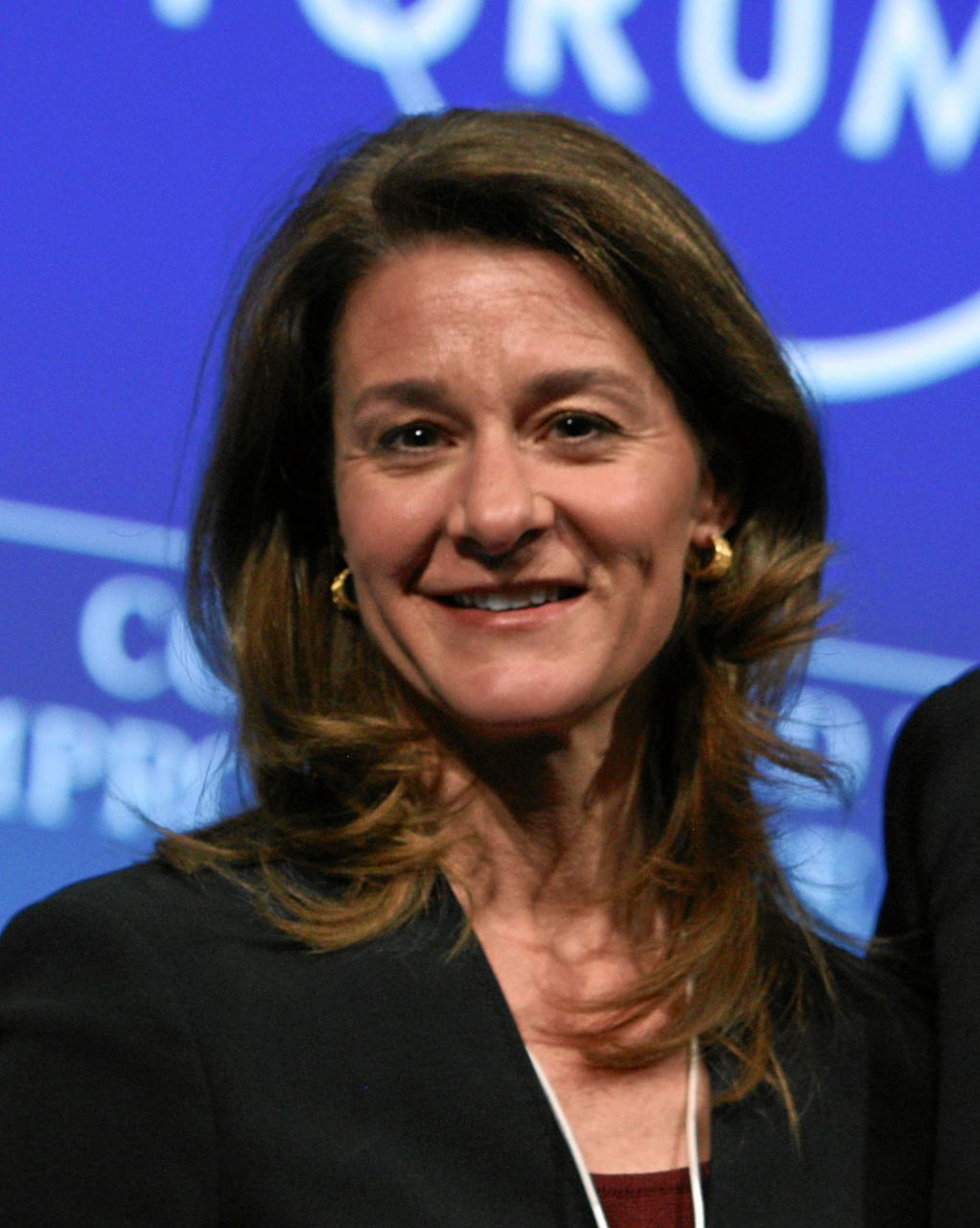 Melinda Gates - World Economic Forum Annual Meeting 2011Copyright by World Economic Forum (Wikimedia commons).
Update:
In late 20222, Gates formed a nonfiction imprint with Flatiron Books, a division of Macmillan, called Moment of Lift Books.
Said Gates:
While we've made tremendous progress towards gender equality in recent decades, the COVID-19 pandemic continues to disproportionately affect women's lives and livelihoods. As the world works to advance an equitable recovery, Moment of Lift Books will publish visionaries who are helping ensure women's voices and perspectives are not left behind. I hope their stories will inspire readers to join in the global fight for equality.
There are to be three releases over 2023 including a book on refugee women by Jina Krause-Vilmar, president and CEO of Upwardly Global, and "Radical Inclusion," a book about allowing pregnant women to attend school in Sierra Leone, by the country's minister of basic and senior secondary education, David Moinina Sengeh.
Story
Melinda Gates is a champion for women. From her position as co-founder of the Bill and Melinda Gates Foundation, she oversees projects designed to elevate women in all parts of the world, regardless of their religion, culture or socioeconomic status. She's brought power to women in the poorest of nations — fighting the AIDS epidemic in India and providing access to birth control in Africa so women can control the size and timing of their family in regions rife with malnutrition. She has helped fund organizations working to educate communities about harmful traditions like female genital cutting and children who are forced to marry. Even in the United States, where children and women are protected from such immediate threats, Gates is working to build a supportive, diverse culture in the technology industry and has committed $1 billion to help women gain power and influence in high-impact industries and public office.
Her overarching goal is not to simply enhance the lives of women but to elevate humanity by lifting up its women. Along the way, Gates has met many heroes — both men and women — who have helped guide and educate her about the reasons behind some of the traditions that often render women powerless. In her book, "The Moment of Lift: How Empowering Women Changes the World," Gates shares stories of a few of her personal heroes to give us all a deeper understanding of the problems and discover possible paths to solutions.
Gates acknowledges the efforts of several prominent women who have worked for women's rights:
Ruth Bader Ginsburg, who "stuck it out in law school when the administration told her that her seat should have gone to a man," writes Gates, adding, "she used the education she got there to develop a legal framework to advance women's rights in the United States."
Tarana Burke, who is a prominent figure in the MeToo movement and offers support to victims of sexual assault. "In moments when I find myself wondering whether one person can make a difference, I think about Tarana," says Gates.
Katharine Graham, who became the first female CEO of a Fortune 500 company when she took over the Washington Post and drove the publication toward becoming one of the most respected newspapers in the country, with more than 60 Pulitzer Prize wins.
However, even with their colossal accomplishments, these women get only a brief mention in Gates' book. The heroes she chooses to focuses on are the ones we've likely never heard of — heroes who work quietly in their arenas of expertise while bringing about monumental change. Each has helped her see beneath the surface and understand the history and dynamics of a given culture in order to determine the most respectful and effective ways to approach an issue. One of those heroes is Molly Melching.
Melching is founder and creative director of the non-governmental organization (NGO) Tostan, in Dakar, Senegal. The organization works for social transformation based on human rights and respect. "We met in the summer of 2012, and she showed me one of the best approaches I've ever seen for challenging long-standing cultural practices," Gates writes.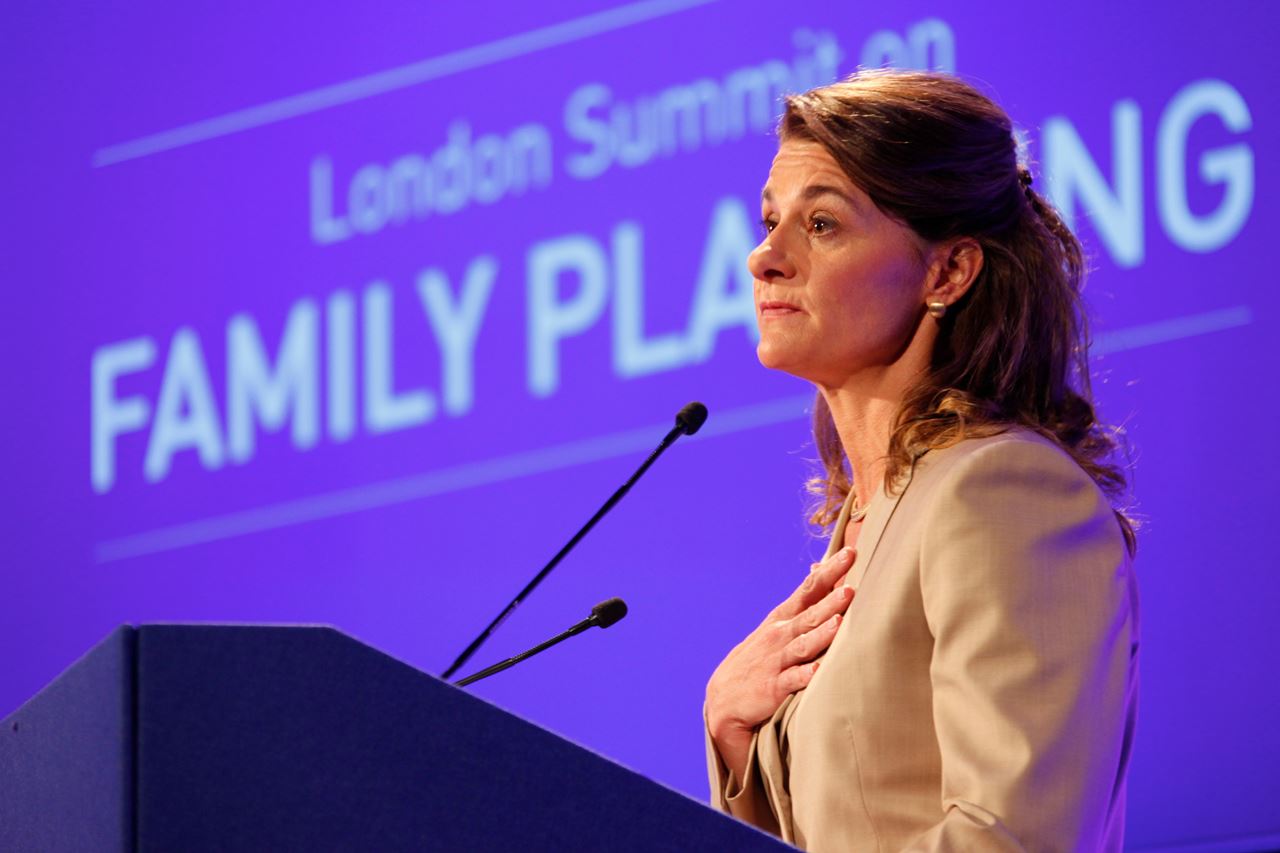 Melinda Gates speaking at the opening of the London Summit on Family PlanningRussell Watkins/Department for International Development
Melching had traveled to Senegal in 1974, as an exchange student wanting to polish her French, but she fell in love with the culture and its people. One harsh reality was that life was often difficult for females. Girls were forced to marry at a very young age and, to make them "marriageable," they were subjected to female genital cutting, usually before the age of six.
Outside groups and developmental programs had tried to intervene, but their efforts were not working. Over time, Melching realized it was because those programs were relying on concepts that were foreign to the local people. What was needed were programs built on the respectful engagement of community members.
Melching's approach was non-judgmental. Facilitators skilled in language and lore would live in remote villages, far from the intersection of communication and trade, and teach villagers about health and hygiene, about reading and math, and, most importantly, that all members of the community should have rights — the right to learn, to be healthy, to earn a living, and to have a voice in the community. They talked about equality and cooperation between the sexes.
Eventually, community members started to notice positive changes. They were healthier and better educated. The women, who traditionally worked the fields, were becoming more skilled at farming. As the women increased their yields, and their income, the men started lending support — helping with chores that had previously been considered "women's work."
When a community dialogue opened up about the longstanding tradition of female genital cutting, women in the village began to speak out about their own experiences — the pain, the increased difficulties of birth, and the tragic losses of young girls who died from bleeding and infection.
The women made the decision to stop the practice and convinced nearby villages to do the same. "Molly told me that people often get outraged by certain practices in developing countries and want to rush in and say, 'This is harmful! Stop it!' But that's the wrong approach," says Gates. "'Outrage can save one girl or two,' she told me. 'Only empathy can change the system.'"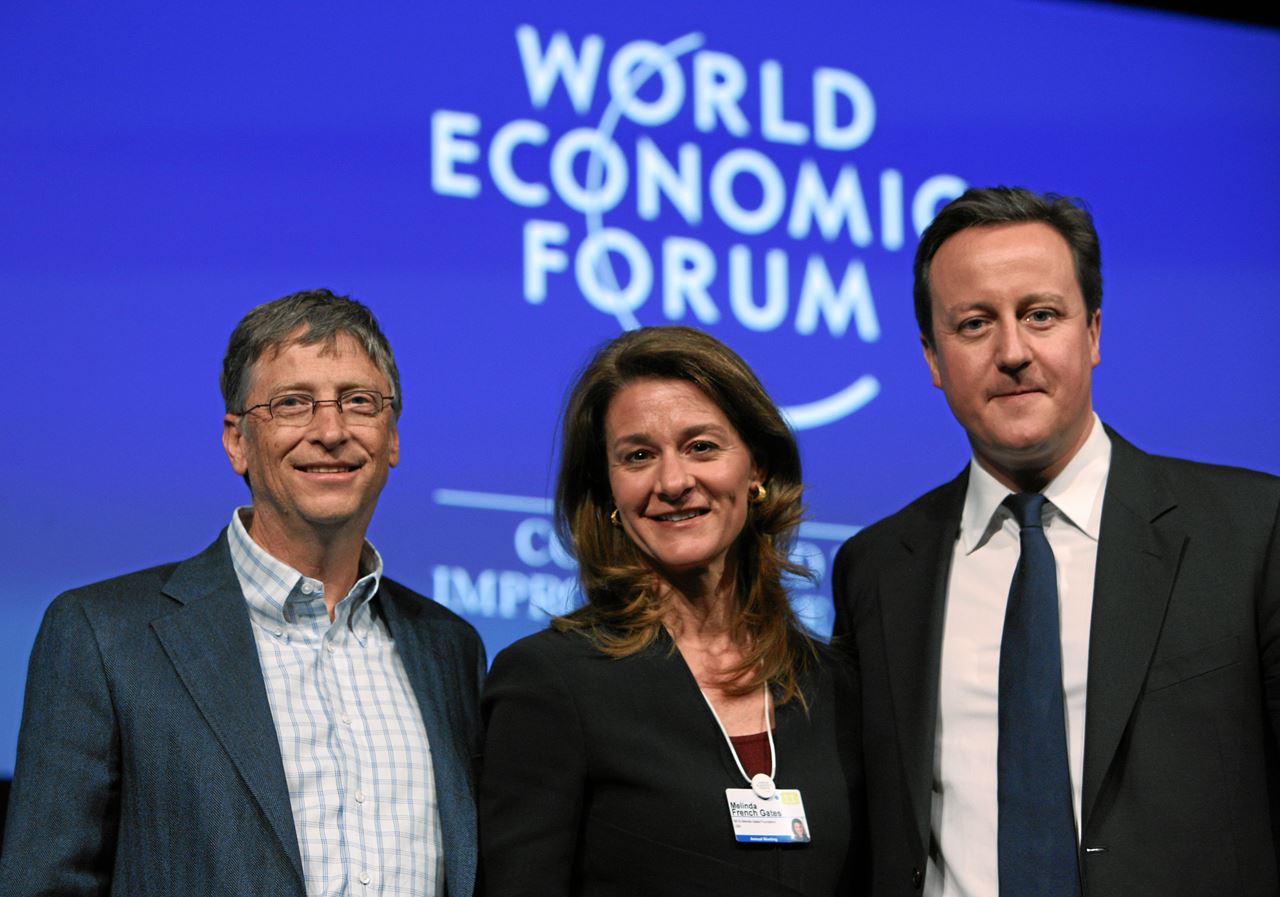 Bill & Melinda Gates, David Cameron - World Economic Forum Annual Meeting 2011Wikimedia Commons, the free media repository
Sister Sudha Varghese is another of Gates' heroes. Varghese is a Catholic nun and social worker who was born into a wealthy family and left her community to educate people in the lowest castes in India. "She chose the people on the outermost margins," explains Gates. "Musahar means 'rat eaters.' They are 'untouchables' in India — people born into a caste system that sees them as less than human. They can't enter village temple or use the village path. They can't eat at the same tables or use the same utensils as others."
Varghese has devoted her life to fighting the concept of "untouchability." In a newsletter by journalist Maria Shriver, Gates says Varghese "works in one of the poorest states in India to lift up women and girls considered to be untouchable by the rest of society. She runs a school for girls who have been told all their lives that they deserve nothing. Her message to them is that they deserve everything—an education, a safe place to live, the right to pursue their dreams no matter what they are."
From Varghese, Gates gained insight into the acute threat of violence women in that society lived with every day. "Sudha told me that she had once asked a group of Mushar women if they had never been struck by their husbands," writes Gates. "Not a single woman raised her hand. She thought the question had been misunderstood, so she asked the group, 'Raise your hand if your husband has struck you.' Every woman raised her hand. Every woman there had been struck in her own home."
Varghese herself was spurned for helping these women and received death threats for trying to bring rape cases to trial. In response, she dug in her heels. She wanted to do something to counteract the negative self-image the Mushar girls had acquired after years of abuse. In Gates' book, Varghese says, "All their lives they are told, 'You are the last. You are the least. You do not deserve to have.' They learn very fast to keep quiet, not to expect changes, and don't ask for more."
Her answer was to open a free boarding school for the girls. She called it Prerna, which means inspiration. There, the girls learn academic subjects but also learn that they have rights — the right to study, the right to play and the right to speak up for themselves. They learn they have the right walk around freely without threat, and, to help enforce that right, each girl is taught karate as a method of self-defense. Since the program began, Prerna girls have traveled internationally to compete in martial arts events.
"A girl who is given love and support can start to break the self-image that keeps her down," writes Gates. This is a lesson she learned firsthand, long before she began traveling the world. She reaches into her own past, to tell readers about her days as a high school student in Dallas, Texas, when she approached a guidance counselor for advice. "After I told her about the schools I was hoping I might attend, she told me I couldn't get into any of them and should scale back my ambitions." But the message would not sink in. Gates had been lifted up — buoyed by the confidence of friends and family members who believed in her. She refused to accept the limitations. "Instead, I stormed out of that talk furious with her and twice as determined to reach my goals."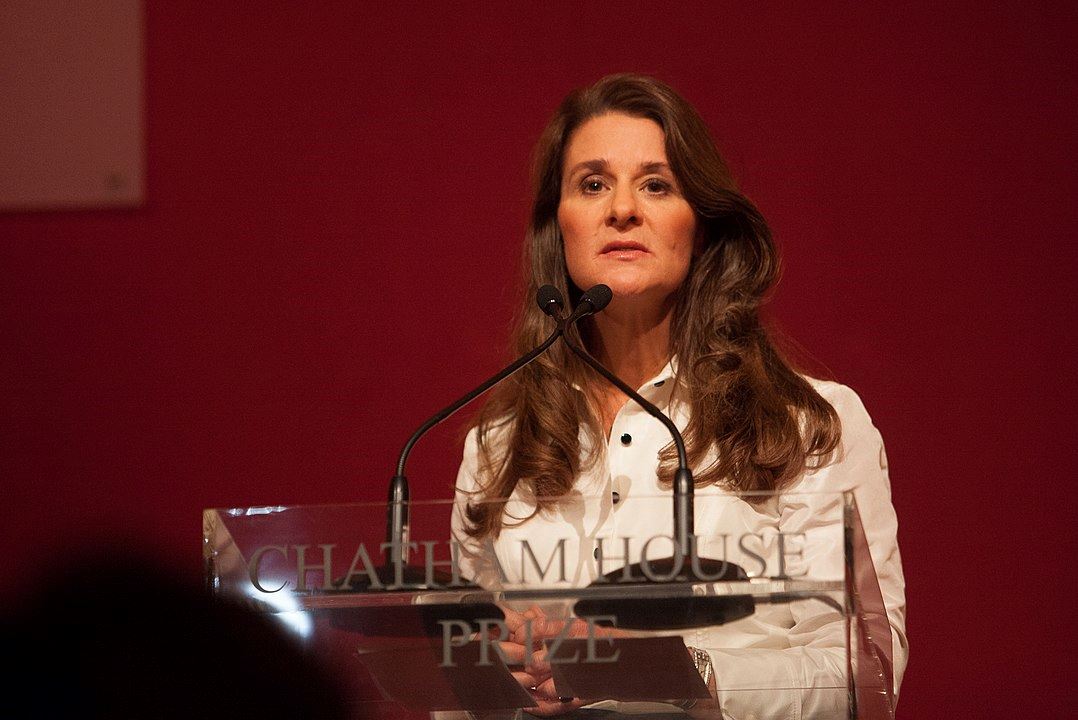 Melinda Gates awarded the 2014 Chatham House PrizeBy Chatham House, London.
Perhaps it was battles like these, against limitations imposed by others, that fueled her drive to empower girls — girls like 10-year-old Sona, from a poor community in Kanpur, India. "The people there lived in about six feet of trash because of the work they did," says Gates. "They would go gather the garbage from other areas, bring it to their village, pick out whatever had value and sell it — leaving whatever they couldn't sell strewn on the ground around them. That's how they earned a living."
After a town meeting on family planning, Sona approached one of Gates' colleagues and presented him with a gift — a handmade parrot, created from materials she pulled from the trash. She then told him she wanted a teacher and asked him to help. Gates says Sona was unrelenting in her request. "It takes courage to ask for what you want — especially when it's more than people think you should have," writes Gates. "Sona had a magical combination of courage and self-regard that allowed her to ask for a teacher even though she was a low-caste girl whose parents picked trash for a living."
The young girl's bravery called attention to another problem — the people had learned to control the size of their families but their only means of income was gathering trash. Without an education, their children would also remain trapped in that life of poverty. Gates' partners went to work — helping the villagers register as legal inhabitants, which entitled them to government services, including schools. "Sona got a teacher," writes Gates. "She got books. She got a uniform. She got an education. And not just Sona, but every kid in the village."
Gates was well down the road of women's empowerment when she met Leymah Gbowee, an outspoken advocate for equality and civil rights. Gbowee is one of a group of three women who were awarded the 2011 Nobel Prize for Peace for helping to bring peace to her native Liberia. By forming a coalition of Liberian women, both Muslim and Christian, Gbowee, along with fellow Liberian Ellen Johnson Sirleaf and Tawakkol Karman of Yemen, were able to bring an end to fifteen years of conflict in the region.
Gbowee was 17 years old when the first of two civil wars erupted in Liberia. Gates writes, "After the end of the first war and before the start of the second, she studied peace activism and trauma healing and came to believe that 'if any changes were to be made in society, it had to be by the mothers.'"
She went to the then-new Women in Peacebuilding Network, made up of women from most of the West African Nations, and became coordinator of the women's initiative. When the second war broke out, Gbowee visited churches, mosques and markets to gather support for peace. She recruited thousands of women, Muslims and Christian, who led demonstrations and rallies and sit-ins.
The women applied enough pressure to get the Liberian president at that time to hold peace talks with the rebels in Ghana. The women maintained a presence outside the negotiations, sending the message that the men would not be allowed to leave without establishing a peace agreement. Within weeks, the war was over. "Many years later, when Leymah sat down with me in New York, I asked her why her movement was so effective," writes Gates. "She said, 'We women in these communities are the nurturers of society. And it was upon us to change it.'"
Women are the very foundation of society, and by lifting them up, you improve the lives of all. This is Gates' theory as she searches for solutions to some of the most pressing challenges of our time. She has gone beyond the mere study of data and has delved into the lives of women around the world. She's helped quantify the contributions of unpaid labor that have traditionally fallen on the shoulders of women — contributions like caregiving and household chores, which often keep them from participating fully in the workplace.
The problem is urgent, she says, because the current rate of change is slow. The World Economic Forum's Gender Gap Index estimates that, with the current rate of progress, the inequality gap will not close for 208 years. In an article by the Harvard Business Review, Gates said, "I believe our goal should be to expand women's power and influence in society. I think of power and influence as the ability to make decisions, control resources, and shape perspectives. It is something women exercise in their homes, in their workplaces, and in their communities."
However, change must come from within and can be helped along only by those who take the time to understand and respect the needs and traditions of the people being served. In one of her most recent endeavors, Gates created Evoke (evoke.org), an online community meeting place for people committed to understanding deep issues to promote positive change.
"That's why I created this platform: to evoke that sense of possibility," Gates writes, as an introduction on the website. "To highlight innovative ideas and creative solutions. To give us all a chance to experience life through the eyes of people we may never meet and hear stories we might otherwise never hear. And, above all, to start conversations, amplify new voices, and forge stronger bonds between change-makers."
Gates calls the Evoke community "possibilists — people who believe the world can get better and are committed to doing our part to improve it." She says people, aided by tools, technology and education, have the power to shape the future — a future that is kinder, more equal, and fair.