Michelle Obama
by
Kanishka Prasanna

from

Fieldstone Middle School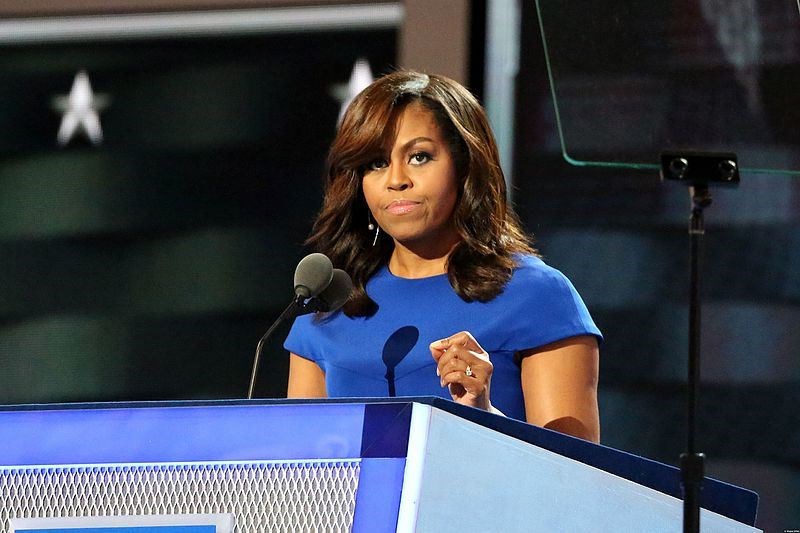 Michelle Obama speechThe most Important News Michelle Obama
I am well aware that there are many heroes in the world, but one hero that comes to my mind is Michelle Obama. I chose Michelle Obama because of her gusty accomplishments and her strong determination of education for everyone. Michelle is always brave and always there for people. She always stands up for people and she makes a difference in the world by making it a better place. Her background is interesting and so are all the accomplishments she has done.
Michelle Obama was born and raised in Chicago, Illinois, and was born on January 17, 1964. Michelle's full name was Michelle LaVaughn Robinson before she was married to Barack Obama. Michelle had a happy family even though her father, Fraser, suffered from a disease called multiple sclerosis, which affected him a lot. As coming from a smart family, Michelle got recognized on how smart she was by her teachers, so she was allowed to skip the second grade like her older brother, Craig LaVaughn Robinson. Michelle was so smart that she got accepted into one of the hardest schools to get into, Whitney Young High School. After finishing that, she also got accepted into Princeton University, New Jersey. After deciding to become a lawyer, she got accepted into Harvard Law School where she met Barack Obama. A lot of other things happened in her life, but those were one of the crucial events that happened.
Michelle Obama has achieved a lot of awards and accomplishments. For example, she won a Glamour Special Recognition Award and a Shorty Special Award from GifStar. Michelle Obama's main focus is about equal education for girls. Because of that, she did a whole speech about letting girls learn. Michelle created a lot of fundraisers such as the Reach Higher Initiative, which is about pushing children to further their education past high school. Another fundraiser is called Joining Forces, which was also created by Joe Biden. The fundraiser is helping support military families.
In conclusion, Michelle Obama is really a hero by all these statements. She had an interesting background and her accomplishments were unforgettable. A lot of heroes are there but Michelle Obama stands out.
Page created on 1/17/2019 3:26:22 PM
Last edited 1/19/2019 8:20:07 PM
The beliefs, viewpoints and opinions expressed in this hero submission on the website are those of the author and do not necessarily reflect the beliefs, viewpoints and opinions of The MY HERO Project and its staff.