At just 16 years old, Mikaila Ulmer has already made an indelible mark on the world. With her passion for bees, entrepreneurship, and environmental conservation, she is a true force of nature, inspiring people of all ages to take action for a better planet.
Mikaila's journey as a bee ambassador began at the tender age of four when she was stung by two bees in a single week. Instead of developing a fear of these remarkable creatures, she decided to learn more about them. This curiosity led her to discover the crucial role bees play in pollinating the planet and their role in sustaining biodiversity.
Armed with newfound knowledge, Mikaila wanted to make a difference. She started researching bees and the challenges they face, particularly the threat of Colony Collapse Disorder. This research fueled her desire to raise awareness about the importance of bees and their conservation.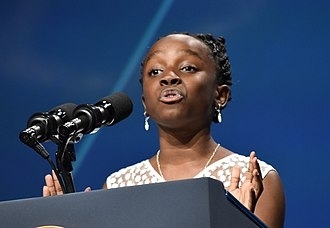 Mikaila UlmerWikiInspired by her great-grandmother's recipe for flaxseed lemonade, Mikaila combined her love for lemonade and her newfound passion for bees to create a unique business called "Me & the Bees Lemonade." She began selling her homemade lemonade at community events and local fairs, using honey as a sweetener instead of refined sugar.
The sweet and tangy beverage became an instant hit, winning over customers with its refreshing taste and inspiring story. Mikaila's lemonade business quickly gained attention, and she soon found herself pitching her product on the hit TV show "Shark Tank." Her charismatic pitch and unwavering dedication impressed the investors, leading to a deal with FUBU founder Daymond John, who became her mentor and partner.
With the support of Daymond John, Me & the Bees Lemonade expanded its distribution, reaching stores across the United States. Mikaila's company has not only seen commercial success, but it has also become a platform for spreading her message of bee conservation and environmental stewardship.
Beyond her business, Mikaila is an active advocate for bees and the environment. She uses her platform to educate people about the importance of bees in our ecosystem and the urgent need to protect them from threats like pesticides and habitat loss. She collaborates with various organizations to plant wildflowers, which provide essential food sources for bees and other pollinators.
Mikaila's efforts have earned her numerous accolades and recognition. She has been named one of TIME Magazine's 30 Most Influential Teens, and she received the Points of Light Award, presented by former U.S. President George H.W. Bush, for her exceptional contributions to the community.
Mikaila's idea from more than 10 years ago continues to grow and grow...by more than 500 percent since the company's humble Austin, Texas-based beginnings. Today, the award-winning, ready-to-drink Me & the Bees Lemonades in five refreshing flavors and is available at Whole Foods Market, The Fresh Market, World Market, H-E-B stores across Texas and Kroger stores in Houston. It is also available at a growing number of restaurants, food trailers and natural food delivery companies.
Today Mikaila is busy traveling to speaking events, participating in social entrepreneurship panels, and working for the Healthy Hive Foundation, a nonprofit to further help the mission of saving the pollinators. She is also a high school student, loving Spanish, science and rock climbing classes.
Mikaila's first book, Bee Fearless, Dream Like a Kid, launched in August 2020. Published by Penguin Random House, it is about her adventures in being a social entrepreneur and heading up a purpose-based brand aimed at offering premium, all-natural lemonades in a way that helps save the bees.
Despite her remarkable achievements, Mikaila remains humble and down-to-earth. She believes that everyone, regardless of age, has the power to make a positive impact on the world. Through her speeches and engagements, she inspires young and old alike to take action for causes they are passionate about.
As Mikaila Ulmer continues to spread her message and work tirelessly for the bees, she embodies the essence of youth empowerment and environmental stewardship. Her story serves as a powerful reminder that each of us has the potential to effect change and that even the smallest actions can create a ripple of positive impact on the world around us. Through her dedication and advocacy, Mikaila is a true role model, showing us all the incredible difference that one young person can make in protecting the planet we call home.
Page created on 8/5/2023 5:17:56 PM
Last edited 9/3/2023 2:46:18 PM
Related Links
Me and the Bees
- Find out about Mikaila's story and how to purchase her book.