Milton Hershey
by
Taleen S

from

United States

You probably know that Milton Hershey made Hershey chocolate, but did you know that he started the Milton Hershey School for low-income children? Mr. Hershey's background and accomplishments may surprise you. Milton Hershey has many positive character traits that make him a hero; he is helpful, positive, and persistent.

Mr. Hershey wasn't always a candymaker, but his perseverance made him a successes. Milton Hershey was born in Derry Township, Pennsylvania on September 13, 1857. Mr. Hershey's first job was working at a printing press where he loaded paper and ink for printers to work. He wasn't very good at his job, and he didn't enjoy it very much, so he ended up getting fired. This turned out to be a good thing because he ended up getting a job with a candymaker in 1872. Once he learned the art of candymaking, he discovered he really enjoyed this type of work, and he knew he wanted to do this for the rest of his life. After a few failed tries of making his own candy business, he refused to quit, and he finally became successful when he realized that fresh milk was the secret key to making good chocolate.

Milton Hershey is a hero not only because of his desire to be a successful entrepreneur, but more because of what he did and continues to do for children that he never ever knew. After the Hershey company became so successful, Mr. Hershey and his wife created a home and school for disadvantaged children. The Milton Hershey School was formed in 1909 and provided a cost free, private school, and home for children from low-income families. Mr. Hershey donated his entire fortune to operating the school and making sure it continued for many years to come. Mr. Hershey started the Milton Hershey School because he believed all children deserve the very best education and a family's income should not determine a child's outcome or future. A part of the decision to create the school and leave their entire fortune to the school was because Mr. Hershey and Mrs. Hershey could not have kids.

In conclusion, Milton Hershey is a true hero because without the Milton Hershey School, the kids would not have been able to graduate high school or go to college. Unfortunately, Mr. Hershey passed away on October 13, 1945 at the age of 88 but the Milton Hershey School is still

going strong today and hopefully will continue to do so for many years to come.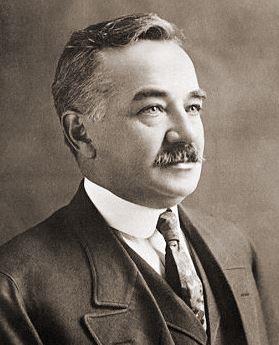 Milton HersheyPublic Domain
Page created on 1/16/2019 6:58:13 PM
Last edited 1/18/2019 7:39:30 PM
The beliefs, viewpoints and opinions expressed in this hero submission on the website are those of the author and do not necessarily reflect the beliefs, viewpoints and opinions of The MY HERO Project and its staff.