"You can start late, look different, be uncertain, and still succeed." -Misty Copeland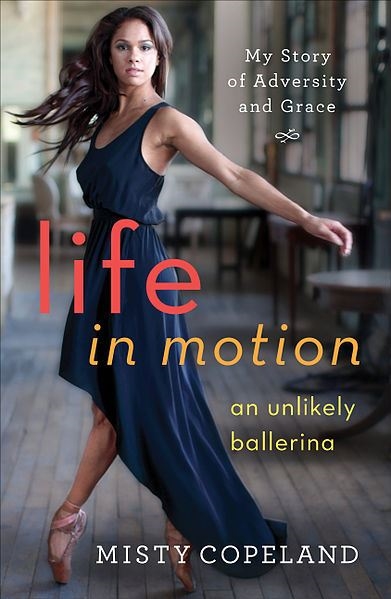 In society today, many people have to face major stereotypes in their everyday lives, and it can stop them from striving for their goals. This was true for American Ballet Theatre's principal ballerina, Misty Copeland. Copeland managed to gain success in her dance career and is now a principal ballerina, though she had to overcome many difficult things in her life. From her anxiety, her parents' divorce, and how she is an African American woman, she went through some tough times. When she was younger, she moved several times with her mom and siblings. Though she never had a stable ballet company, she continued her training. Later, Misty moved in with her dance coach who pushed her to use her talents to pursue a professional ballet career. She started to gain popularity because of her life story and inspirational background and began to collaborate with different companies, a major one being Under Armour. Now, she is writing books such as "Life in Motion" and inspiring many people around the world. Therefore, Misty Copeland deserves the title of being a hero because of her empowering manner and her way of breaking major stereotypes such as gender, racial, and body image stereotypes.
The way Copeland uses her voice, not only in the dance world but in the real world too, is empowering to people in all walks of life. Copeland wishes to communicate her thoughts and voice to empower children and does this by writing the children's book Firebird: "We are never given a voice as dancers. We accept our art form in a very quiet way. My goal was to highlight the ballet world…." ("Misty Copeland"). Misty is using her fame and following to empower people. In this particular situation, she is targeting young children, in hopes that they will grow up always reaching for their goals, working hard, and staying committed to what they do. She wishes to show that with all the hard work and commitment she put into dance, she became highly successful and now has a vast following to inspire and empower. Misty is seen again empowering people, and this time she is addressing the media and people that are watching the news "...That you can dream big and it doesn't matter what you look like, where you come from, what your background is. That is the example that I want to set and want to leave behind" ("Misty Copeland"). Copeland is empowering the younger generation around the world the follow their dreams, just like she did. She broke many barriers in ballet and is now successful, despite what she had to overcome. Now that she has obtained a vast following, she has made it her top priority to encourage and empower young boys and girls to knock down societal barriers and follow their dreams. By being empowering, she demonstrates the qualities of a deserving hero. Being empowering can be classified as a trait for a deserving hero because it is shaping people, which is then shaping the world for the better. Therefore, Copeland is a hero because she is empowering the younger generation to follow their dreams and work hard, and is overall leaving a positive impact on the world.
Copeland has broken societal boundaries and stereotypes and is inspiring others to follow their dreams no matter their race, size, gender, etc. Copeland explains to the media how she is living her dream that she thought was impossible because of her race and other stereotypes she faced: "I think that is something that is just ingrained in us as ballet dancers, that you don't typically see a black woman portraying that role so it's not something I ever dreamed of doing. When I found out I was doing the role I was just like 'OK here we go how am I going to become this.'... Again it's all so surreal and I'm living my dream" ("Misty Copeland"). Copeland never thought she would ever be a swan in the iconic ballet Swan Lake, because that role was typically portrayed by a white woman. Being African American, she had no expectations of getting the role. By getting the role and playing a swan, she is breaking the societal boundaries she faces as an African American woman. She is now paving the way for young African American dancers in the world of classical ballet. Again, Copeland is seen pushing through her struggles of being different from all the other girls in her dance classes, and now she is highly successful: "Though she was challenged by her difference, not simply in skin color but also in body type, always more full-figured than her peers (and regularly reminded), she nevertheless climbed the ranks by virtue of her exceptional skill. In 2007 she became the company's first African American female soloist in two decades…" Misty Copeland was usually different than her peers at dance. The stereotypical ballerina is a tall, thin Caucasian woman and Copeland was nothing short of the opposite of that, being African American, 5'2", and more muscular figured. She didn't let that get in the way of her success. She broke all of those stereotypes and barriers she faced and became highly successful in her career. Now she is an inspiration to people everywhere to not let the image of the stereotypical people discourage you, and to keep working towards your goals. In society, there are many stereotypes and barriers, which can make people discouraged if they don't fit into those stereotypes. Breaking societal boundaries and barriers can be classified as a trait of a hero because it is encouraging people to break boundaries themselves, and overall making people happier because they are striving for their goals. Therefore Misty Copeland can be classified as a hero because she wants to leave a lasting impact on the world that it is okay to strive for your goals, even if you don't fit into society's stereotypes.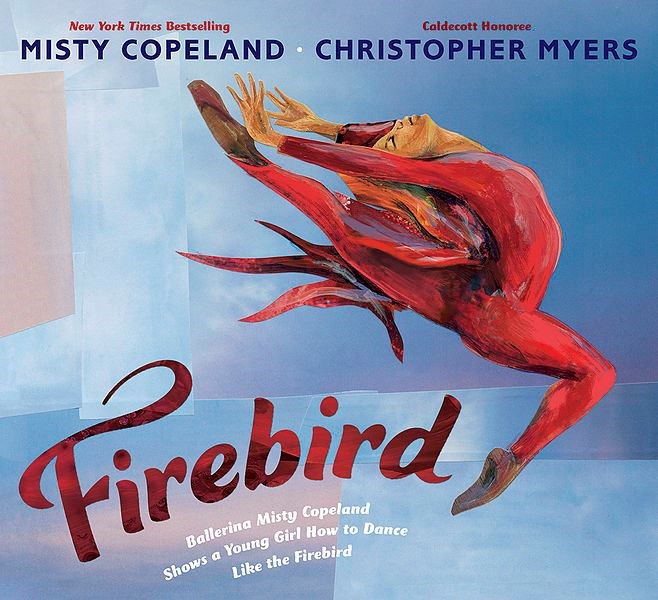 Another one of Copeland's books, specifically for childrenGilda N. Squire - Squire Media & Management, Inc. [CC BY-SA 3.0 (https://creativecommons.org/licenses/by-sa/3.0)]Misty Copeland is a deserving hero because she overcame many obstacles in her life and is now successful and inspiring to others around the world. Misty has broken many obstacles and stereotypes in her lifetime and because of that, she is empowering others to do the same. She is using her platform to not just to showcase her accomplishments, but to empower others to strive for their goals. She could not have gotten to that place of success if she hadn't had to overcome a lot of difficult situations. Copeland had to break the image of the stereotypical ballerina and keep on dancing if she wanted to reach the point she is at now. She is an inspiration to many people around the world by being empowering others and breaking boundaries in society. Empowering is a trait of a hero because when someone is empowered, they have hope to do better things in life and fulfill their purpose. Boundary-breaking is also considered a trait of a hero because unrealistic standards are set in this world. They can discourage someone if they don't fit exactly into one of the society's unrealistic molds. In an interview, Copeland's collaboration with Under Armour and the impact it left is being described: "...to showcase Copeland's toughness as a ballerina in a short video clip bearing the tagline, 'I Will What I Want.' In voiceover, 'a young girl reads a rejection letter from a ballet academy listing the 'shortcomings' of her body--lack of the 'right' feet, Achilles tendons, torso length, and bust,' recounted New York Times editorial writer Hanna Kozlowska, while the footage depicts Copeland by herself, 'across a stage, zooming in on her toned glutes, biceps, and abs.' Kozlowska described it as 'an inspirational example of conquering body image issues'" ("Misty Copeland"). By breaking the societal molds, Copeland is paving the way for the younger generation to live a life where they strive for their goals and work hard no matter the circumstances. Copeland left a lasting impact many people's lives, mine included. Just when I was going to quit my ballet training, I read a biography about Misty Copeland. I was inspired by her backstory and empowered to continue through it, even though I was ready to give up. Because she didn't give up her training and became successful, I was inspired to do the same thing. I continued my training because of her inspirational and empowering story. Therefore, Misty Copeland is a deserving hero because of her way of sharing her boundary-breaking backstory to empower people around the world.
Works Cited
Blumberg, Naomi. "Misty Copeland." Encyclopædia Britannica. 02 Nov. 2018. Encyclopædia
Britannica, inc. 26 Mar. 2019 <https://www.britannica.com/biography/Misty-Copeland>.
"Misty Copeland." Newsmakers, vol. 4, Gale, 2015. Biography In Context,
https://link.galegroup.com/apps/doc/K1618006160/BIC?u=powa9245&sid=BIC&xid
=1e2b34f0. Accessed 25 Mar. 2019.
CBS This Morning. "Misty Copeland on Breaking Barriers in Ballet, Broadway Role." YouTube,
YouTube, 6 July 2015, www.youtube.com/watch?v=Pe_d4jJE3AM.
Page created on 4/8/2019 6:18:28 PM
Last edited 10/2/2019 5:55:40 PM