As one of the most highly regarded higher academic learning institutions in the world, MIT is recognized for innovation and discovery in many academic fields of study. The number of spaces for students at the campus in Boston, Massachusetts is limited and the competition to attend this prestigious university is fierce. In 2003 there were 10,490 applicants of which only 17% were accepted. Only a select 4,220 undergraduate students are, in fact, enrolled at the University.
While only a select few are able to attend classes at MIT in Boston each year and with Internet access becoming a reality for many adults and students around the world, the potential for sharing knowledge beyond the limited space and capacity of the physical campus became a possibility worth exploring. So, in 1999, with a keen awareness of the University's mission "to advance education to serve the nation and the world," MIT President Charles Vest and Provost Robert Brown asked the MIT Counsel on Education Technology to explore two important questions: "How will the Internet impact education, and what should MIT do about it?"
The committee spent a year researching the possibilities. They examined several models of failed dotcom institutions that had tried to cash in on the business of distance education programs. They also reflected on how unified the faculty was and how passionately they spoke about teaching. That is when the Open Courseware idea was conceived. Because of MIT's mission, the faculty's passion for teaching, and the potential of the Internet, the committee decided to just give the course materials away. The Education Technology Committee brought the idea back to President Vest on a one-page memo, which he wholeheartedly supported.
President Vest firmly believes that "history has proven over and over again that education and discovery are best advanced when knowledge is shared openly and freely." With the support of the faculty and the committee, President Vest announced the creation of the Open Courseware Project or OCW on April 4, 2001. Its mission would be to expand access to information to students and teachers around the world. The project would counter the trend for the privatization of knowledge and open doors of opportunity to those who could not afford to pay for private education.
The Andrew W. Mellon Foundation and the William and Flora Hewlett Foundation supported the project with a grant of 100 million dollars over several years to develop, implement and evaluate the OPEN COURSEWARE program.
The project was launched with a small, core organization that designed an online publishing process and created a framework to use the Open Courseware technology. The organization also created a support team that would communicate internally with faculty and staff, and externally with potential users in order to build a plan into the project to evaluate the success of the program. Today, 500 courses from MIT instructors are available online to students, parents, teachers, alumni...anyone with Internet access and a desire to know more about science, technology and culture. In the next four years, approximately 2000 MIT courses will be published online.
The response from faculty, alumni and the public has been very positive. The MIT OCW team has made it easy for faculty to get their work on the Web site. The project has not only promoted the work of MIT faculty, but it has helped foster new collaborations with other educators working in their fields around the world.
According to the OCW team, 65% of the traffic using OPEN COURSEWARE is international. A program called Universes has partnered with MIT to start translating courses into different languages to make it more accessible worldwide. Twenty-four courses have already been translated into Spanish and Portuguese, and ten individual courses have been translated into other languages.
China is one of the countries that frequently uses the OCW site. Initially, The People's Republic of China cut off access to the Web site, but eventually they reopened access to OCW. Since then, there has been a massive spike in the number of hits from China. MIT delegates visited China to converse with China's University Presidents who were ecstatic about the potential of the program to provide their people access to education. MIT's Open Courseware team is eager to assist other universities trying to share their resources with others on the Internet.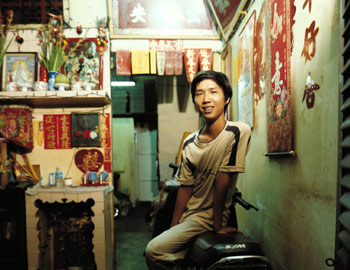 Smart and upbeat, Lam, 22, is the first member of his family to attend college. He is the youngest of six children of Chinese-Vietnamese parents who are retired from the business they ran making cartons. A student in the information technology department of Vietnam's Natural Sciences University, in Ho Chi Minh City, he received a $500 scholarship to buy his computer and a $100 scholarship toward his studies. Lam, who spends six days a week at school, was introduced to Laboratory in Software Engineering - aka 6.170 - when one of his professors downloaded the course materials onto the university's server and made it required reading.
As leader of his software lab team, Lam helped create a program that allowed city residents to find bus routes by destination. After graduation, he hopes to continue his studies in either Singapore or England, but to do so, he'll need another scholarship - something he says is unlikely unless he is one of three students chosen to be a graduate assistant at his own university. If that doesn't happen, he'll shoot for an IT job in Vietnam. "Maybe if I work for three years," Lam says, "I will be able to have my own house and a car."
MY HERO wishes to thank EDUCAUSE for allowing us to cover the Presentation of MIT OCW at their annual conference and to thank the folks at MIT for sharing their knowledge with others around the world.
______________________________________
January, 2007: MIT Open Courseware (OCW) Project Update
While already having published 1550 of its courses, staying true to their quest to make knowledge free and accessible to all, it is expected that by the end of this year, ALL 1800 COURSES that MIT offers will be available on the OpenCourseWare site! This includes syllabi, exams, homework and reading assignments, lecture notes, and in some cases, even lecture videos, one of the most popular features.
While not intended to replace the value of a collegiate education, this "intellectual philanthropy," as it has been coined, allows those seeking top-notch academic knowledge worldwide to access it freely. And access it they have -- the MIT site and sister-sites that translate the information into other languages now receive approximately 1.4 million visits each month from every single nation worldwide -- including Antarctica, sub-Saharan Africa, and the countries in the Middle East.
Though a great portion of the material has already been translated into 10 different languages, MIT is now working to ensure that it is translated into even more languages, making it that much more globally accessible.
What started at MIT only a few years ago has now spread to 120 universities worldwide which have publicly committed to the open, free of charge, publication of their materials in OCW initiatives. Amongst other prestigious participating universities are John Hopkins, Tufts, Notre Dame, Utah State, and universities in Spain, China, France, and Japan.
OCW is hailed by self-learners seeking to gain a broader knowledge body but not necessarily wishing to pursue a formal education, university alumni seeking intellectual stimulation and updated knowledge, students of other universities wishing to augment their education, as well as, of course, students without the access or resources to attend a prestigious university like MIT.
In addition to updated academic knowledge, Open Courseware offers hope and inspiration to talented, intelligent, motivated individuals worlwide, that perhaps lack the finances or resources to seek a formal education. Based on the sheer volume of users and global locations accessing this knowledge bank, it can be concurred that OCW is helping to bridge the knowledge gap in an almost revolutionary way.
Anyone with access to the Internet can benefit from a vast body of knowledge on a wide variety of subjects. Though no degree can be earned, and distant knowledge-seekers don't enjoy the benefits of talking directly to professors or peers or of recieving feedback, to a world thirsty for academic knowledge, MIT's Open Coureware is a welcomed oasis.