Mary Elizabeth Jane Colter was a designer who became what might be called the official architect of the Grand Canyon. If you go there, you will see many examples of her work. Colter designed the Bright Angel Lodge, Hermit's Rest, Hopi House, the Lookout Studio and Watchtower. She also designed Phantom Ranch, the guest ranch at the bottom of the canyon along the Colorado River. Many of these structures do not look like they were built by an architect; they hardly even look like modern buildings at all, but more like old Native American dwellings, even ruins. This appearance of age was entirely intentional; it was all part of Colter's art, her signature.
Colter was born in Pittsburgh, Pennsylvania in 1869, but the Colter family lived in many areas of the country, winding up in Minnesota in 1886. When her father died, leaving Colter, her mother and an older sister, Mary decided to pursue a career in order to help the family. She persuaded her mother to allow her to attend the California School of Design in San Francisco. After graduating, she returned to St. Paul, Minnesota and taught mechanical drawing at Mechanic Arts High School.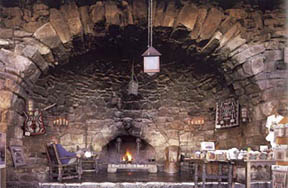 Hermit's Rest, 1914
Courtesy the Friends of 1800
The Fred Harvey Company was the first and only company to own and operate concessions at Grand Canyon National Park. Fred Harvey became infamous for hiring young women from the East coast to come out west and work as waiters, hosts and shop attendants in his hotels. These women became known as the "Harvey Girls." Through contacts, Colter was hired as the interior decorator of a New Mexico hotel and soon became chief architect and decorator for the Fred Harvey Company from 1902 to 1948. Harvey commissioned Colter to design all of its buildings on the South Rim of the Grand Canyon. Because she was fascinated with the Native American history, architecture, and landscape of the American Southwest, all of her Grand Canyon buildings took on the flavor of this interest and, consequently, are very distinctive. The Grand Canyon buildings became her signature works, but she did many other buildings and interiors as well.
In 1928 Fred Harvey commissioned her to design the "last great railway hotel," La Posada, in Winslow, Arizona. She also created (or co-created) La Fonda Hotel in Santa Fe, the El Navajo Hotel and railway station in Gallup, New Mexico, and interiors for railway stations in Chicago, Kansas City, and Los Angeles. She even designed the inside of the Cochiti dining car for the Super Chief train!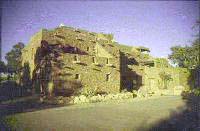 Hopi House, 1905
Copyright © Bob Ribokas, 1994-2000
Despite her regular commissions and the magnificence of her designs, success did not come easily in that male-dominated profession. She was not listed as architect on many of her buildings and her name did not achieve the recognition of many of her peers such as Frank Lloyed Wright, Irving Gill, and Bernard Maybeck. During the years in which she worked, response to Colter's designs was overwhelmingly positive. Much of the praise came directly from Harvey Company's marketing publications, but there was also plenty of admiration for Colter's designs among the general public. La Posada, in the four decades that it stood, became a gathering-place for locals in Winslow and surrounding ranches. El Navajo, her hotel at the train station in Gallup, was called a "vigorous modern statement" by New Mexico Architect magazine.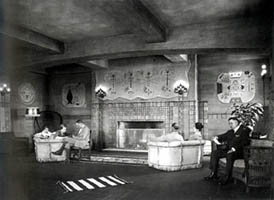 El Navajo Hotel
Courtesy the Friends of 1800
Virginia Grattan, another Colter biographer, has written: "Her buildings fit their setting because they grew out of the history of the land. They belonged."
Colter's use of Native American motifs, Spanish revival and studied rusticity was also very influential among other contemporary architects. The Franciscan Hotel by John Gaw Meem bears a distinct resemblance to Colter's blend of Native American pueblo & modernist architecture. The KiMo Theater by Carl and Robert Boller is done in a "Pueblo Revival" style. Interior designers have also copied her use of Navajo sand paintings to decorate walls.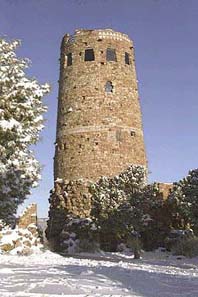 The Watchtower at Desert View, 1932
Copyright © Bob Ribokas, 1994-2000
Colter's last commission was to design a new bar and dining room at La Fonda. "La Cantinita" was pure Colter, a near time capsule of the Spanish-influenced Mexican buildings of the 19th century. It was Colter's art to make the place look old, a hodge-podge rather than the carefully designed room it was. Arnold Berke, one of Colter's biographers, describes the process:
"Colter built the homey fireplace and its simulated ovens around two structural columns, using century-old handmade bricks from the old New Mexico capitol laid up in a purposely messy manner. The wainscoting was also brick." "She made the man who did the brick dado tear that out twice because he was too meticulous and she wanted it sloppy looking," recalled Patricia Smyth, who knew Colter for many years.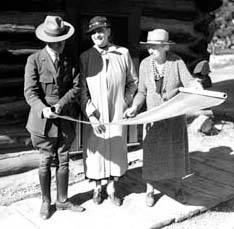 Mary Colter (right) discussing Bright Angel Lodge plans with Grand Canyon Nat. Park Sup't Minor R. Tillotson and Mrs. Harold Ickes (wife of the Secretary of the Interior)- Circa 1935. Fred Harvey Collection, Grand Canyon National Park.
Colter did not just design buildings, she invented stories to go along with them. "Each building had its own 'reality' constructed in Colter's mind as the product of fastidious research and planning, then later planted in the imagination of the traveler," writes Berke. For instance, La Fonda was meant to be a former ranch house of a large Mexican-American ranching family with a storied past. The building would contain all the character and ghosts that might accompany such a past. And it was in the same spirit that Phantom Ranch was named. Although it referred to Phantom Creek, a nearby feeder stream into the Colorado River, Colter, who always liked to add spirit to her designs, presumably settled on that name because of its supernatural echoes. Colter devised the name Hermit's Rest after hearing about a man named Louis Boucher who had lived at the head of a nearby canyon (named Hermit Canyon), guiding tourists in and out of the canyon in the 1890s. "The hermit story offered Colter the perfect name for her new building and a theme for its design," writes Berke. Visitors might choose to imagine that the old hermit, Boucher, had actually rested inside those old-looking stone walls. This added another dimension to the romantic aura that Colter liked to develop around her structures.
Eleven of Colter's buildings are on the National Register of Historic Places and five have been designated National Historic Landmarks in "recognition of their exceptional value to the nation."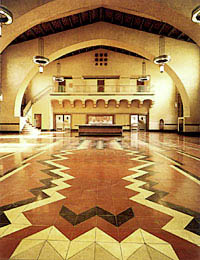 The Restaurant at Los Angeles Union Station, done by Colter in the 1930s.
Unfortunately, many others did not survive the 20th century. With the emergence of highways and subsequent increase in auto travel, many of the railway station hotels and restaurants lost patronage. In 1957, the widening of Route 66 caused the hotel portion of El Navajo to be torn down. All the Navajo sand paintings were destroyed as well. La Posada, the "last great railway hotel," was closed in 1959.
Most of her interior designs have been remodeled out of existence. The Hotel Alvarado in Albuquerque, whose interior Colter had designed as her first Harvey Company project, was razed in 1943.
This demolition caused an outburst of indignation. Former patrons appealed all the way to the federal government to save the building, and even staged the inaugural ball of the Museum of Albuquerque there "in a last defiant gesture."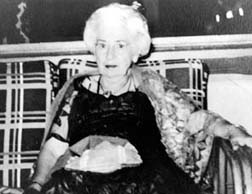 Colter, Age 80 Fred Harvey Collection, Grand Canyon National Park.
Mary Colter died on January 8, 1958, at the age of 88, saddened to have witnessed the demolition of so many of her creations. All the structures on the South Rim of the Grand Canyon, with the exception of the Bright Angel Lodge, are now listed on the 1993 Damaged and Threatened Natural Historic Landmarks. However, Colter's work has recently come to the attention of preservationists so a few of her designs stand a good chance of remaining intact, at least for the time being. The Hopi House is currently being restored. The restaurant at Los Angeles' Union Station still remains, and La Posada has been completely restored.
Page created on 7/23/2009 1:06:57 PM
Last edited 1/4/2017 9:54:58 PM
Extra Info
Information for this story came from Arnold Berke's biography
Mary Colter, Architect of the Southwest
. Princeton Architecture Press: New York, 2002.