Molly Pitcher
by
Nikhil P.

from

United States

Molly Pitcher by Nikhil P.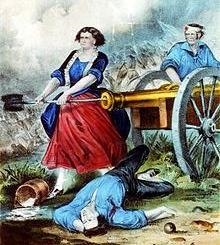 Molly Pitcher fights the Battle of MonmouthPublic DomainBeing a fighter in the Battle of Monmouth while being a woman was hard, but Molly Pitcher did it. Her help in the Battle of Monmouth was helpful for the soldiers in it. Molly Pitcher is likely the nickname given to a woman who carries water to soldiers. She also fought a lot during the battle. She was a woman serving in the Revolutionary War during the 18th and 19th century. She was brave, determined and courageous. She was a big hero at the Battle of Monmouth.
"Molly Pitcher" the nickname that's only given for a few. She was born in 1754 in Trenton, New Jersey in a dairy farmer family. She married to a barber named William Hays. Though her actual name was Mary Ludwig Hays, she got her nickname from bringing a pitcher to the soldiers in the Battle of Monmouth, a battle in the Revolutionary War. She died on 22 January, 1832 in Carlisle, Pennsylvania.
She was called "Molly Pitcher' to save a lot of people from thirst or heat exhaustion. But, her husband collapsed from the heat. Even after her husband was wounded, she didn't lose her courage and took over the cannon and started loading it. She fought so much that a cannonball went directly through her legs and the lower part of her petticoat. So, for her bravery, George Washington gave her an annual pension of $40 and soon, she became a sergeant.
Furthermore, the war had been places for many heroes and Molly Pitcher is one of them. She was born in a dairy farmer family but soon became a soldier in the Battle of Monmouth. She is an inspiration for future generations. Without a doubt, Molly Pitcher was a hero.
Page created on 1/16/2019 1:55:10 PM
Last edited 1/18/2019 11:33:27 PM
The beliefs, viewpoints and opinions expressed in this hero submission on the website are those of the author and do not necessarily reflect the beliefs, viewpoints and opinions of The MY HERO Project and its staff.