Mona Mahmudnizhad was an Iranian Bahá'í who, in 1983, together with nine other Bahá'í women, was sentenced to death and hanged in Shiraz, Iran, on the grounds of being a member of the Bahá'í Faith. The official charges ranged from "misleading children and youth" to being a "Zionist", as the Bahá'í World Centre is located in Israel.
The nonprofit Mona Foundation which focuses on girls' education was named after her in 1999.
Mona Mahmudnizhad was born on September 10, 1965, to Yad'u'llah and Farkhundeh Mahmudnizhad, who had left their home in Iran to teach the religion in southwestern Yemen, which was, at the time part of the Federation of South Arabia. In 1969, the government of South Yemen expelled all foreigners and the Mahmudnizhad family returned to Iran. They spent two years in Isfahan, six months in Kermanshah, and three years in Tabriz before finally settling in Shiraz in 1974. During this time, her father worked repairing small appliances and served the Bahá'í community in various Bahá'í administrative bodies.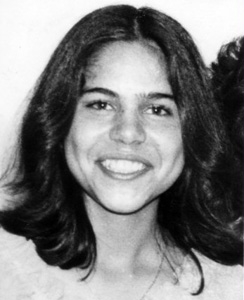 Mona MahmudnizhadWiki Commons
Bahá'ís are persecuted in various countries, especially in Iran, where the Bahá'í Faith originated and where one of the largest Bahá'í populations in the world is located. The origins of the persecution stem from a variety of Bahá'í teachings that are inconsistent with traditional Islamic beliefs, including the finality of Muhammad's prophethood, and the placement of Bahá'ís outside the Islamic religion.
From a young age, Mona showed exceptional qualities of courage, intelligence, and a deep sense of justice. By the time Mona became a teenager, she was well-known in Shiraz by both young people and adults, both inside and outside the Bahá'í community. She also took advanced Bahá'í classes with students who were often much older where she excelled at memorizing many prayers and passages from the Bahá'í writings. Reportedly, Mona's love for the Faith ran so deep that she would often awake in the middle of the night to pray and meditate. Her commitment to her faith and her desire to contribute positively to her community marked her as a person of great potential.
The persecution of Bahá'ís in Iran increased following the Islamic Revolution of 1979 and on October 23, 1982, four armed Revolutionary Guards, on the orders of the public prosecutor of Shiraz, entered the Mahmudnizhad household and ransacked it, in search of Bahá'í material. The guards then took Mona and her father into custody. They were blindfolded and taken to Seppah Prison in Shiraz, where they were placed in separate quarters, and Mona was detained there for 38 days. On November 29, 1982, she and five other Bahá'í women were transferred from Seppah Prison to Adel Abad Prison, also in Shiraz.
She was later taken to the Islamic Revolutionary Court where she was interrogated and then returned to prison. A few days later, she was again interrogated in front of an Islamic Revolutionary judge. Mona was found guilty on manufactured charges. The then President of the United States Ronald Reagan called for clemency; despite this, tragically, Mona and her fellow prisoners were sentenced to death. On June 18, 1983, they were executed for nothing more than their religious beliefs.
Mona's story reached international awareness, sparking condemnation of the Iranian government's actions and highlighting the plight of religious minorities in the country. Her trial, which lacked due process and fairness, was symbolic of the persecution faced by the Baha'i community and other marginalized groups in Iran.
Mona Mahmudnizhad's legacy, however, extends far beyond her tragic death. Her story continues to inspire individuals around the world, reminding them of the power of faith, resilience, and the determination to stand up against injustice. Her life exemplifies the principle that even in the darkest of times, individuals can choose to uphold their values and refuse to be silenced by fear.
Her legacy is commemorated through various avenues, including art, literature, and documentaries that tell her story. Music artist Doug Cameron recreated Mahmudnizhad's story in a music video, 'Mona with the Children', which made the pop charts in Canada. The video was distributed throughout the music scene and was effective in bringing the persecution of Bahá'ís in Iran to international public attention. In September 2007, the Iran Human Rights Documentation Center published a case study on the subject.
The Mona Foundation was established in 1999 and is a non-profit organization that supports grassroots initiatives focused on education and raising the status of women and girls in the US and abroad. They believe that universal education and gender equity are the cornerstones of eradicating poverty, disease, and conflict.
The foundation connects a global community of change-makers: philanthropists, businesses, entrepreneurs, and non-profits, and partners with proven grassroots organizations to address the root causes of poverty and inequality to scale impact and reach and sustain individual and social transformation. Find out more and how to become a partner at: www.monafoundation.org.
Page created on 8/29/2023 4:26:02 PM
Last edited 9/3/2023 2:45:37 PM