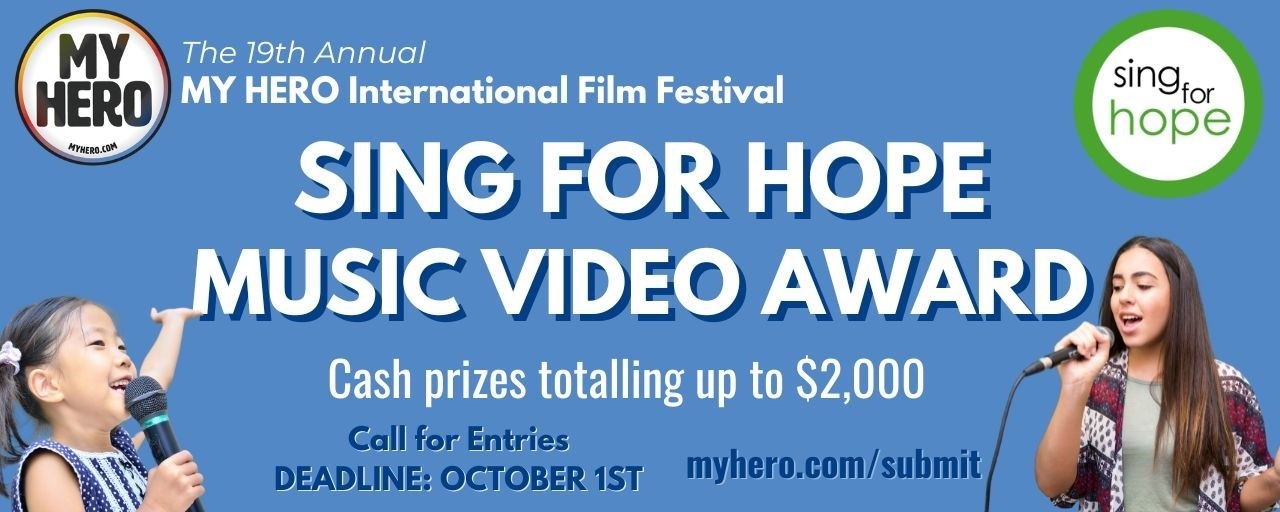 Sing For Hope AwardMY HERO
CONTACT: FOR IMMEDIATE RELEASE
Jeanne Meyers
Co-founder/Director
The MY HERO Project
[email protected]
MY HERO INTERNATIONAL FILM FEST ANNOUNCES NEW SING FOR HOPE AWARD
JULY 27, 2023 - LAGUNA BEACH, CA - The MY HERO Project is pleased to announce a new award category at the MY HERO International Film Festival. The Sing For Hope Music Video Award is sponsored by Sing for Hope, a nonprofit organization that calls upon the power of music and the arts to uplift and inspire communities around the world.
The award will recognize the outstanding contributions of songwriters, who use their creative talents to shed light on inspiring heroes — everyday citizens, remarkable acts of kindness, or individuals and communities who have overcome adversity through creative endeavours.
"We look forward to the new collaboration with Sing for Hope," said Jeanne Meyers, Co-founder and Director of The MY HERO Project. "The addition of this new award provides more opportunity to amplify messages of hope and foster creativity,"
The prize is funded by Sing for Hope board member Eva Haller. Winners will be chosen in both youth and professional categories. Recipients will share a $2,000 cash prize to further support their artistic endeavors. The Sing for Hope Award will be presented during the MY HERO's 19th film festival's awards ceremony in November.
"I am so pleased about the relationship Sing for Hope is building with the MY HERO Project," said Eva Haller, Sing for Hope Board Chair Emeritus. "I am thrilled, excited, and proud of both organizations. The Sing for Hope Music Video Award will be a great beginning, and a fantastic opportunity yet to be explored."
The Sing for Hope Music Video Award is one of many Special Awards that make up the MY HERO International Film Festival, which seeks to honor local and global heroes working for positive change in the world.
Submissions are open and the deadline is October 1st, 2023. Videos must include original music and be family friendly. Students may request a fee waiver for submissions. Visit MyHero.com/Song-Contest for details.
About MY HERO International Film Festival:
The MY HERO International Film Festival celebrates filmmakers who tell inspiring stories of heroism and hope. Since its inception, in 2004, the festival has provided a platform for storytellers of all ages, backgrounds, and levels of experience to share short films that promote positive change and inspire audiences worldwide.
About Sing for Hope:
A non-profit organization, founded in New York City in response to the events of 9/11, Sing for Hope harnesses the power of the arts to create a better world. Their creative programs bring hope, healing and connection to millions of people in hospitals, care facilities, schools, refugee camps, transit hubs, and community spaces worldwide.
Page created on 7/28/2023 5:13:02 AM
Last edited 7/31/2023 7:53:46 PM