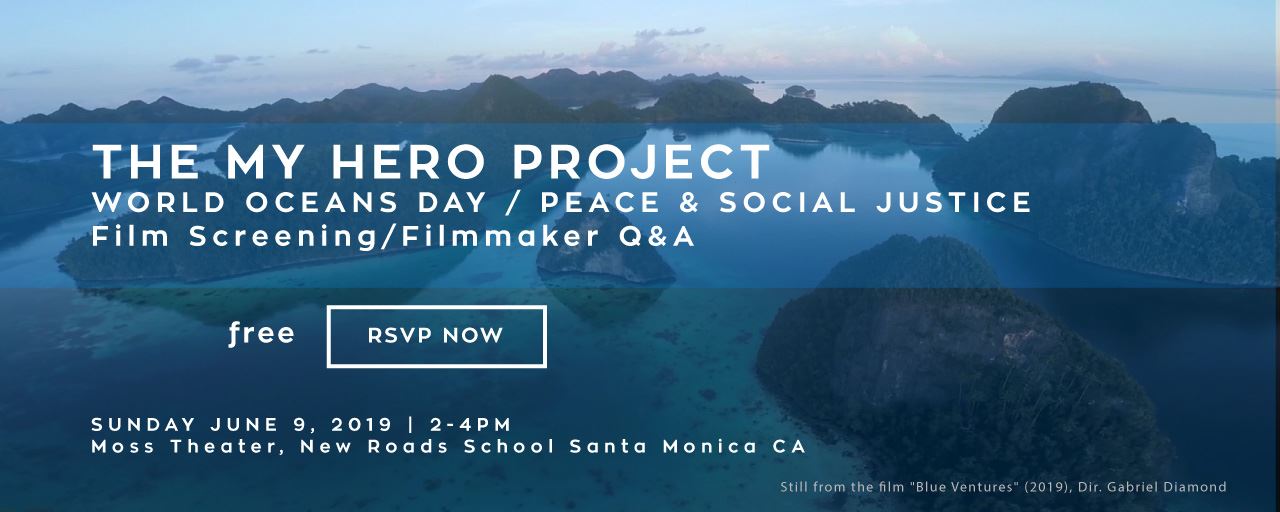 Peace & Social Justice FilmsMY HERO
CONTACT: JEANNE MEYERS FOR IMMEDIATE RELEASE
Co-founder/Director
The MY HERO Project
[email protected]
949-376-5964
THE MY HERO PROJECT HOSTS FREE FILM SCREENINGS SUNDAY AFTERNOON TO INSPIRE THE SANTA MONICA COMMUNITY
MAY 15, 2019 – SANTA MONICA, CA- Join The MY HERO Project on Sunday, June 9, for a free community screening of selected short films about peace and social justice. The screenings run from 3:00 PM – 4:00 PM at:
Moss Theater – New Roads School
3131 Olympic Blvd
Santa Monica, CA 90404

Highlights include:
Equal Justice Initiative— produced by Gabriel Diamond for the Skoll Foundation — a film that shows the efforts of Bryan Stevenson and Equal Justice Initiative, as they attempt to reform the justice system by seeking relief for hundreds of wrongfully accused and falsely condemned inmates sentenced to U.S. prisons.
Gray Areas— produced by Cheri Gaulke, Jackson Kroopf, Alethea Paradis, Kat Swander and Jack Safir, for Harvard Westlake School — a documentary that follows two U.S. teens as they travel to the U.S. -Mexico border to explore the gray areas of governmental policies and the human experience in this contested region.
About Ron Kovic— produced by The MY HERO Project — tells the story of Ron Kovic, activist, artist and author of the best selling autobiography Born on the Forth of July. Kovic, who was paralyzed in Vietnam, has spent the past four decades advocating for peace.
Come early to catch an array of hero-themed films in honor
of World Oceans Day, screening from 2:00 – 3:00 PM.
Hosts for the event:
Wendy Milette - Director of the MY HERO International Film Festival
Trey Carlisle - Filmmaker and social justice activist
The MY HERO Project is a nonprofit 501()3 organization with a mission to share stories of the world's heroes through stories, art, music and short films. MY HERO website (myhero.com) hosts the world's largest archive of hero-themed media submitted by students, teachers, professional writers and others around the globe.
Page created on 5/16/2019 4:28:02 AM
Last edited 5/16/2019 6:23:04 PM