Nick Vujicic
by
Amanda Molinaro from Irvine
On December 4th , 1982 in Australia, an expecting mother gave birth to her firstborn, a son. Nick Vujicic was a healthy baby, with just one hitch: he had no limbs. Doctors were at a loss as to why Vujicic has been born without limbs. Vujicic's mother was a nurse and had known what to do during her pregnancy, and his lack of limbs had not shown up on any early tests. His parents were uncertain of what kind of life their son could lead, but they supported him as he struggled to live without limbs.
When Vujicic was old enough to attend school, he started experiencing doubt, rejection, loneliness, and bullying because of his physical difference. At times, he would stay home from school to avoid negative attention but, with the encouragement of his parents, he was able to make friends by talking to some of the children. Throughout his childhood Vujicic struggled with depression, believing he was a burden on others. In Sunday school, Vujicic decided to place his faith in Christ and he began reaching out to others, sharing his story. When he saw how sharing his experience helped others cope with problems in their own life, he realized that God had given him a purpose: to help and inspire others to live life to its fullest. For the first time in his life, Vujicic began to feel blessed with everything he had been given.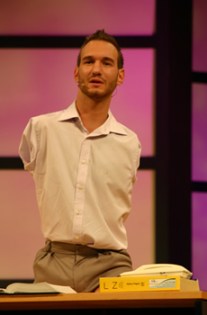 Vujicic started an organization called Life Without Limbs, and now travels the world as a motivational speaker. His mission is to "to cross boundaries and break down barriers to build bridges that bring people to the love and hope found in Jesus Christ." He speaks to the young and old, the wealthy and impoverished, those with disabilities and without, freely sharing his story to give hope and inspiration.
Over the years, Vujicic has learned to become independent and can now take care of his personal needs. He can brush his teeth, comb his hair, get dressed, and shave on his own. He hops around his house or uses an electric wheelchair to get around, especially when outdoors. Vujicic went on to get a Bachelor's Degree in financial planning and accounting, and enjoys fishing, swimming, and playing soccer in his free time.
Visit Life Without Limbs to learn more about Nick Vujicic's inspirational story. The website provide articles to help inspire others, and lists dates for Vujicic's next tour. Watch clips from his previous tours, and learn how Vujicic went from a life without limbs to a life without limits.
Page created on 4/24/2009 12:00:00 AM
Last edited 4/24/2009 12:00:00 AM
The beliefs, viewpoints and opinions expressed in this hero submission on the website are those of the author and do not necessarily reflect the beliefs, viewpoints and opinions of The MY HERO Project and its staff.

Extra Info
An inspirational movie was created around Nick Vujicic called "The Butterfly Circus"