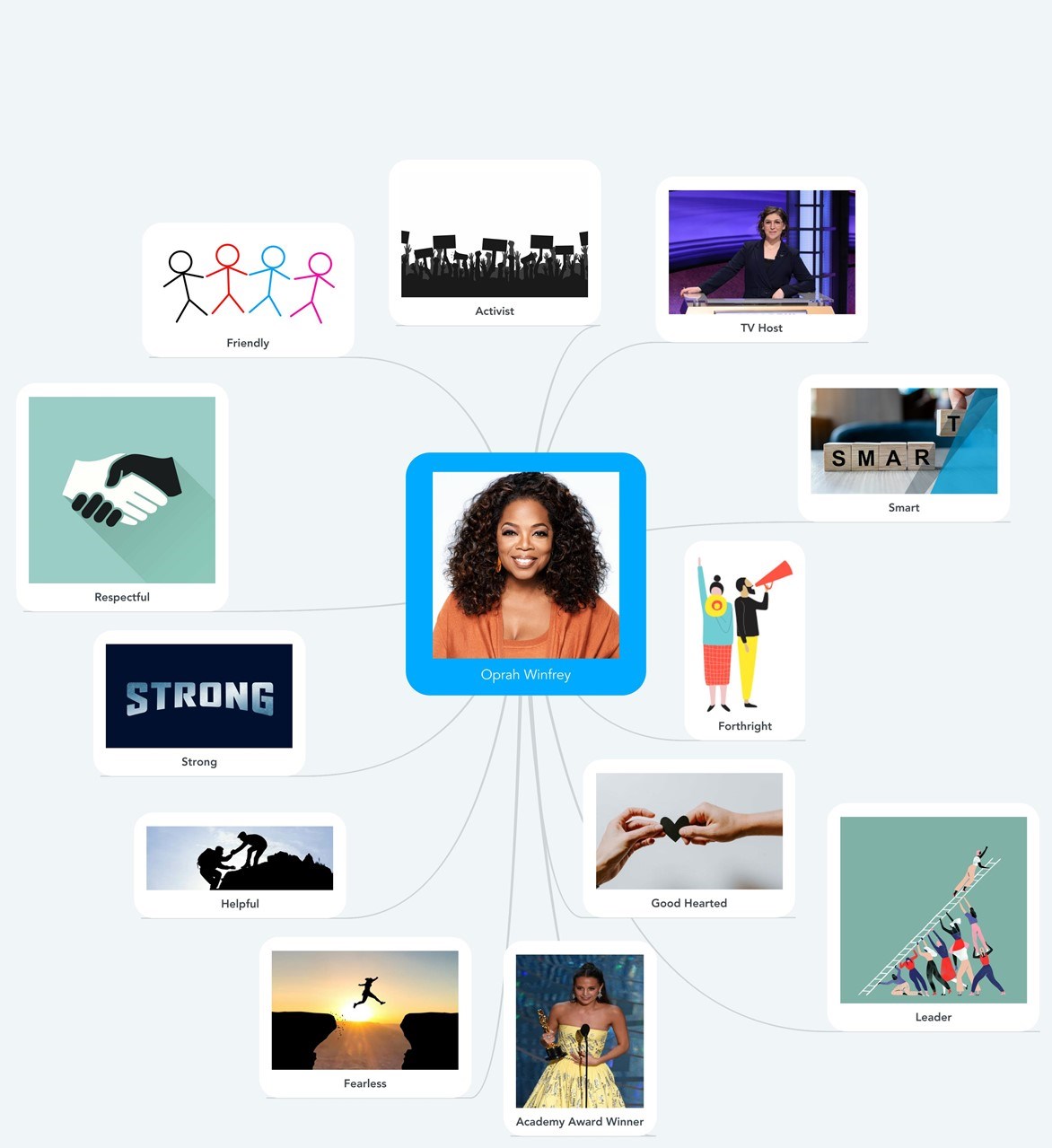 Oprah Winfrey Webby Pavelle SmithMy book report is about Oprah Gail Winfrey. The reason I chose Oprah Winfrey is because she is a Humanitarian. She stood up for racism and black rights, she made a school called: The Oprah Winfrey Leadership Academy for Girls – South Africa (OWLAG.) It is a boarding school for girls, grades 8-12, in Henley on Klip, Gauteng Province, South Africa.
I also picked her because she is forthright, kind and very sociable.
My book is a biography and the title is: Work it, girl: Oprah Winfrey. The author of Work it, girl: Oprah Winfrey is Caroline Moss and Illustrated by Sinem Erkas.
Work it, girl: Oprah Winfrey has a total of 62 pages with great illustrations and a wonderful topic.
Work it, girl: Oprah Winfrey takes place through Oprah's life, since she was born to an adult. Oprah Winfrey was born on January 29 1954. This book covers her entire life, not just specific dates.
Work it, girl: Oprah Winfrey was published on March 4, 2019.
Here are some facts about Caroline Moss: Caroline Moss is an author based in Brooklyn, NY. She has written for The New York Times, New York Magazine, Cosmopolitan and more. Her first book, "HEY LADIES!" came out in May 2018. She loves scary movies and her favourite foods are pickles.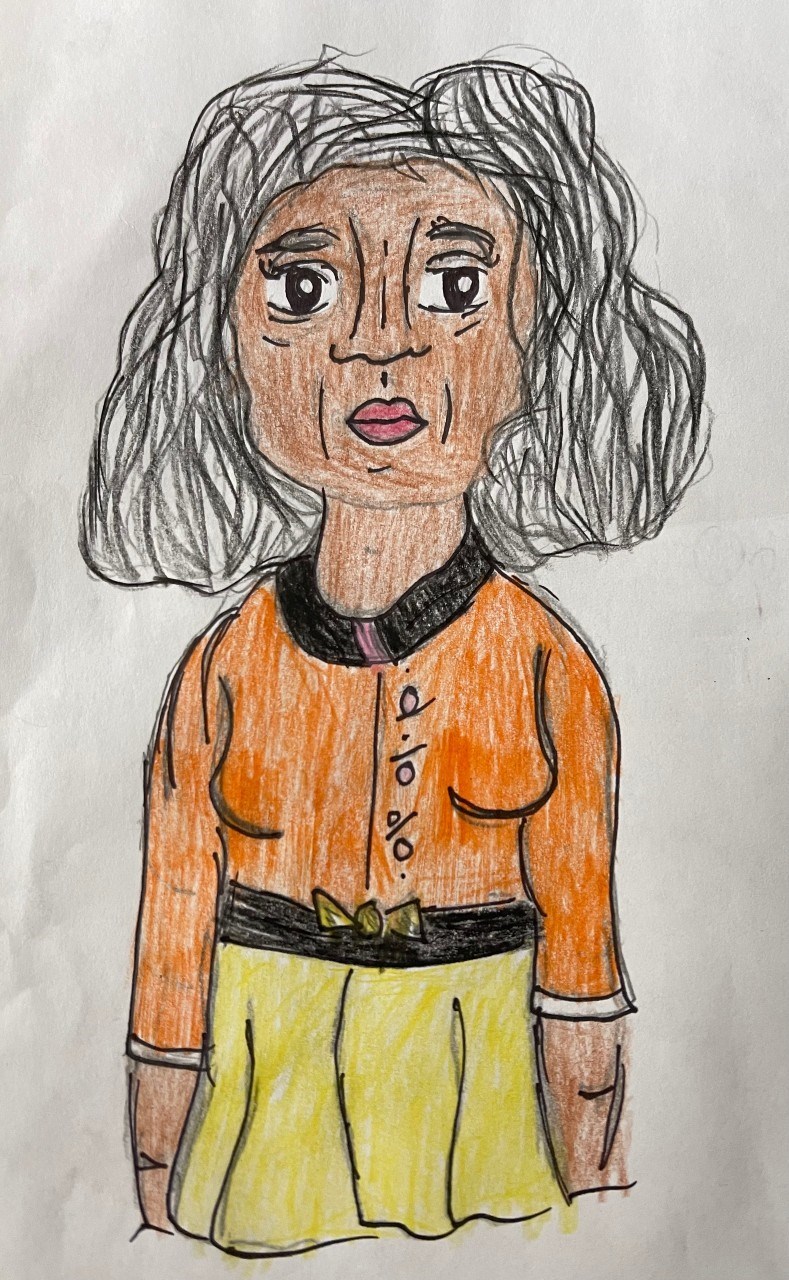 Oprah Winfrey Portrait Pictureby Pavelle Smith Early Life
Oprah Gail Winfrey was born in Kosciusko, Mississippi on January 29, 1954. Oprah Winfrey lived with her Grandmother, Hattie Mae. Hattie Mae and Oprah lived in a small farmhouse. When Oprah was around four years old she couldn't attend school, but she knew she was different from the rest of the children she'd see at church. All the girls at church had pretty yellow and blue dresses, while Oprah had dresses made from potato sacks. Her grandmother had fashioned these gowns for her, and at $2.50 she couldn't afford to buy pretty dresses. Like all children, we have had a grandmother once. For Oprah, Hattie Mae was hers. Hattie Mae, like Oprah, was black. Now, there's nothing wrong with that but, being a black woman in the 1950s was hard for you because you were treated differently. When Oprah was a child, the girls would call her ¨Sack Girl¨ because she wore potato sacks. The school Oprah attended was known as Wharton Elementary School in Nashville.
Oprah was a brilliant kid and taught by Mrs Duncan in fourth grade. When Oprah was a child she enjoyed reading and mathematics. When Oprah was three years old, Hattie Mae helped her learn reading, writing and math. Oprah began reading the bible after her days at church.
When Oprah was about 14 years of age, she was sexually abused and soon enough was pregant with her first son. Sadly, her boy (who she named Canaan) died prematurely in the hospital. During Oprah's life she struggled with sexual abuse. When she was nine years of age she was babysitting for her younger siblings and was sexually asulted by her nineteen year old cousin. Oprah remains very vocal about her sexual abuse in hopes to help other victims.
In 1971 she won the Miss Black Tennessee beauty pageant. The Miss Black beauty pageant is a contest for African-American Women. It is the black version of Miss America (a popular beauty pageant.)
Growing up, Oprah had a very strong woman who influenced her, Maya Angelou. Maya Angelou was an American poet, memoirist, and civil rights activist. She published seven autobiographies, three books of essays, several books of poetry, and is credited with a list of plays, movies, and television shows spanning over 50 years.
When Oprah Winfrey was growing up, she had big dreams. She tell her father, "I'm going to live in a house on a hill." or, "I will have a million dollars." But Oprah quickly learned that the dream life had for her was far more interesting than she'd imagined.
When Oprah was a child she played and acted with her animals on her farm. She made up stories and acted them out. When Oprah was 14 she got a job at a local grocery store. Maybe Oprah wanted to be an actor as a child?
When Oprah was old enough to go to college, she got a career at Baltimore's WJZ-TV, a local black radio station. She started reading the six-o'clock news. The producers and managers liked Oprah so much that they offered her to continue working with them. This was big news for Oprah! Normally, college students aren't qualified to work in a good career. She should have graduated and gotten the career once she had the degree. Their managers and producers knew Oprah would be a great help, just like Hattie Mae had thought. Oprah was off on a great start towards being an American TV-Host.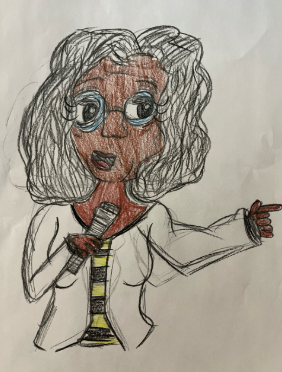 Oprah Winfrey Action Pictureby Pavelle SmithChallenges and Accomplishments
Oprah Winfrey had struggled with sexual abuse. She also struggled with neglectance and being left alone. While her grandmother was busy with long hours of being a maid she was often alone and felt neglected. When Oprah was a child she stuck her fingers in a bucket of water. Oprah recalls: "She whipped me so badly that I had welts on my back and the welts would bleed," The blood had made her Sunday dress become wet. "So then I got another whipping for getting blood on the dress." Now, Oprah remains very vocal about her beatings and sexually abuse. Oprah has now started a new television show called: "The Me You Can't See," in memory of her sexual abuse.
Part of Oprah's success was that she took risks and was always up for a challenge. She is always ready to: ¨Take chances, make mistakes and get messy!¨ -Miss Frizzle.
Maya Angelou influenced Oprah Winfrey, When Angelou passed away in 2014, Oprah wrote in honor of Maya. ¨I've been blessed to have Maya Angelou as my mentor, mother/sister, and friend since my 20s.¨ Oprah recalls Maya as her ¨As one of her greatest influences.¨ and refers to Maya as her sister, mother or friend. In, ¨The Oprah Magazine'' Oprah had said she is one of Maya's greatest fans!
Some of Oprah Winfrey's special traits are that she's a feminist and is a strong leader for women's rights. She also funds abused women's shelters and campaigns against child abusers. Some of the other traits she has is that she is forthright, straightforward and honest. She tells the truth and does good in the world.
One of Oprah Winfrey's deepest darkest weaknesses is that she has an eating disorder, that's the only problem, however, she constantly has to deal with her weight going up and down. Oprah also struggles with holding onto the past, it is still hard for her to think about her newborn son she lost as a teenager. She often forgets to let go of the past affecting her life.
A funny thing Oprah Winfrey enjoys happens to be Cozy Earth Plush Lounge Socks. These socks are made of breathable fabric sourced from bamboo. These socks also are so cozy they happen to give you a luxury feeling. And, the temperature is regulated to keep your feet from getting overheated.
Oprah Winfrey has won a lot of awards, she's been recognized for the People's Choice Award for Favourite Talk Show Host. The People's Choice Award for Favourite Female TV Performer. And, in 2011 she won the Jean Hersholt Humanitarian Award. She also won an Academy Award for the Color Purple. Oprah Winfrey has won a total of 24 awards from 1993 to 2018!
Challenges And Accomplishments, Part 2
When I read Work it, girl: Oprah Winfrey, I was very surprised that Oprah was treated poorly for wearing potato sacks to Church. I feel she could have earned more respect, not judging by her clothing. This whole thing had really nothing to do with disappointing me! I think Work it, girl: Oprah Winfrey. is a great book with so many amazing facts!
The pergola was quiet, filled with the humming of bees. I had set the table with cakes and biscuits. The air was quiet, my guest had to be here soon. I looked over towards the bridge, Oprah Winfrey slowly walked towards me. ¨Why, hello, Pavelle? Do you have any questions for me?¨ Oprah asked, taking a seat. ¨Well, yes. Do you know your net worth?¨ Oprah paused and smiled at me. ¨I sure do, every year I earn about 315 million dollars.¨ Oprah said. I gasped looking at her. ¨Wow, that's a lot!¨ Oprah smiled, ¨Well, next question, what do you do with your money?¨ I asked her. ¨Well, I mostly give it to charities. I donated 40 million dollars to charities and in fact, I created a charity fundraiser called Oprah's Angel Network that raises money for charity!¨ ¨Whoa, that's awesome! I'm so happy that you use your money in such a positive way!¨ Oprah chuckled, ¨Thank you, Pavelle.¨ ¨So tell me, who did you end up marrying?¨ ¨Well, I'm currently with Stedman Graham. He's a good man, we've been together for nearly 36 years!¨ ¨Well, I'm happy that you're happy with him, but we have one more question to ask!¨ I said. Oprah took a biscuit from the basket. ¨Alright.¨ ¨Ok so, who is your best friend?¨ I asked, grabbing a cookie. ¨Well, Gayle King has been a great friend of mine. I can also rely on her when I'm feeling down or in need of her.¨ ¨Oprah, thank you for your time and helping me with these questions! Gayle sounds like a great person¨ I said, smiling. ¨Alright, have a good day and I'll see you later!¨ Oprah said, brushing off her dress and walking towards the bridge.
If I could be Oprah Winfrey's child I would love it! She would probably be busy a lot which I don't mind because my parents are quite busy. My mom and dad are great family members and they'd still be awesome, but living with Oprah Winfrey's family would be great! Why? Because my family would be loving and kind. I'd get to watch the Oprah Winfrey Show.
I really like Work it, girl: Oprah Winfrey because there are so many unique drawings and pieces of art. The wording was perfect and I think that they should definitely write another. My favourite drawing was the illustration of Oprah when she was a child in church.
In the book Work it, girl: Oprah Winfrey, I learned that Oprah Winfrey had a son, Canaan. Her newborn son died prematurely in the hospital. I never knew that Oprah Winfrey had ever had a child and that he had passed away. I also learned that Oprah Winfrey was married to Stedman Graham a successful American Educator, Author and businessman and public speaker.
Oprah Winfrey had learned that education is everything. You must be a smart and dedicated person to earn a good career in developing good skills. Now, I've learned the hard way to not cut easy corners. When I was in fifth grade my teacher gave me a test. She set down the papers and asked me to do the fractions. I didn't know what was going on so I began to get worried, ending in crying. My lesson learned was I should practise for my test and maybe ask for help beforehand!
Others when reading Work it, girl: Oprah Winfrey they might get bored of the story and how her life was formed. The illustrations would probably be their favourite part speaking that people love colour. People also might get bored and how long the book truly is. I think people should give it a chance and get into reading!
I'm very happy that I chose this book and person to learn about! My only concern is they should have made the book smaller because it is quite long. Oprah Winfrey was a good choice for me. I learned that you should reach for the stars because there are no limits! Work it, girl: Oprah Winfrey was definitely the book for me!
People should definitely look up to Oprah Winfrey as a hero because she is smart, beautiful, kind and she follows her true dreams. She is the perfect hero for me to respect myself and to never give up! Everyone should definitely look up to her and take a look at some of the TV shows she's created. Work it, Oprah!