Willie O'Ree
by
Alex from Toronto, Canada

Do any of you know who Willie O'Ree really was? Most of you would say no but this is why I wrote this biography about him. Willie O'Ree was the NHL's first black player. He was born in Fredericton, New Brunswick which is in Canada in the year of 1935. He had a loving family which he loved very much. He had a dad that was a city civil engineer worker and his mother, Rosebud, was a supportive mother and caring one, too. Willie also had an older brother, Richard, who was a good athlete. Willie followed in his brother's footsteps also being a great hockey player. Like most Canadian boys Willie loved to play hockey. Willie O'Ree learned to skate at age 3 and played in a league at age 5. Willie would also become an excellent baseball player. He was a pretty good shortstop and second baseman. When he was a teen he was once offered a contract with the Milwaukee Brewers, but he turned it down to play a sport he had loved for a long time, hockey. When Willie O'Ree was a kid growing up in Fredericton he was never made fun of or called racist names by white kids. When he was playing hockey with his friends they did not care that he was black, they just cared that he was playing with them and that he had the skill to play. But when Willie was older he was allowed to go to the Milwaukee Brewer Camp in Georgia. But when he got in the bus the racist remarks began. He was supposed to sit in the back of the bus on his way to the camp, and when he wanted to go out to eat, some restaurants would not let him in. When Willie was playing in the NHL for the Boston Bruins his team did not care that he was black but only that he had the talent to play.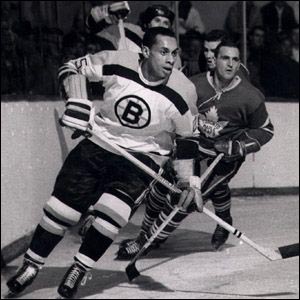 Willie O'Ree wanted to play hockey ever since he was a little kid. He played on many teams before he was in the NHL. But one day he was called up by the Boston Bruins Mangaer and he was asked if he wanted to play and replace an injured hockey player and play for the game in Quebec. He accepted this once in a lifetime opportunity, making him the first black athlete in the NHL. Even though he did play 2 games in the season of 1957-1958, he tried his best in both games against the Montreal Canadiens. He was later able to come back in 1961 to play 43 games for the Boston Bruins. In 1998 Willie O'Ree joined the NHL again, this time as the Director of Youth Development for the NHL/USA Hockey Diversity Task Force. This was a non-profit program designed to introduce children of different national backgrounds to the game of hockey. In the position he is in now he is able to meet all the players he played with in his old days and some NHL players that are now playing such as Mike Grier and Anson Carter. Willie O'Ree was awarded with many types of awards. On March 25, 2003, Willie O'Ree was awarded the Lester Patrick award. This award is presented for outstanding services to hockey in the USA. In 1969 he was presented with WHL (Western Hockey League) Second All-Star Team, playing on the WHL's San Diego Gulls. He played for seven seasons on that team and earned 73 points.

Willie O'Ree was not he most popular guy on the ice when he was in the NHL. It's not because he was a cruel or unsportsmanlike player, which he isn't, but because he was a black player and at that time there were no black athletes in the NHL. He was faced with racism, discrimination, unfairness, and ignorance every day. Opposing players fought him just because he was black. Fans spat or threw drinks at him. Some even went into the penalty box to fight him. But still he kept on playing and tried as hard as he could for every minute he was on the ice. Willie O'Ree was not just a great hockey player but he was also strong and brave when it came to hockey. This is a part of my biography that will shock a lot of you. Willie O'Ree was not totally playing when he was on the ice. He was missing a piece of him. I found out that Willie O'Ree was playing as a half blind hockey player. Let me explain; in 1955, Willie O'Ree was playing for the Kitchener-Waterloo Canucks and all of a sudden he was struck by a puck that was shot and that went in a weird direction right to his right eye. He was so tough that the doctor said he would not be able to play hockey for a long time but that did not stop him. He soon returned with 95% of his eye vision lost and he played many games after that. Willie O'Ree was asked to play for The Boston Bruins, as you know, but when he knew that he was going to be replacing an injured player he did not know how other people would respond. His teammates were okay with him playing in the NHL but the fans did not like it one bit. This was a choice he had to make and he chose to play. He was handed a job of a lifetime, playing in the NHL and he never regretted making that decision.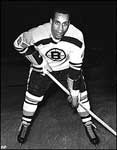 Willie O'Ree has now opened a door for all types of black athletes to enter in the NHL and he will be remembered by that if you have read this article. I don't know Willie O'Ree but if he were to ever read this he would remember all the great/amazing things he has done.
Page created on 6/14/2006 12:00:00 AM
Last edited 1/9/2017 4:17:36 PM
The beliefs, viewpoints and opinions expressed in this hero submission on the website are those of the author and do not necessarily reflect the beliefs, viewpoints and opinions of The MY HERO Project and its staff.