John Lewis has dedicated his life to advancing human rights and civil liberties. 

He was one of the leaders of The Great March on Washington for civil rights, where Martin Luther King Jr. gave his historic "I Have a Dream" speech. Throughout his life he has practiced the philosophy of non-violent protest.
Lewis took part in the sit-in movement to desegregate lunch counters in Nashville, TN. Lewis was arrested and jailed many times. He was also beaten many times as one of the original Freedom Riders, who tried to end the practice of segregation on public transportation. This was unconstitutional but unenforced. Once, he was beaten and left for dead at a Greyhound Station.
Yet, he said: "We were determined not to let any act of violence keep us from our goal. We knew our lives could be threatened, but we had made up our minds not to turn back." John Lewis is often called "one of the most courageous persons the Civil Rights Movement ever produced" and is a hero to many. He was awarded the Presidential Medal, the highest civilian honor.
Essay by John Lewis on his Hero, Martin Luther King, Jr.
Documentary on John Lewis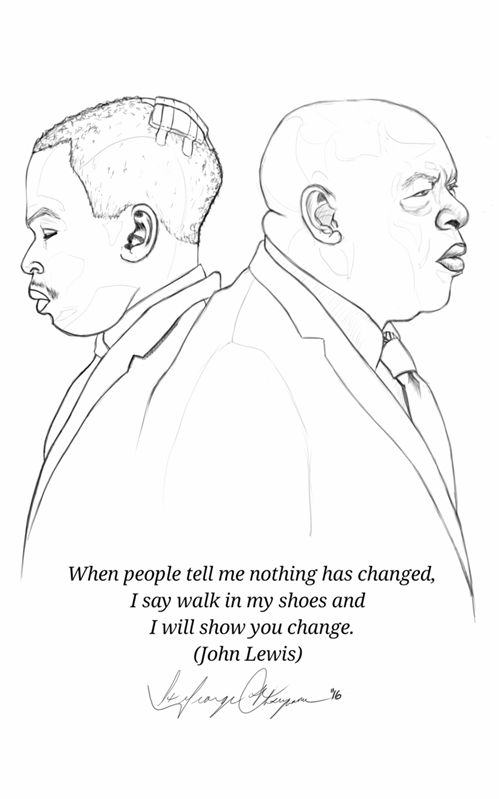 John Lewis Portrait
John Robert Lewis is an American politician and civil rights leader. He is the U.S. Representative for Georgia's 5th congressional district, serving since 1987, and is the dean of the Georgia congressional delegation.
Community Hero: John Lewis
No one had to tell John to stand up for what he believed was right; it just came naturally.
Organizer created on 2/14/2018 3:01:30 PM by Staff
Last edited 2/14/2019 8:24:19 PM by victoria murphy