A Celebration of Jazz and Poetry
April 18, 2013 - The 3rd Thursday Salon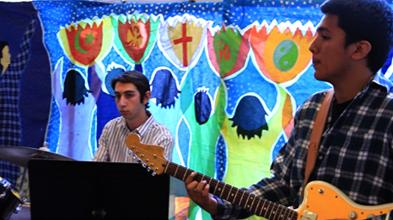 The MY HERO Project has established a new home for its Media Arts Education Program, at the Capshaw-Spielberg Center for Educational Justice in Santa Monica, the cornerstone structure of the new Herb Alpert Educational Village. To celebrate this new community and introduce its award-winning programs to the general public, The MY HERO Project will be hosting a monthly series, the MY HERO Salon, on the Third Thursday of each month.
The evening Salons will be a combination of casual get-together and public forum, with guest speakers, film screenings, musical performances and lively discussion. These family-friendly events, which are open to the public, will each have a theme that echoes the Capshaw-Spielberg Center's commitment education and social justice.
The MY HERO Project is one of ten nonprofit organizations that were invited to become part of the center, which is part of the New Roads School campus in Santa Monica. The Herb Albert Educational Village represents a vision of education in the 21st century, housing several educational programs in one collaborative community: The New Visions Foundation, the students, faculty, and staff of New Roads School, and nonprofit partners dedicated to the causes of educational advancement and social justice.
Each of the Third Thursdays will be devoted to a unique theme dealing with education and social justice. A light reception will follow, where guests will be able to meet with presenters and MY HERO team members.
Herb Albert Education Village – New Roads
The Capshaw-Spielberg Center for Educational Justice
Leadership Center, 2nd floor
 3131 Olympic Boulevard #203
Santa Monica, CA 90404
Please RSVP to 310.995.2618
[email protected]