Kathleen:
My hero is my Aunt Kathy. She is kind. She takes care of me. My aunt likes everyone. I like that. She is nice. She helps me with all of my problems. She lets me go to people's houses. And she is smart. My aunt is fun and my hero.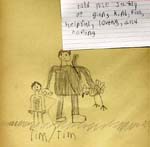 Tim:
My hero is my dad. My dad is kind, funny, helpful, loving, and caring. He was my hero when I was a baby. We live in a white house with a huge barn. We play video games, monopoly, and other games together. He means the world to me.
Corrine:
A hero is someone who stands up for you. My hero is my grandma. I think she is the best hero in the world. When pap says "no" about something, Grandma will say yes and sometimes she will playfully dig her nails into him. She spoils me. She stands up for me. That is why she is my hero.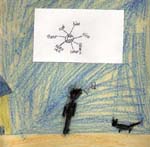 Kristopher:
My hero is my dad because one day a car was coming and he saved my life. I said thank you. My dad is kind, funny, cool and brave. My dad saved my life again, two days after. When I was riding my bike, a car came and he ran in front of the car to make it stop. I love my dad because he's my hero.
Brittany:
My mom is amazing. She can be fun, good, smart, kind, and generous. She is my hero because she helps me with things that are confusing. She takes care of me and she is my helper. That's why she is my hero.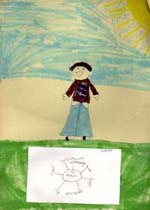 Deann:
My hero is amazing because he's my dad! My dad once caught me when I fell out of a treehouse. Then he brought me in for ice cream and soda! I'm glad he was out there or I would have gone to the hospital. My hero is kind, cool, really nice, sometimes weird but he's still my hero!
Phillip:
My hero is my mom because she is nice. She is very neat. She helps me with my homework, and she helps me do the spelling sheet. Heroes stand up for you, that is what my mom does. My mom is the best!
Megan:
My hero is Jeanette. She is nice, fun, brave, helpful, giving, kind, and cool. She is my friend, my best friend! I wish she was my sister. We are like sisters. Jeanette is the best hero I have ever seen. That is why Jeanette is my hero.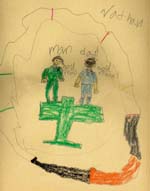 Nathan:
My heroes are my mom and dad. My mom saved me when I climbed under the Imagination Station in the park. My dad is nice to me because I love him and he loves. I love my mom too and she loves me. I'm glad that my mom and my dad are my parents and my heroes!
Page created on 5/16/2006 5:19:11 AM
Last edited 1/5/2017 10:44:34 PM