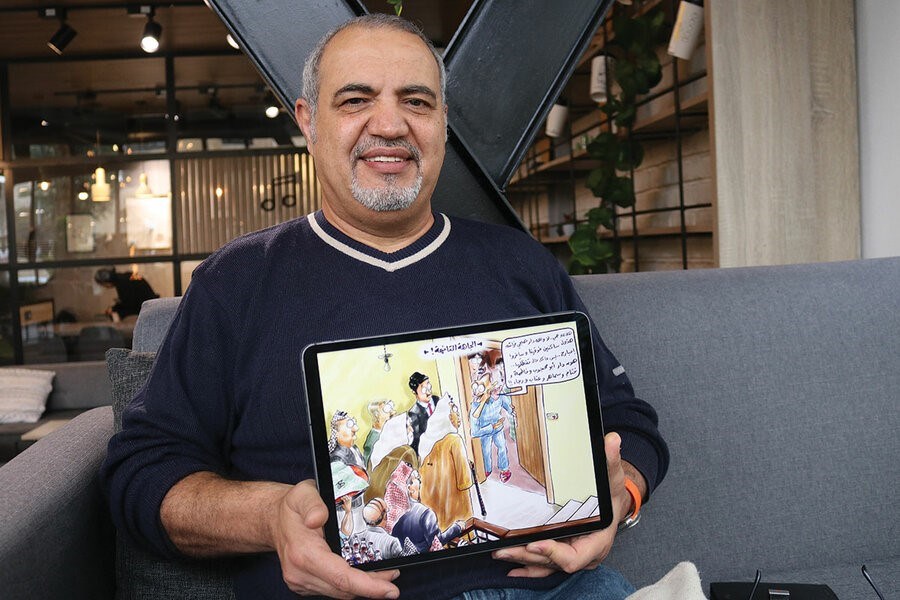 Emad Hajjaj's satirical cartoons have cost him jobs and landed him in prison. But he draws on because "if there is something important and funny to say, then we have to say it."Taylor Luck
March 13, 2023
Eyes locked in perfect concentration on his screen, he makes loops, curves, and squiggles that form the outline of two people and their speech bubbles, stopping only for the occasional sip of mint tea.
It is here at this corner table in a glassed, airy cafe-turned-makeshift office in West Amman where Emad Hajjaj has penned some of the most politically pointed cartoons in the Arabic press, on subjects such as abuse in Egyptian prisons, deadly Israeli raids in Jenin, and Putin's war in Ukraine.
He has poked fun at Arab and Western leaders, denounced wars, mocked ISIS, and memorialized the human cost of atrocities, from 9/11 to Syria's civil war.
At various times over the past three decades, these cartoons have cost him his job and future opportunities, gotten him blacklisted, and landed him in prison – making him a household name in Jordan and the Arab world along the way.
They have also made people laugh. Which is why he draws on, despite the threat of arrest. "Each morning I think of the person who reads the depressing news of the day: What will make him laugh, think, and inspire him to change his situation?" he says. "If there is something important and funny to say, then we have to say it."
With the Arab world witnessing a stifling suppression of freedoms, Mr. Hajjaj remains one of the few cartoonists refusing to shy away from political issues. He champions democracy, human rights, and equality even as the governments around him actively suppress them."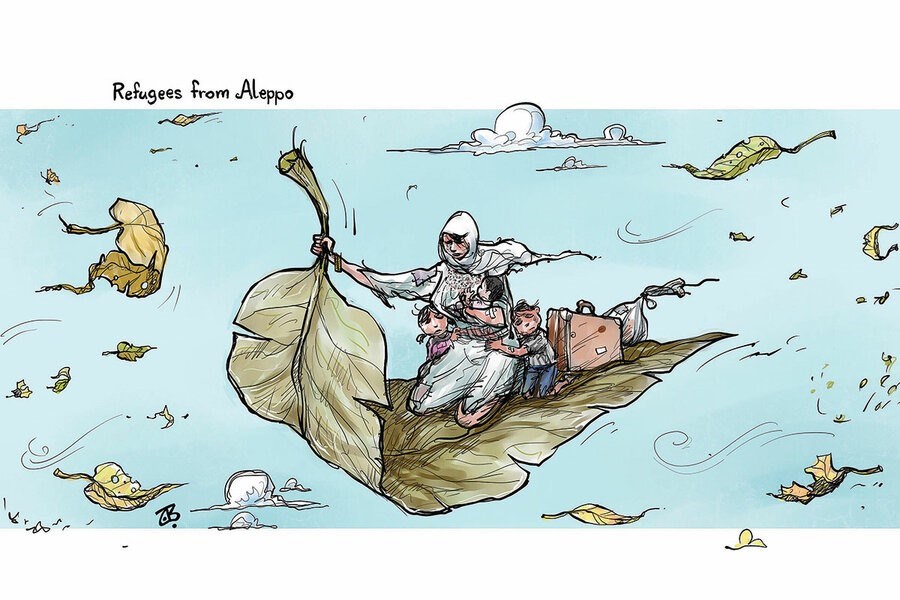 Courtesy of Emad HajjajEmad Hajjaj's political cartoons touch on hot-button issues in the Arab world and beyond. Refugees from Aleppo, Syria, cling to a leaf floating in the wind.
"At a time when the red lines are unclear, cartoonists and journalists who comment on political issues risk the threat of detention, a court case, prison time, huge financial penalties, and the loss of their livelihood," says Nidal Mansour, director of the Amman-based Committee to Defend the Freedom of Journalists.
"To have front-line defenders continue their work like Emad Hajjaj is important, not only to the cause of press freedoms, but to people's ability to discuss national issues."
Laugh to think
When Mr. Hajjaj, fresh out of university in the early 1990s, began his career in Jordan, most Arab cartoonists focused on global issues such as the Israel-Palestinian conflict, the breakup of the Soviet Union, or American elections.
Mr. Hajjaj drew on the issues everyday Jordanians talked about, such as fuel prices, corruption, hypocritical parliamentarians, and bumbling government ministers.
"At the time no one was reflecting the concerns of the average Jordanian," he says. "They weren't helping people laugh and think about their situation."
His punchy local cartoons caught on with readership, and he was appointed as a cartoonist at Al Rai, Jordan's biggest daily.
There his most famous invention was Abu Mahjoob, a character typifying the average Jordanian, whom he employed to poke fun at and educate society, tackling protest movements, women's rights, sexual harassment, and so-called honor crimes.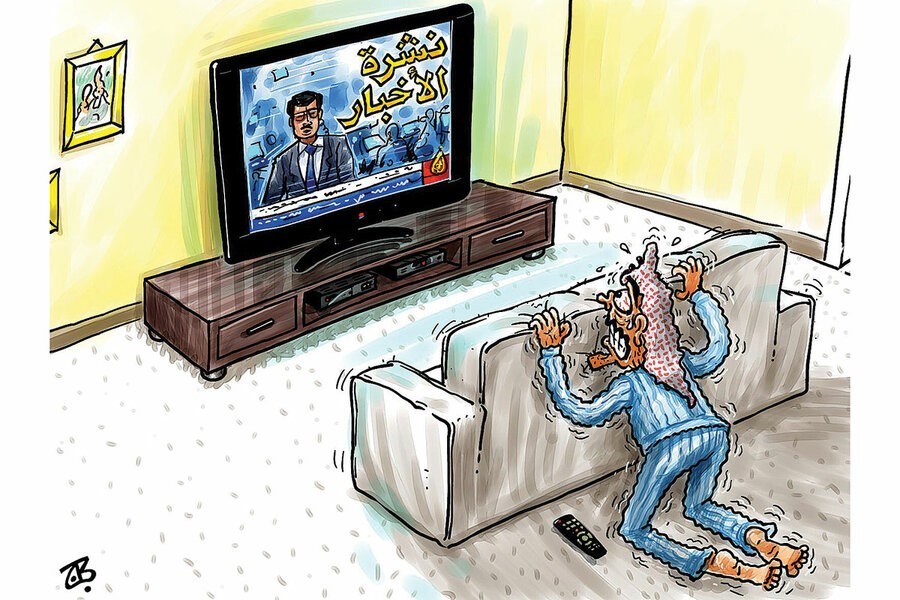 Courtesy of Emad HajjajRecurring character Abu Mahjoob, a stand-in for the average Jordanian, hides from the news.
Right to dream
In the wake of 9/11, and amid a spike in global interest in the Arab and Muslim world, he increasingly published in Europe and the United States to give an insight into the way Arabs viewed the world. From 2014, many of his cartoons denounced and mocked the Islamic State, prompting death threats and placing his life at risk.
"I found a way to laugh at ISIS. I showed them for how ridiculous they were," he says. "It was fighting back with a smile."
But what perhaps has defined Mr. Hajjaj's career is the 2011 Arab Spring and Arabs' struggle for freedom, dignity, and human rights – themes he still draws on to this day.
Prior to 2011, he says, many cartoonists fell into a trap of depicting "Arabs afraid of their leaders, being left outside history."
"And then suddenly you saw people fighting for their freedom in the streets in Tunisia and Egypt. It was beautiful."
Inspired, he drew two to three cartoons daily on the Arab uprisings and push for democracy, often for free or to share on social media.
Even after anti-revolution forces arose and strongmen extinguished most of the lights of the popular uprisings, he has kept championing the cause of democracy and human rights in Egypt, Yemen, and Syria. Now he regularly draws cartoons mocking and denouncing populist President Kais Saied's dismantling of democracy in Tunisia – even as other Arab journalists shy away.
His reputation as the "Arab Spring cartoonist" continues to cost him job opportunities across the Arab world, an informal blacklisting. His cartoons are now only published by London-based Arabic and Western newspapers.
"I still believe that one day we will see our societies rise up and secure our basic rights, human rights, and democracy, like any other people in the world," says Mr. Hajjaj. "Today people may see this as idealism and not realistic, but I believe it is our right to dream about it and to keep this dream alive."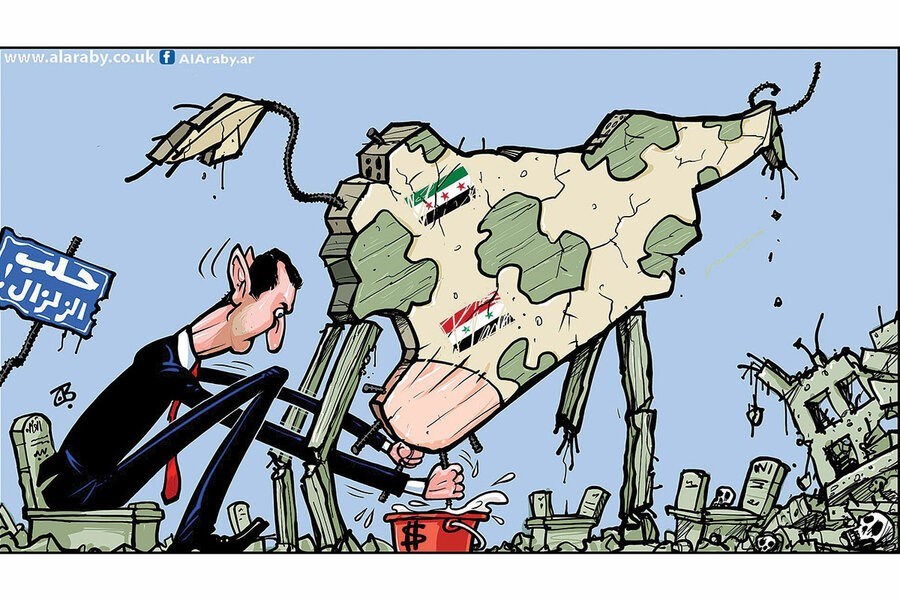 Courtesy of Emad HajjajSyrian strongman Bashar Al Assad milks his country like a cow.
But this commitment to honesty and comedy has gotten him into trouble. In 2020, one cartoon landed Emad Hajjaj in jail.
It was, he believed at the time, a harmless cartoon commenting on regional dynamics concerning the Abraham Accords, normalizing relations between Israel and the United Arab Emirates.
The cartoon mocked the UAE failure to secure F-35 fighter jets from the U.S., then perceived as a potential Washington "sweetener" to get Abu Dhabi to sign the accords. In the cartoon, a dove spits in the face of an Emirati man, with "F-35" written on the droplets.
Within days of publishing the cartoon, Mr. Hajjaj was arrested and transferred to a military tribunal. "I was in the same cage as the jihadists I used to draw. It would've been comical if it wasn't terrifying," he says.
The cartoon was considered to be "harming Jordan's relations with a friendly country." Jordan relies on Emirati aid and jobs for Jordanian expats.
He was charged under anti-terrorism legislation and faced 3-10 years in prison. After he was convicted and spent five days in prison, he was suddenly released without an explanation. Some say it was likely a royal pardon.
"We all need a smart laugh"
Mr. Hajjaj continues drawing to this day – albeit with a new daily routine. "I no longer have a chief editor. But I have a lawyer to vet all my cartoons," he says. "Sometimes he rejects them, and those cartoons go unpublished."
Journalist Murad Kotkot is one of many who grew up with Mr. Hajjaj's cartoons, and was inspired to become a cartoonist himself. "Emad Hajjaj taught me that cartoons were the fastest way to deliver a message. It was a universal language that could speak to my community," he says.
Mr. Hajjaj's determination to continue work after jail sent a message that "we all have a responsibility to keep drawing," says Mr. Kotkot.
"If we are discouraged and leave the profession because of red lines, then we are not political cartoonists. I learned that we lose or gain our value whether we confront and overcome these challenges and tackle these difficult issues," Mr. Kotkot says.
Today Mr. Hajjaj insists that he is neither a free-speech hero nor courting controversy.
He says he simply wants to inspire future cartoonists, and regularly visits schools across Jordan, encouraging children who love to draw: "Study arts! The world has many doctors but needs more cartoonists."
"Satire is a wonderful universal language that promotes awareness, laughter, and understanding," he says, putting the final touches on an Abu Mahjoob cartoon on his iPad. "And we all need a smart laugh now more than ever."
Related stories