Paul Newman
by
Susannah Abbey
"From salad dressing all blessings flow."
Paul Newman, Future Entrepreneur.
1982 was the year actor Paul Newman turned his hobby--making salad dressing and putting it in old wine bottles to give out to friends--into a business. This "joke" business has since become an unexpectedly large and successful industry which benefits many charities. In a 1998 interview, Newman estimated that his food business had earned about ninety million dollars for various causes.
The recipients of this beneficence are, for the most part, children. With his wife, Joanne Woodward, Newman has founded summer camps around the world that take in children ill with cancer and serious blood diseases and give them a chance to enjoy their childhood and try activities that their lives normally would not permit.
Another of Newman's favorite causes is land conservation. In 1998 he and Woodward donated half a million dollars to the Trust for Public Land, in order to save the Trout Brook Valley from development.
Newman with business and cookbook collaborator A.E. Hotchner.
Born in 1925, Newman avoided life as a sporting-goods retailer by dabbling, then plunging, into acting. He appeared on stage, television and finally cinema in the 1950s, in such classics as "Butch Cassidy and the Sundance Kid," "The Hustler," and "The Sting." In 1968 he directed the movie "Rachel, Rachel," which starred his future wife, Joanne Woodward.
His famous face appearing on the bottles of salad dressing and spaghetti sauce helped market the "Newman's Own" brand that has now become the financial resource for his philanthropic efforts. But the true story behind it lies in the actor's ironic sensibility and sense of humor. Newman has said that he thought the idea of putting his image on the products a "joke," and that what appealed to him was the idea of using his own face and fame--what he calls "circular exploitation"--in order to eventually achieve some good for others.
Paul Newman will be greatly missed. (January 26, 1925 – September 26, 2008)
Page created on 1/22/2015 5:11:58 PM
Last edited 1/22/2020 8:23:34 PM
The beliefs, viewpoints and opinions expressed in this hero submission on the website are those of the author and do not necessarily reflect the beliefs, viewpoints and opinions of The MY HERO Project and its staff.
Extra Info
Hole in the Wall Camps
265 Church Street
New Haven, CT 06510
203-562-1203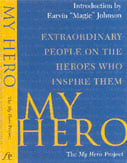 Paul Newman contributed his hero story to
MY HERO: Extraordinary People on the Heroes Who Inspire Them
. Your purchase of this book helps to support this not for profit educational web project.