I am a reporter from The MY HERO Project. When PeaceJam invited me to attend the Global Call to Action, I eagerly accepted. The day I spent there was truly inspiring:
In celebrating its 12th year anniversary, it was fitting that PeaceJam held the Global Call to Action, a conference on peace, on the anniversary of September 11th. Over 1000 youths between 14 and 25, including mentors and volunteers, traveled to Loyola Marymount University to attend the Global Call to Action. Banners with declarations of peace, equality, and other pressing issues adorned the stage. As the Nobel Laureates entered, the crowd rose as one and greeted them with wild applause. Jody Williams, Rigoberta Menchu Tum, Shirin Ebadi, Betty Williams, and Adolfo Perez Esquivel entered with a friendly wave and filed onto the stage and to their seats; Archbishop Desmond Tutu danced up onto the stage to his.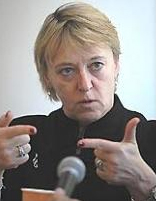 Each spoke powerfully of their accomplishments, dreams, and hardships as they imparted words of wisdom to those assembled. Jody Williams' liberal, tell-it-like-it-is attitude had the crowd cheering and laughing throughout her speech. Jody Williams has worked tirelessly to ban the use of landmines, and her organization, The International Campaign to Ban Landmines, has pushed for countries to sign treaties banning the use of landmines and cluster bombs since 1992. A treaty to ban the use of cluster bombs is scheduled to be signed in December 2008. Jody Williams smiled as she triumphantly pointed into the crowd, "First landmines, then the cluster bomb, next is nukes!" As she surrendered the microphone to the next speaker, she pumped her fists in the air as she cried, "Peace is sexy, peace is hot, peace is now!"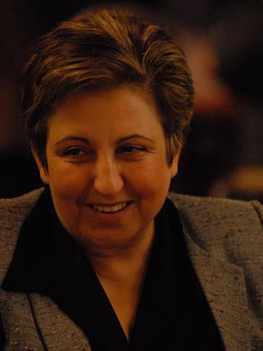 Shirin Ebadi was the first woman to become a judge in Iran. When the government changed and restricted women from holding high-ranking judicial positions, she became a lawyer. She is known for campaigning for strengthening the legal rights and status of women and children in Iran. She also represents the liberal figures that have been oppressed by the judiciary. In 2001 she established the Center for the Defense of Human Rights, and continues to defend the rights of women, political prisoners, and minorities in Iran.
Rigoberta Menchu Tum is a leading advocate for Indian rights and ethno-cultural reconciliation in Guatemala and the rest of the Western hemisphere. She is a member of the Committee of the Peasant Union, and is active in the organization of resistance of oppression, and the struggle for Indian peasant people's rights. Although death threats forced her to flee Guatemala, she has returned several times to plead the cause for Indian rights.
Betty Williams, along with Mairead Corrigan, are the founders of The Community of the Peace People, an organization that promotes a peaceful resolution between the different factions of Northern Ireland. After seeing children as casualties of war, Betty Williams denounced the use of weapons, and she now works to eliminate them from society. She helped write the Declaration of the Peace People, whose simple goals she read to the attendees of PeaceJam:
We want to live and love and build a just and peaceful society… We recognize that every bullet fired and every exploding bomb makes that work more difficult. We reject the use of the bomb and the bullet and all the techniques of violence.
"Arms are for hugging, not killing," she says, as she spreads her arms. "Now turn and hug the person next to you."
Adolfo Perez Esquivel has been working to defend civil rights in Latin America through non-violent means. When he drafted a letter to the United Nations listing the breaches of human rights in Latin America, he was imprisoned. In spite of the horrors he experienced in prison, he also found inspiration for his cause. Written on the wall of his cell was a message from a previous prisoner: "God does not kill." Upon his release from prison, he became the leader of Servicio Paz y Justicia, a movement that promotes human, social, and economic rights. He now works to protect the rights of workers and aid in their struggle for land.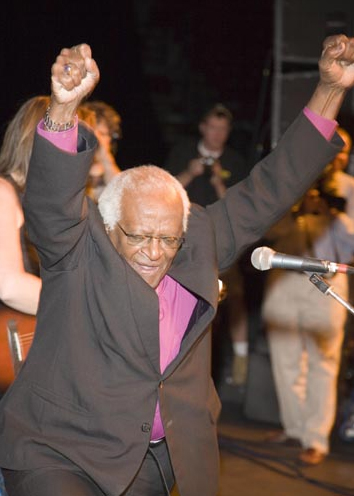 During the 1980's, Desmond Tutu was a strong opponent of apartheid and encouraged non-violent opposition to the apartheid regime. Since then he has been defending human rights and campaigning for the oppressed, and preaches forgiveness and cooperation rather than revenge for past injustice. He has also been fighting against AIDS, poverty, and racism in Africa. The Desmond Tutu Peace Center was created to carry on Tutu's mission of non-violent change to create a more peaceful, loving, and equal future.
During the course of the conference, I was privileged to find myself in a workshop with Rigoberta Menchu Tum. She spoke of racism and hate and of the necessity of tolerance, using her own personal experiences to highlight her points. The racism and hate in her country of Guatemala had caused the government to kill her parents but, rather than seek revenge, she has used her strong emotions to strengthen her fight for tolerance and equality. She invited each person to reflect on the acts of racism they had experienced and to explore a solution other than hate. The workshop ended with participants sharing their personal stories of racism and hate.
Perhaps even more moving than the laureates' speeches were the testimonials of youths who have made a difference. A young team from Tibet had discovered a village that was without clean water. Through hard work and perseverance, they were able to acquire the funds and permits to lay pipelines that could channel water to the village. In South America, the lack of education results in unemployment, and violence has spread like wildfire. Two young men have been traveling and teaching the youths skills such as horticulture, writing, and metalworking, to ensure that they can find jobs. Hearing other youths of the same age speak about what they accomplished proved to be as motivational, if not more so, than the Nobel Laureate's speeches.
By the end, each laureate had offered words of wisdom and motivation for the attendees to carry away from PeaceJam. Jody Williams provided her email address ([email protected]) to help encourage and motivate the crowd. She acknowledged that, even if youth decides to take an active role in promoting peace, there will be many times that they will want to give up. "But that's not possible," she said, "because once you do this stuff you can't pretend to not know. Willful ignorance is not an option," she said, to wild applause. Betty Williams expressed the necessity of initiating peace because "the greatest killer in the world is apathy." As a political activist, Shirin Ebadi is a strong speaker. "Elect peace, not war. Elect preaching, not animosity. Help humanity, not your financial interests. Pursue the truth, and you can be rest assured that you will succeed," she said as she stepped down.
Only about 1,000 youths were present to hear the six Nobel Laureates at this year's PeaceJam. Many students came from around the USA and some from as far as Burma. Hopefully many more young people will have a chance to watch some of these "superstars" of peace on TV and find ways to get involved in future conferences. One disappointment was the inability of some of the translators to capture the laureates' enthusiasm. On a few occasions translations had to be corrected. However, despite the language barrier, the essence of these Nobel Laureates' message was not lost and will hopefully spur the attendees to action. Drawbacks aside, The Global Call to Action was a truly eye-opening experience. The words of the laureates and other speakers helped others realize that they have the power to make a difference. One of the most important messages these laureates passed on is that one person's actions of kindness do not have to have a global effect. The simple act of helping someone less fortunate, whether by giving money to the poor, donating items to help those in need, or any number of other small acts of kindness, will most likely not have a global effect. However, if enough of these acts of kindness are combined, the effects will be felt worldwide. Initiate a single, simple act of kindness and help PeaceJam's daring goal to initiate 1 billion acts of peace by its 20th anniversary in 2016. As Desmond Tutu puts it in his interview Nobelity, "the sea is actually made of drops of water".