by
Amanda Molinaro from Irvine
September 16, 2006 saw the largest gathering of Nobel Prize winners in US history. 10 Nobel Peace Laureates gathered in Denver, Colorado, and collectively challenged the world: "Today we ask the young leaders of PeaceJam, and the youth of the entire world, to join us in a Global Call to Action. For the next ten years, we invite them to work side by side with us as we address ten fundamental issues. These ten core problems are at the root of much of the suffering in our world, and we believe that young people can mobilize to make a difference in these ten key areas. It is our hope that by launching this ten-year campaign, we can inspire people of all ages, worldwide, to work for change. Over the next ten years, we hope to inspire over a billion acts of service and peace" (PeaceJam.org).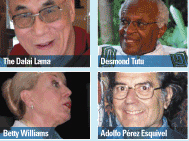 Ivan Suvanjeiff first conceived the idea for PeaceJam on the streets of Denver in 1994, where he met a Latino gang who knew of, and appreciated, Desmond Tutu's nonviolent efforts towards change. He enlisted the help of several Nobel Peace Laureates, and PeaceJam began campaigning worldwide, teaching youths how to initiate peaceful change by addressing 10 key issues plaguing the world:
- Equal Access to Water and Other Natural Resources
-Ending Racism and Hate
-Halting the Spread of Global Disease
-Eliminating Extreme Poverty
-Social Justice and Human Rights for All
-Rights for Women and Children, and their role as Leaders
-Restoring Earth's Environment
-Controlling the Proliferation of Weapons
-Investing in Human Security
-Breaking the Cycle of Violence
Today, PeaceJam is a leadership training program for youths which focuses on the words and works of 12 Nobel Peace Laureates: the Dalai Lama, Archbishop Desmond Tutu, President Oscar Arias, Rigoberta Menchu Tum, Mairead Corrigan Maguire, Betty Williams, Jody Williams, Adolfo Perez Esquivel, Jose Ramos-Horta, Sir Joseph Rotblat, and Shirin Ebadi. These men and women have dedicated their lives to working for peace, equality, justice and a better world, and they want to teach today's youth generation how to work to replace violence and oppression in the world today with peace and conflict resolution.
The PeaceJam Foundation is dedicated to inspiring a new generation of youths who are committed to working towards positive change in the world. The Foundation's mission is to have Nobel Peace Laureates working side by side with today's youths to initiate nonviolent change and spread peace. Every year, the PeaceJam Foundation holds the Global Call to Action, where six laureates gather to address youths between the ages of 14 and 25 about these 10 current issues and the steps that should be taken to rectify them.
"Since its launch in 1996, more than 600,000 youth have participated in the PeaceJam program. Over one million service projects have been created and implemented by participating youth, and over 140 PeaceJam youth events have taken place in 10 different countries throughout the world" (peacejam.org).
The next Global Call to Action will be held from September 11-13, 2008, at Loyola Marymount University in Los Angeles, California. Shirin Ebadi, Archbishop Desmond Tutu, Rigoberta Menchu Tum, Betty Williams, Adolfo Perez Esquivel, and Jody Williams will address over 3000 youths, with the goal of implementing one billion acts of peace which pertain to current, pressing issues of society.
PeaceJam believes that "it is time for youth to step up and define our future." Help PeaceJam's simple, but daring goal to initiate 1 billion acts of peace by its 20th anniversary in 2016, and watch a brighter future unfold.
Page created on 4/7/2013 11:58:42 AM
Last edited 1/3/2019 11:09:33 PM
Related Links
PeaceJam.org
- is a non-profit organization with its international headquarters located in Arvada, Colorado. Since its inception in 1996, over 600,000 youth have participated in the PeaceJam program, engaging in one million service projects in their communities.
Desmond Tutu
- Read a MY HERO story about Nobel Laureate Desmond Tutu
Rigoberta Menchu Tum
- Read a MY HERO story about Nobel Laureate Rigoberta Menchu Tum
Shirin Ebadi
- Read a MY HERO story about Nobel Laureate Shirin Ebadi
Jody Williams
- Read a MY HERO story about Nobel Laureate Jody Williams