Hugh Jackman Announces Top Ten Finalists of the Global Teacher Prize, calling teachers the 'real superheroes'
by
The MY HERO Project

from

Laguna Beach, CA

The Varkey Foundation, a non-profit organization with a mission to elevate the status of teachers around the world, has announced the finalists of the 2019 Global Teacher Prize. Ten finalists have been chosen from 10,000 applicants and nominees that hail from 179 countries. Actor Hugh Jackman, known for playing Marvel super hero Wolverine, announced the top ten finalists, calling teachers the "real super heroes."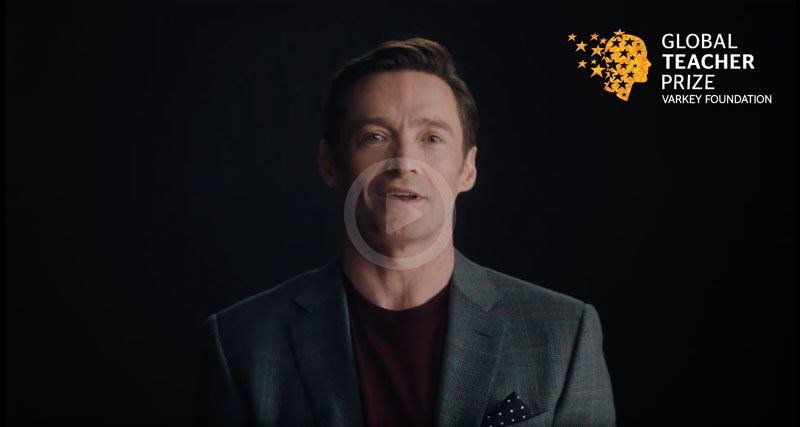 Actor Hugh Jackman announces top 10 finalists for Global Teacher Prizecourtesy of the Varkey Foundation
This year marks the fifth anniversary of the award, which is the largest of its kind. The winner will receive a $1million prize, courtesy of Dubai ruler Sheikh Mohammed Bin Rashid Al Maktoum. In a press release Varkey Foundation Chairman of the Board, Vikas Pota said, "All of the teachers in our final shortlist have taken their work far beyond what is generally expected of a teacher. In the classroom, they have inspired and enlightened their pupils by their innovative and original approaches to education and have ensured that the impact of their work has touched communities beyond their schools both locally and globally."
The Varkey Foundation was founded in 2010 as a strategic arm of the Varkey GEMS Foundation, a global charitable organization formed to improve education for underprivileged children. The Varkey Foundation headquarters are in the United Kingdom with offices in Argentina, Uganda, Ghana and Dubai. "I am delighted to announce the final shortlist for the Global Teacher Prize 2019," said Pota. "After months of deliberations we have chosen 10 Finalists from the 10,000 applications and nominations we received from 179 countries."

The winner will be announced on Sunday, March 24, 2019 at the Global Education and Skills Forum in Dubai. Learn more about the top 40 finalists and view past winners on the Varkey Foundation website.
Page created on 2/22/2019 7:37:50 PM
Last edited 2/25/2019 2:09:17 AM

Related Links