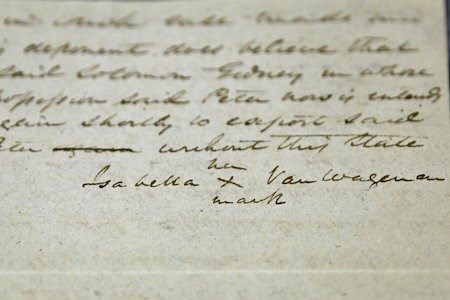 The "X" mark signature of Isabella Van Wagenen, who became known as Sojourner Truth, on a court deposition document shown at the New York State Archives, in Albany N.Y. June 9, 2022. The rediscovered records from 1828 detail Truth's fight to rescue her son from slavery.Michael Hill/AP
June 15, 2022
In 1828, years before she took the name Sojourner Truth, a Black woman who had escaped slavery with her infant daughter won a court fight in New York's Hudson Valley to bring her son, Peter, home from Alabama.
It was a historic case of a Black woman seeking the release of her son from slavery prevailing in court against a white man. Isabella Van Wagenen, as she was known then, would gain enduring fame as an outspoken abolitionist and women's rights advocate. As for her deposition and the rest of the court documents, they were boxed up and eventually stored among a million other records, unseen and unrecognized for their significance.
Until 194 years later.
An eagle-eyed state archivist searching for something else spotted the court records in January. Now, they will briefly be on public display Wednesday at the Ulster County Courthouse in Kingston, New York, the same building she walked into almost two centuries ago seeking justice. The eight hand-written pages offer new details about a significant turning point in her eventful life.
"This was extremely brave of Isabella," said Nell Irvin Painter, author of "Sojourner Truth: A Life, A Symbol." "Just the fact that she was a woman going up against powerful men, that's extraordinary right there. And then you add in race, and then you add in class. So it's an amazing story."