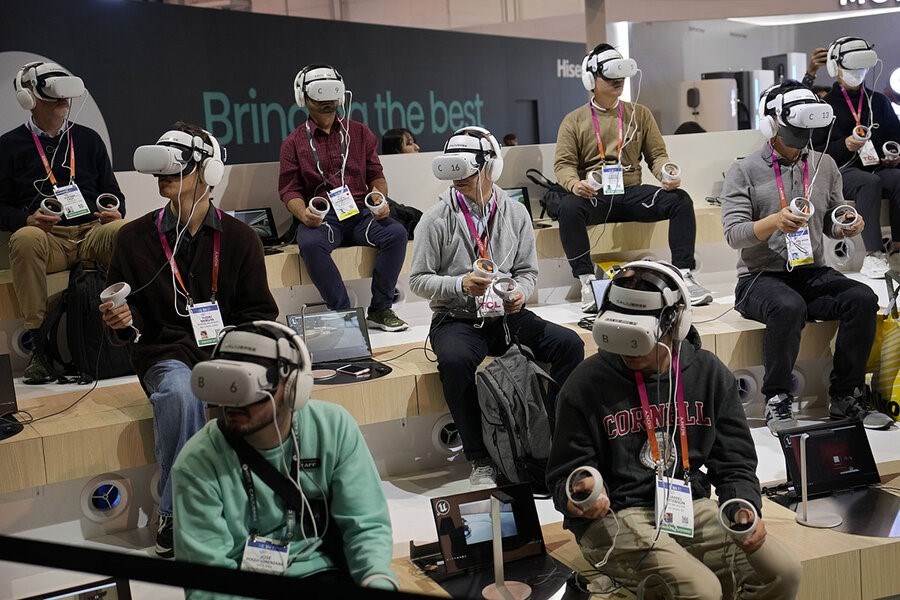 Attendees wear virtual reality headsets while previewing the Caliverse Hyper-Realistic Metaverse experience at the Lotte booth during the CES tech show Jan. 6, 2023, in Las Vegas. CES also featured technology aimed at changing learning and education experiences. John Locher/AP
January 10, 2023
It's hard not to smile back at Buddy.
He's sitting on the convention floor at CES, the large technology conference formerly known as the Consumer Electronic Show, in Las Vegas. His white body rotates and his head swivels, but it's his emotive face that melts hearts. The robot smiles, frowns, blinks, and even tears up – digitally, of course.
His Paris-based creator, Blue Frog Robotics, bills him as an "emotional companion" that can solve problems faced by education systems.
For example, Buddy sits on desks and becomes a homebound or hospitalized child's avatar, providing the classroom experience in a more natural way. Last year, France's Ministry of Education ordered roughly 2,000 of the artificial intelligence-enhanced robots for that purpose, says Maud Verraes, the Paris-based company's chief marketing officer.
"There's a big need, and it's the same everywhere," Ms. Verraes says of using the robot to give children a virtual presence in classrooms.
Buddy's inclusion among the aisles of futuristic gadgets at CES nods to the ever-changing technology landscape in K-12 education. Schools once tiptoeing toward adopting technology began a sprint at the onset of the pandemic. And even though remote learning has faded somewhat, the technology conversation has intensified.
Teachers aren't just grappling with how and when to embrace digital learning methods. They're also eyeing educational integrity threats posed by artificial intelligence. Last week, the New York City Department of Education blocked access on district networks and devices to ChatGPT, an AI-enabled program released to the public in November.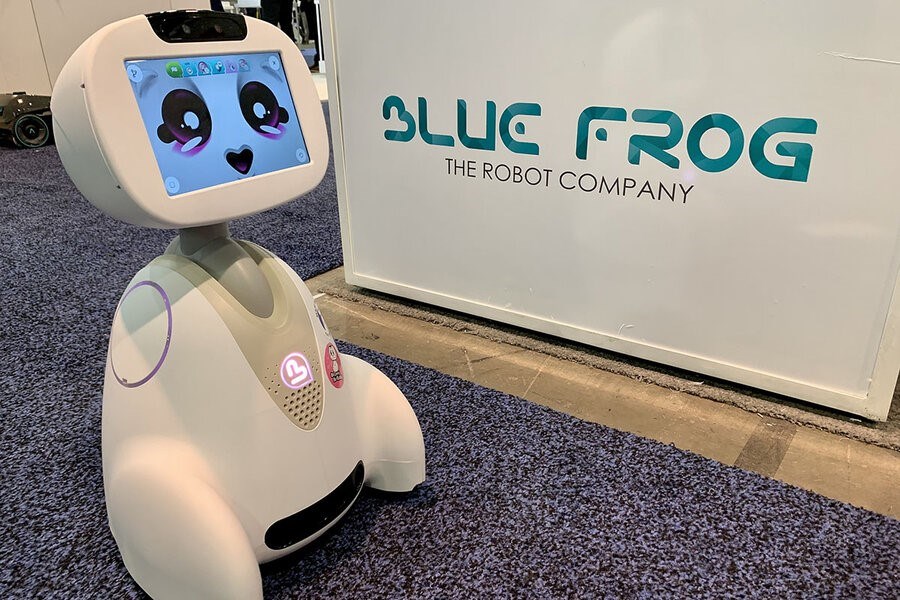 Jackie Valley/The Christian Science MonitorBuddy, a robot billed as an "emotional companion" by Blue Frog Robotics, sits on display at CES in Las Vegas on Jan. 5, 2023.
Despite concerns about tools like ChatGPT writing students' essays, Lindy Hockenbary, a classroom teacher-turned-education-technology consultant, says there's also room for hope. The same artificial intelligence technology powering those programs could help identify students' academic strong and weak spots. In theory, they could flag a student struggling to understand fractions, alerting the teacher that more support or practice is needed.
"It's disruptive to the way we do formal education now," she says. "But the other part of it – and where it can truly transform education – is it does have the power to help with personalized learning."
And if a stroll through CES – held Jan. 5-8 – is any indication, the disruptions will continue in big and small ways. Roybi Inc., the creator of an educational robot, debuted its RoybiVerse, which the company describes as an "intelligent edutainment metaverse."
Picture a virtual universe with dazzling animation and characters. The immersive learning platform aims to engage students and empower them to learn at their own pace through interactivity, says Elnaz Sarraf, founder and CEO of Roybi. The company expects to launch its RoybiVerse first on virtual reality headsets and then computers.
"Immersive education is the future of learning," says Ms. Sarraf via email. "Students can get into the virtual worlds, collaborate, interact and learn together while educators can easily make their content available at anytime and anywhere in the world."
How much (or little) of the classroom experience will migrate to the metaverse is difficult to say. Internet connectivity issues still challenge some schools, especially in rural areas. Other schools haven't yet achieved the coveted ratio of one laptop or tablet for every child. Some of that boils down to cost.
That's why technology isn't always top of mind for Vicki Kreidel, a Las Vegas reading specialist whose elementary school sits about 8 miles northeast of where tech gurus gathered for CES. She has embraced some tech – taking kids on virtual field trips, for example – but says schools need more basic resources before fancy gadgets.
"I think as educators, we need to stand up and say, 'You know what? That's not really useful. We could use more books,'" she says.
Ms. Hockenbary, who helps K-12 educators leverage technology for learning purposes, grounds her approach with this needs-based question: How will it benefit the student?
"You're using it as a way to help your students get from A to B, right? – helping them reach a learning goal," she says. "And I think that big picture focus gets lost a lot in all of the hubbub."
Unlike Buddy, a previous CES innovation winner that can also teach kids to code (current price in the business world: $3,000), some of the other ed-focused items on display at the packed show simply adapt or reimagine existing products, with the aim of making learning easier or more attainable.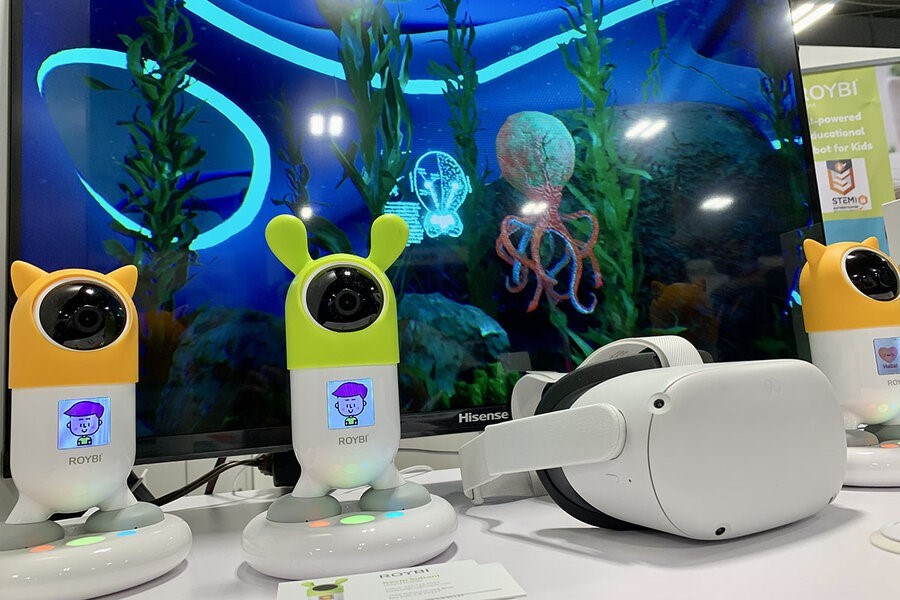 Jackie Valley/The Christian Science MonitorRoybi Inc. showcases its educational robot and RoybiVerse, an immersive learning platform, at CES in Las Vegas on Jan. 5, 2023.
Jin Sub Oh, the founder of Seoul-based Bengdii, hopes to do well with his pastel-hued headset that offers comfort to student ears. Mr. Oh says the product was born out of the pandemic-related foray into remote learning.
"I have two sons," he says. "They hate wearing headsets."
They dislike the pressure, he says. So the Bengdii Bee, newly available for about $50, features earpieces that can cover or flip away from the ear.
Glitzy tech products aren't always a prerequisite for student engagement and learning, says Jordana McCudden, an assistant principal at an elementary school in Las Vegas. She has seen students' reading and math skills increase after using digital learning programs on Chromebooks or tablets. On the flip side, she recently reminded her college-age son to take notes by hand, given the learning benefits of doing so.
After hearing about some of the gadgetry featured at CES, Ms. McCudden praises the Buddy robot and the headsets that take pressure off of kids' ears. But she also expresses disappointment that the pandemic struggles didn't prompt greater innovation about how to digitally connect students and teachers in a way that is "fluid and easy and not one more thing for a teacher to do."
She says she looks for the harmony between education and technology, while also acknowledging the role the latter plays all around us. In her own home, she can voice a question and have an artificial intelligence-powered device promptly reply. But technology should not supplant the teacher, she says, nor should it stifle discourse or collaboration among students.
"I love that ... my kids have access to [home technology], and I think it's enhanced their lives," she says. "But we have to maintain that balance of humanity and human connection and the value in talking out our ideas and processing together and having vigorous debate."
Related stories