Mark Pfetzer
by
Erin from Vermont
What is a hero? A person who saves the world? The answer is yes; but there are different kinds of heroes, too. A hero has these three heroic qualities; a hero is brave, adventurous, and determined. I believe that Mark Pfetzer is a hero because he has these qualities. Who is Mark Pfetzer, you may ask? Mark Pfetzer was the youngest person to ever climb Mount Everest. He was only fifteen when he climbed it the first time. He is a hero in his own way; he is brave, adventurous, and determined.
I believe that Mark Pfetzer is brave because he has climbed some of the world's highest mountains. Some were Cotopaxi, Mount Everest, Ama Dablam, and Cho Oyu. He was courageous to climb Cotopaxi because it is an active volcano. Think about it, would you want to climb something that could spit lava at you? He was brave to climb Mount Everest because much more experienced climbers had died climbing it. I say that because when he was sixteen (his second time climbing Everest), eight people died in a storm; those people were much more experienced than Mark was. He knew these people, and he grieved their loss. The first time he went to Everest, his parents were called child-abusers by the media and press. His parents did want him to be as prepared as he could, but they did not pressure him to go. He was brave to go because if he did summit, the press might have thought that he was only summiting because his parents wanted him to, which isn't true. (He did not summit.)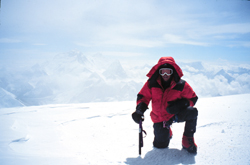 Mark Pfetzer is very brave, and he is also very adventurous. He got his black belt in karate when he was eleven. He started climbing when he was twelve and started ice climbing when he was thirteen. When Mark was fourteen, he went to Nepal to climb. How many fourteen-year-olds have gone to Nepal? Also, he has climbed and summited some of the world's highest mountains. He is only twenty-five and he has climbed more mountains and traveled to more places than most of us do in a lifetime. He goes ice climbing too; even though he was afraid of "dinnerplating." Dinnerplating is when you strike the ice with your ice ax and all the ice around you shatters, leaving you nothing to hold on to. Then you could fall and die! Mark is adventurous enough to take the risk and go anyway.
Lastly, Mark Pfetzer is not only brave and adventurous, but he is also determined. To get the money to go on climbing trips, Mark had to call and write to possible sponsors. Even when the companies turned him down, he called another. That is because he was determined to go. Also, to train Everest, Mark had to run up and down eight flights of stairs every day. As if that's not enough, his shorts were weighted with four-and-a-half pounds on each leg! He did this late at night, in addition to other exercises and his homework. Mark Pfetzer didn't summit when he went to Everest the first time, but he was determined enough to go back the following year. He was so determined that he quit school for a year to train! That shows real devotion and determination. He must really care about climbing to quit school so that he could climb.
In conclusion, Mark Pfetzer is a hero to me. He is brave, adventurous, and determined. He climbed Mount Everest, and didn't succeed; but he tried again. He is a caring person. One example is when he was seventeen, he planned to climb Everest. Then his father got cancer. Even though his father wanted him to go climb Everest again (which he would love to do), he stayed by his father's side. That was heroic in its own way, I think. Mark sets a good example for all of us. He shows us that you don't have to do something great to be a hero; he shows us that all the little things add up and can make us heroes. He shows us that we can be heroes, too.
Page created on 8/28/2011 12:00:00 AM
Last edited 1/6/2017 11:55:58 PM
The beliefs, viewpoints and opinions expressed in this hero submission on the website are those of the author and do not necessarily reflect the beliefs, viewpoints and opinions of The MY HERO Project and its staff.