Jim Plunkett
by
Chris from New York
Sometimes the measure of a hero isn't that he did something amazing, but that he inspires many people. Jim Plunkett is my hero because he inspires me to never give up.
Jim was born in San Jose, California, in 1948. His parents were poor and blind, but they were very proud. It was probably very hard to live with blind parents, but Jim figured out a way to do it. As he grew up, Jim learned how to be his parent's "eyes" by helping them cross the street. He also helped them get their own food and stuff. Jim also had two sisters. Unfortunately, Jim's father died in 1969 when Jim was 21.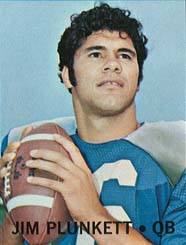 Jim had many obstacles he had to overcome. As a boy, Jim always dreamed of being in the NFL. It took a lot of courage to get there. In college, however, Jim won the Heisman Trophy and led his team to the Rose bowl. The biggest obstacle he faced was when he was 30 years old and played for the San Francisco 49ers. Jim got cut after everyone called him "washed up." Then, in 1980, he was picked up by the Oakland Raiders and led them to the Super Bowl. That year he was named Most Valuable Player of Super Bowl XV, and was named the Comeback Player of the Year. That goes to show that Jim Plunkett never ever gave up, even after everybody else did.
It seems to me that Jim has a lot of courage because he played even when he was injured or in pain. For example, he once damaged his shoulder, but he kept on playing. Jim's parents also gave him a fighting spirit because even though they were blind, they didn't want to be treated any differently than anyone else. Jim was a hard worker because, instead of feeling sorry for himself, he spent his time trying to improve. He never let go of his dream.
Jim made great contributions to professional football because he helped the Raiders beat the Washington Redskins in the Super Bowl. He is a role model for never giving up. With all the obstacles he went through, Jim never quit.
Page created on 6/9/2014 3:33:05 AM
Last edited 1/6/2017 11:50:20 PM
The beliefs, viewpoints and opinions expressed in this hero submission on the website are those of the author and do not necessarily reflect the beliefs, viewpoints and opinions of The MY HERO Project and its staff.