Dear Princess Eliza,
Hi! Ella, the pupil of the 8 A form of gymnasium ¹4, the town of Smorgon, is writing to you. I am writing a letter to you because I consider you to be my friend and a like-minded person. I have known you for a long time and love you with all my heart for your sincerity, kindness, honesty and big love for people.
I got acquainted with you when I first read the fairy-tale, The Wild Swans, by Hans Christian Andersen. My mother read this fairy-tale to me in my childhood, and then I began to read and re-read my favourite fairy-tale again and again. I cried, laughed, and rejoiced together with you. I worried about your life, your happiness and your well-being. I imagined myself to be a small princess and lived your life. You had a big family: many brothers, a loving father and a wicked stepmother who wanted to annihilate you and your brothers. She managed to do that to some extent, but not entirely.
Good always wins over evil in fairy-tales; therefore, I admired your courage, your great love for your brothers and your father, the valour and bravery of your big heart. Could I bear such severe trials, fear, pain, loneliness, and insults? I am not sure. Now that I am older, I perceive the fairy-tale differently.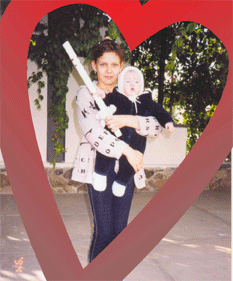 My family is not large. I have a mother, a father, a grandmother and a little brother. I am ten years older than my brother. His name is Vladislav. He enjoys going for walks any time of the year, but especially in summer. I like to play with him in the garden where there are many flowers, trees, bushes and a lot of grass, sun, warmth and light, as well. When the light, friendly and effulgent sun appears peacefully from behind the clouds and its playful beams cheerfully and majestically arise a mighty star high in the sky, Vladislav raises his hands to the sun and laughs joyfully. At that moment my heart overflows with happiness and love for my little brother, and I wouldn't change this feeling for any earthly blessings. Then, like you in the fairy-tale, I feel great love for my nearest and dearest. I feel as if I were a princess and your younger sister.
I am quite aware of the fact that it is just a fairy-tale, but there is a deep sense in it. It is necessary to love your close relatives and to help them. Then I believe the world will become kinder. I like fairy-tales that teach us kindness, helpfulness to one another, and magic. I believe in miracles and magic; therefore, I am writing a letter to you. I want to share my joy with you. I love my little brother very much, as much as you loved your brothers. I consider you to be my soulmate. Let me hope our friendship will last a long time. I am going to read the fairy-tale, The Wild Swans, to my brother and he will love you, princess, as much as I do.
See you!
Page created on 4/5/2013 11:27:24 PM
Last edited 1/6/2017 6:53:33 PM