Holiday 2010 Press Announcement
In a year marked by economic strife, environmental distress and pressing international tensions, it can be hard to muster the spirit of hope and goodwill for which the holidays are known. Where is the hope that we seek out in this season of peace? The MY HERO Project has dedicated itself to fulfilling that role answering that question. MY HERO is a media arts non-profit organization, founded by a group of parents to create a venue where people from all countries could share stories of the heroes who touched their lives.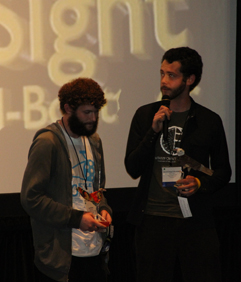 As part of its 15th Anniversary, the organization held celebrated its Annual MY HERO International Film Festival Awards Ceremony at the University of Southern California's School of Cinematic Arts. The event placed a spotlight on powerful stories that remind us just how many real-life heroes are working to improve our world. A case in point is the work of Jacob and Isaac Seigel-Boettner, the young filmmakers who won the 2010 Daniel Eldon Activist Award with their film Pedal=Sight. Their short film tells the story of a young Indian girl, Bharati Phakad Date. Many families in Bharati's community do not send teenage girls to school because the long travel time prevents them from helping at home, a fate Bharati is spared when she receives a free bicycle from the Ashta No Kai organization. The Boettners plan to use their short as part of a feature film that will raise money to purchase bicycles for desperately poor people around the world.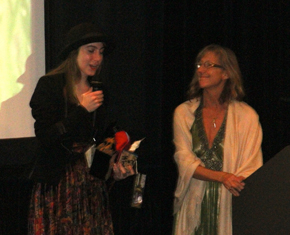 Slater Jewell-Kemker is another passionate young filmmaker. She won a MY HERO Award for her project An Inconvenient Youth, which tells the story of how young people from around the world are collaborating on ways to prevent climate change and encourage world leaders to act now to protect the environment. Perhaps no other film portrayed the simple power of giving like the winner of MY HERO's Best of Fest Award, Hummingbird. From the filmmakers behind Dirt! The Movie, this film beautifully animates a story narrated by Nobel Prize winner Wangari Maathai, about an intrepid hummingbird that does what it can to improve the world while its neighbors look on in amazement. It is the sort of singular tale heroism that The MY HERO Project seeks out and celebrates with pride.
To see these and other inspiring tales this holiday season, just visit the MY HERO Film Fest's winner's page, www.myhero.com/2010.
Page created on 8/29/2011 12:00:00 AM
Last edited 8/29/2011 12:00:00 AM
Related Links
An Inconvenient Youth
- Watch the First Place Indy Features in Development winner, by Slater Jewell-Kemker
Pedal=Sight
- Watch Pedal-Sight by Jacob and Isaac Seigel-Boettner, winners of the Dan Eldon Activist Award
Hummingbird from dirt! THE MOVIE
- Watch the Best of Fest Award winner, Hummingbird, narrated by Nobel Prize winner Wangari Maathai