When Gloria Gilbert Stoga started Puppies Behind Bars (PBB) in 1997, few believed a program allowing inmates to raise guide dogs would work. But now, four years later, the results have changed minds. The program is not only turning out well-loved, well-trained guide dogs, it's also having a positive effect on its inmate puppy-raisers.
"Are we raising guide dogs? Yes. Is that the first and foremost thing we are doing? Yes, however, these are people who are being given an opportunity to learn important basic life lessons, and they're learning via these dogs." - Gloria Gilbert Stoga, PBB founder
Surprising as it may seem, for most of her life Gloria Gilbert Stoga had little to no faith in prison rehabilitation programs. A political conservative, Stoga was working for New York Mayor Rudolph Guiliani when she learned of two programs, one in Florida and one in Ohio, that were utilizing inmates to raise puppies for eventual guide dog work. After several months of research, she quit her job with Guiliani's office and went on to establish her own organization, Puppies Behind Bars.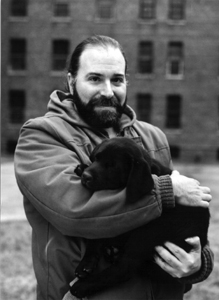 The program was implemented first at New York State's Bedford Hills Correctional Facility, a maximum security prison for women in 1997, then at the Fishkill Correctional Facility, also in New York, in 1998. Inmates are interviewed and carefully screened before being allowed to become puppy-raisers. They cannot have committed "heinous" crimes and must have at least two years left on their sentences. The puppies stay with the inmates from eight weeks old to sixteen or eighteen months. Some inmates say that raising the dogs has helped them become better parents.
"Raising Rosie I've developed some patience and more understanding and I saw that that was being transferred to my relationship with my son... It's all learning from raising the dogs...using that technique of never setting the dogs up to fail." - inmate, Fishkill Correctional Facility
Once an inmate is given a puppy to raise, they spend all of their time with the dogs - feeding them, cuddling them, house training them. The puppies even sleep in the inmates' cells. Says Fishkill inmate Don, "This is a very impersonal place - prison. Sometimes a lot of emotions have to be held dormant. And by having another being in a cell with us, or in a room with us, you have someone there that's looking to you ... that can give you friendship ... that really likes you just for who you are."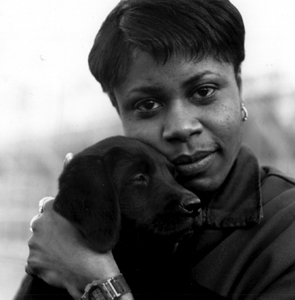 Training the dogs requires attending classes twice a week and involves a lot of homework, ranging from obvious things like reading the puppy-raisers' manual to learning to give commands in foreign languages in case the dogs find homes overseas. Keica W. says the hard work is its own reward. "... The purpose of training these animals fulfills a desire to do something good because inmates usually have so many bad feelings about themselves. With the participation in this program, some of those feelings have a chance to change."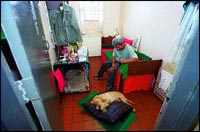 Originally, New York state prison officials were among the strongest opponents to Puppies Behind Bars. They expressed concern for the dogs' safety and worried the inmates could not show the kind of love and discipline necessary to raise them. But in the special dormitories set aside for the puppy-raisers, guard/prisoner relations have greatly improved. Fishkill corrections officer Lt. Gretta Wilkerson says having the dogs in prison, "has made this a different place to work. When you see the dogs walking around, you have to smile. It's made us all grow."
Puppies Behind Bars' successes have won it support from once-skeptical guide dog schools as well. Jenine Stanley, former president of Guide Dog Users, Inc., came away from a visit to the Fishkill Correctional Facility singing its praises. "This is a different caliber of dog coming out of the prison," says Stanley. "They're more stable, more well-adjusted. The one-on-one attention they get as they grow up is really valuable." The blind recipients of the dogs agree.
Judy Goldman, a former nurse living in Pittsburgh, says her dog Lucie "was so well-behaved we began calling her the executive dog because all her moves were so perfect."
For most of the inmates the hardest part of being a puppy-raiser is knowing that one day the dogs will have to leave, first for additional training, and then for permanent placement in a home. But Stoga says the inmates find solace in knowing they've performed such an important service. Many of the blind feel depressed, helpless, even fear for their safety before they get their dogs. Puppy-raiser Susan Hallett recalls a photo one of PBB's guide dog recipients sent her: It was "a picture of herself and her dog striding along a country road ... That picture will forever remain in my mind. A beautiful young woman enjoying life to its fullest was made possible by the gift of a guide dog."
Gloria Gilbert Stoga opened another chapter of Puppies Behind Bars at the Edna Mahan Correctional Facility in New Jersey last month. She plans to get started at the Mid-Orange Correctional Facility in Warwick, N.Y., in August.
Page created on 5/3/2002 10:52:26 PM
Last edited 1/7/2020 3:16:25 PM
Extra Info
Bibliography:
Marjorie Coeyman. "New Leash on Life." CHRISTIAN SCIENCE MONITOR. 2000.
Margot Adler. "Puppies Behind Bars." NPR'S ALL THINGS CONSIDERED. 12/27/00.
Ruth Bashinksky. "Prison Puppies are Changing the Outlook of Convicts." THE NEW YORK DAILY NEWS. 1/15/01.
James V. O'Connor. "Puppies Behind Bars." THE NEW YORK TIMES. 8/22/99.