Raphael was called many names, but his talent in painting, complex building, and ingenious craftsmanship has always provided me with inspiration. With these skills, he excelled in his career, and this makes him my hero. Raphael was born on April 6, 1483, in Urbino. In 1491, his mother died, and soon after, in 1494, his remarried father died. Being orphaned at eleven, he was sent to live with his Uncle Bartolomeo. Before his father died, he was known as a great helper in his workshop. After his father's death, he managed the workship with his stepmother. When he was in Urbino, he saw the paintings of Uccello and Signorelli. His father then sent him to Perugino's workshop, much to his mother's dismay. This is where he learned many of his talents.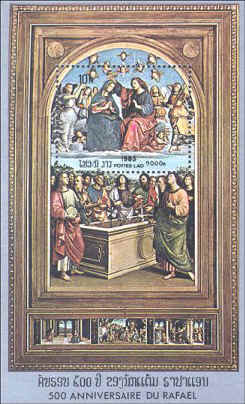 His first piece of art was an altarpiece in the church of San Nicola. It was ordered in 1500, and delivered in 1501. Sadly, it was badly damaged by an earthquake some time during the 1700's. After that, he began making paintings for many other churches in Perugia. Some of these were famous, like the Wedding of the Virgin, which is today in the Brera.
In 1504, he moved to Florence, and studied works by Leonardo da Vinci, and the famous Michelangelo. He spent the next four years in Florence, during what is now called the Florentine Period. He continued to travel and work in other places such as Perugia, and perhaps even Rome. In Florence, he continued painting, and made friends with other artists such as Fra Bartolomeo, who convinced Raphael to paint more boldly and powerfully.
In late 1508, he moved to Rome, and was told by Julius II to paint a few of the rooms in his palace at the Vatican. This was the most important commission he had ever received. He continued painting exclusively for Julius II, and then for his heir, Leo X. Six years later, he became known as the architect of the New St Peter's Cathedral. Raphael never married, but in 1514, was engaged to Maria Bibbiena. Unfortunately, she died in 1520. The same year he fell in this time not because of her death, but because of his. He did not tell the doctors what had cause his illness, so they gave him the wrong cure, which in turn, caused his untimely death on April 6, 1520. After his death, much of his work was destroyed or altered. But his buildings, which had brought him so much fame, remained.
In conclusion, although Raphael's life was short, he had become the most famous artist in Rome through his breathtaking skills in art. His life shows us that hard work will always pay off, no matter how long it takes. He was buried in the Pantheon, at his request, and we still enjoy his original paintings today.
Page created on 12/29/2011 2:56:07 PM
Last edited 1/4/2017 5:26:44 PM