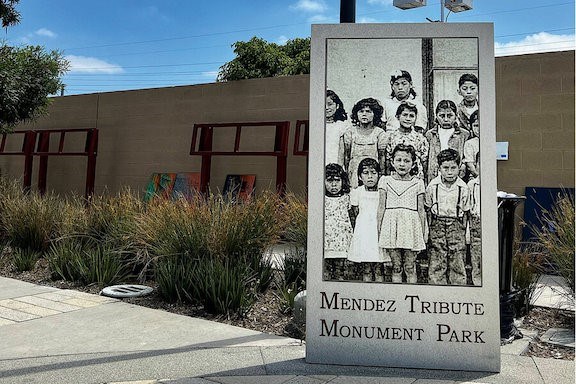 The Mendez Historic Freedom Trail and Monument in Westminster, California, set to open this fall, commemorates the successful 1940s legal battle that determined separate schools for Mexican American children were unconstitutional. Courtesy of Oscar Johnson
Concerning discrimination against Mexican Americans, Mendez v. Westminster was cited as precedent in more well-known Brown v. Board of Education
October 10, 2022
Before there was Brown v. Board of Education, there was Mendez v. Westminster.
This Orange County suburb is one of those postwar drive-by burgs that are an unremarkable blur at freeway speed.
However, the quiet stratifications of Westminster history are quite remarkable: Indigenous culture overlaid by vast 19th-century Mexican land-grant ranchos, then the fragrant citrus boom of the early 20th century. And – since the 1970s – it's become one of the biggest concentrations of Vietnamese immigrants in the United States, known as Little Saigon.
But in the 1940s, a group of Mexican American families here waged a pioneering battle against the sorting of children by ethnicity – Anglo-American children to one school, Mexican American to another. The reason, a local official testified, was "Mexican children have to be Americanized ... taught cleanliness of mind, mannerisms, dress." Bracing inspiration for forced segregation.
Grade schooler Sylvia Mendez, who today in her 80s is still on the civil rights speaking circuit, was barred from a school close to the land her father ranched and sent to a "Mexican school."
Related stories