AUGUST 25, 2018 - Three Monitor reporters share their interactions with and observations on the Arizona senator and his lifetime of service - including his wry humor, famous temper, and bipartisan striving.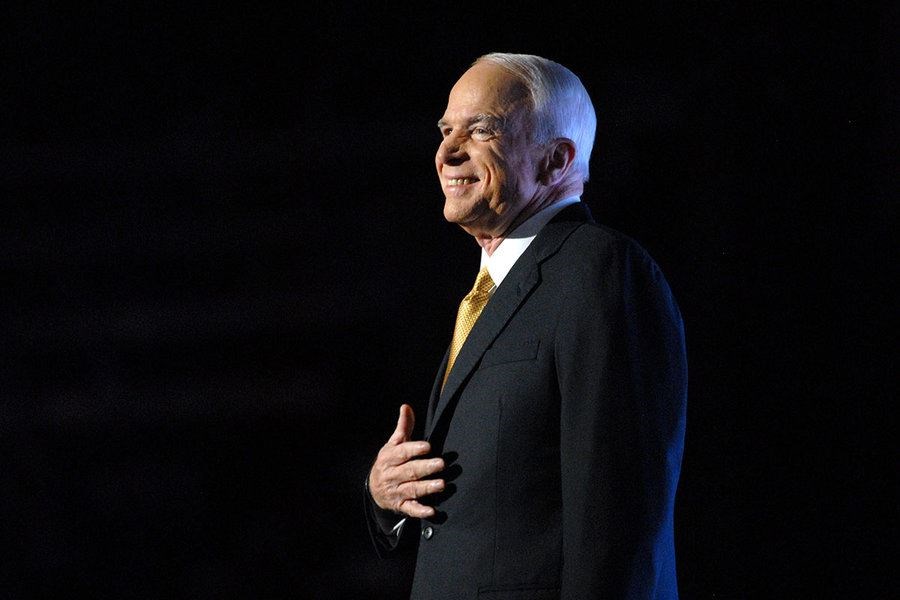 Sen. John McCain addresses the Republican National Convention at the Xcel Energy Center in St. Paul, MN, Sept. 4, 2008. The longtime Arizona senator ran twice for president.Mary Knox Merrill/StaffSen. John McCain was a legend in American politics. From his survival as a prisoner who endured torture during the Vietnam War to his four decades in Congress representing Arizona, he stood as a fiercely independent and courageous man, sometimes hot-tempered and famously blunt. The Republican ran twice for president. Even in his final stretch, unwell at his home in Arizona and unable to cast votes on Capitol Hill, Senator McCain still reveled in public life, putting out press releases with sharp opinions and publishing one final memoir in May. Above all else, perhaps, McCain advocated a return to what he saw as core American values – and a sense of common purpose. In his various life chapters, Monitor reporters, past and present, had an opportunity to interact with and observe him up close. They share some of their impressions here.
***
As John Sidney McCain III came of age, there was little doubt that he would enter the family business.
His grandfather and father – John Sidney McCain Sr. and John Sidney McCain Jr. – had graduated from the US Naval Academy, advancing to become combat-tested, highly-decorated four-star admirals.
At Annapolis, the younger John McCain was among the rowdier midshipmen, racking up demerits, lucky to have graduated fifth from the bottom of his class in 1958. He was a lightweight boxer known for being a hothead.
As a student naval aviator in basic jet training in 1965, I got a taste of McCain's infamous temper.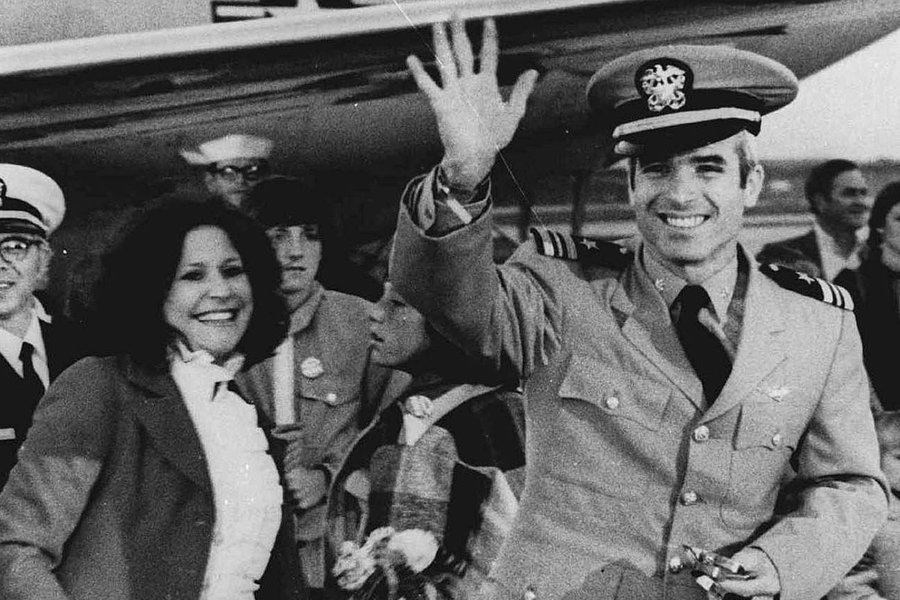 Lt. Commander John McCain III, a POW for more than five years, waved to well wishers March 18, 1973 after arriving at Jacksonville Naval Air Station. At left was his first wife, Carol, and son Doug. McCain went on to serve more than 40 years in Congress as first a representative and then senator from Arizona.APA flight instructor, McCain began the pre-flight briefing hollering obscenities and personal abuse, which continued during the flight and through the post-flight debriefing back in the ready room. Sometimes when flying, he'd take off his kneeboard and whack student pilots – including me – on the helmet.
When I encountered him again years later, the first thing he said as we shook hands was: "I'm sorry for the way I was then." I was a little startled – and impressed.
His grit and occasional outbursts remained part of his personality, but there was also a measure of humility, as well as a fierce sense of personal honor that had been honed under terrifying conditions.
In 1967, on his 23rd combat mission over North Vietnam, McCain's A-4 Skyhawk jet was blasted out of the sky by a surface-to-air missile. He had broken both arms and a leg in the violent ejection, and he was to endure more than five years of brutal captivity, including long periods of isolation and torture. His posture and limited arm movements half a century later were reminders of the mistreatment, in particular being trussed up in ropes tight enough to dislocate shoulders.
Like most military pilots, McCain had a reputation for physical toughness and macho independence. But in the end, he and his fellow POWs survived on tenderness, community, and a different kind of mental and spiritual strength.
Of his fellow prisoners McCain wrote in "Faith of my Fathers," his 1999 family memoir: "They were a lantern for me, a lantern of courage and faith that illuminated the way home with honor, and I struggled against panic and despair to stay in its light."
As a Republican United States senator, McCain publicly defended fellow senators John Kerry and Robert Kerrey – both decorated Vietnam vets and both Democrats – when they came under political attack. He worked with then-Senator Kerry on war-related issues, including those involving missing American soldiers.
McCain also spoke out strongly against the use of waterboarding and other forms of torture. In May, he opposed the nomination of Gina Haspel, who had supervised one of the sites where waterboarding occurred, to lead the CIA.
"I know the use of torture compromises that which most distinguishes us from our enemies, our belief that all people, even captured enemies, possess basic human rights, which are protected by international conventions the US not only joined, but for the most part authored," he said in a Senate statement in 2014.
For him, again, it was a matter of honor.
– Brad Knickerbocker
***
As a presidential candidate, McCain was one-of-a-kind. While most of his competitors avoided or even feared reporters, Senator McCain welcomed our company. His hours-long rolling press conferences in a van called the Straight Talk Express were legendary. He cracked jokes – some in the Henny Youngman "take my wife, please" genre, many of them unprintable – and argued policy with gusto.
I sat down for one-on-one interviews with McCain twice, once during each of his presidential campaigns, and found a reflective man. The first time, over lunch at the diner in Peterborough, N.H., we talked about his temperament – and whether voters would see him as "presidential."
McCain said proudly that, in the 10 months of the 2000 campaign to date, "no one has ever been able to say I've lost my temper." And he still seemed shaken by an episode several years before when he got angry with his young son, and shook him hard by the arm. "I don't know if he remembers that, but I sure do," he said.
The second time we spoke was in 2008, when he chose the former Alaska Gov. Sarah Palin as his running mate – a choice he later came to regard as a mistake. In that second interview, the topic was faith. As a public servant, McCain was known for his strongly held policy views and hard-charging style, and was never a darling of the religious right. But beneath that lay a deep faith in God that he said got him through his captivity in Vietnam, "and got me through honorably."
In our interview, McCain spoke of the informal Sunday church services he had with his fellow prisoners, toward the end of the war when they were out of isolation. McCain was named room chaplain, "not because the senior ranking officer thought I was imbued with any particular extra brand of religion, but because I knew all of the words of the Apostles' Creed and the Nicene Creed," he said.
On the stump, McCain often told the story of the prison guard who stood beside him silently one Christmas Day, and drew a cross in the dirt with his sandal. "My friends, I will never forget that man," McCain told voters at a town hall in 2007, his voice choked with emotion.
At a later McCain town hall I attended, in Fort Myers, Fla., the senator demonstrated his skill with voters. An antiwar heckler stood and interrupted McCain; instead of ignoring him or yelling back, McCain handed him the microphone.
But the 2008 campaign moment that McCain may be most remembered for came a month before the election. A woman at a town hall disparaged McCain's opponent, Barack Obama, as an "Arab," and McCain firmly but politely cut her off.
"No, ma'am," he said. "He's a decent family man and citizen that I just happen to have disagreements with on fundamental issues, and that's what this campaign is all about."
Almost 10 years later, such insistence on civility has grown increasingly rare in American politics. By 2016, McCain's enduring friendship with the Democratic vice president, Joe Biden, was so unusual it merited an award.
By the end of his Senate career, McCain still struggled at times to keep his cool. But he never stopped trying, and for that – and many other qualities – he will long be remembered.
– Linda Feldmann
***
Five years ago, when I began covering Congress for the Monitor, my predecessor, Gail Chaddock, showed me around the Capitol. She stopped at the top of a grand marble staircase, and pointed to an enormous, gold-framed canvas, Battle of Lake Erie, by William Henry Powell.
It was John McCain's favorite painting in the Senate, she said. The heroic Oliver Hazard Perry is depicted standing in a rowboat, his outstretched arm pointing the way through cannon smoke and choppy water, as his wounded crew pulls toward victory over a British fleet in the War of 1812.
McCain had shared his love for the painting at a time when he was under attack from members of his own party for working across the aisle, trying to avoid a default on the national debt. "Do you see yourself in [it]?" Gail had asked him, assuming he would relate to Commodore Perry.
But to her surprise, he pointed to a different figure – a near-drowned sailor clinging to a piece of wreckage in the bottom-right corner. "I see myself as him," he laughed, an obvious comment on the beating he was getting from his Republican colleagues.
In truth, McCain was both these men – the leader and the drowning sailor. That's what happens when you dare to work with the other side on contentious issues, as McCain did repeatedly over his six terms as a US senator (he served two terms in the House before that).
As chairman of the Armed Services Committee, McCain was known as a defense hawk, fighting for military spending and the men and women who serve in the armed forces. He believed in the projection of American power, and he sharply criticized presidents – Democratic and Republican – who did not meet his national security standards.
But he also regularly worked with Democrats, which put him in the crosshairs of his own party.
He championed bipartisan restrictions on campaign finance in the face of stiff resistance from Sen. Mitch McConnell (R) of Kentucky. The reforms became law in 2002, but later the Supreme Court struck down a key part as an infringement on free speech.
McCain also teamed with the Senate's leading liberal, the late Sen. Ted Kennedy of Massachusetts, to give unauthorized immigrants a path to legal status. That was ideological heresy to many Republicans. Although the Senate passed comprehensive immigration reform in 2013, the GOP-controlled House never took it up.
More recently, Americans might remember McCain for his dramatic late-night – and unexpected – thumbs down in July 2017 that killed the Republican effort to repeal and replace the Affordable Care Act. He objected that the bill didn't go through the regular, bipartisan process.
Two days before that vote, McCain, just back from the surgery that uncovered his illness, gave an impassioned speech on the Senate floor, denouncing political tribalism as the worst he'd ever seen. He dressed down his colleagues for putting winning above all else and failing to engage with the other side – as frustrating and slow as that can be.
"Let's see if we can pass something that will be imperfect, full of compromises, and not very pleasing to implacable partisans on either side – but that might provide workable solutions to problems Americans are struggling with today."
A call to the Senate's higher self by a man with more experience than many on that floor. When he was done, the entire Senate rose in applause. It was an emotional, candid, patriotic speech – and it was quintessential McCain.
– Francine Kiefer