It was a chilly fall day in 1959 in New Haven, Connecticut. I lived about three blocks from Mayor Richard C. Lee. He was a rather influential mayor nationally and had just become the first major mayor to endorse the presidential candidacy of John F. Kennedy. I didn't know much about Kennedy or his family, but I did remember reading about the endorsement in the New Haven Register. I believe the day in question was a Saturday and a few of my friends came over on their bikes and indicated to me that some sort of celebrity was at Mayor Lee's house.
We all got on our bikes and rode over to the Mayor's house. There was a man there who appeared to be in his late twenties in a convertible. He was casually dressed and had a "Kennedy for President" bumper sticker on his car. None of us had any idea who he was.
After a few minutes, a crowd of about ten or so people had built up on McKinley Avenue in New Haven and we all wanted to find out who this person was. We were told that his name was Robert F. Kennedy and that he was John F. Kennedy's brother and someone who would be very influential in his presidential campaign. One of us had a football with us and I remember very distinctly that when he came out of Mayor Lee's house, Robert Kennedy threw the football around to all of us. He treated us like his peers and seemed like a really cool guy. I made a mental note that I would probably be reading about him in the not-too-distant future.
When I got home I was going through some papers and realized that I had gone to see a movie a year or so earlier called Point of Order at the small and cozy Lincoln Theatre in New Haven. The movie was about the McCarthy Era and one of its component parts was the role that Robert F. Kennedy played during the McCarthy hearings. I then was able to put a face together with a piece of historical perspective.
Robert Francis Kennedy was born on November 20, 1925 in Brookline, Massachusetts, the seventh child of the Rose and Joseph P. Kennedy family. He was the seventh of nine children and later recalled that "when you come from that far down, you have to struggle to survive."
Kennedy attended Milton Academy and after wartime service in the Navy, received a degree in government from Harvard University and a law degree from the University of Virginia Law School. In 1950, Kennedy married Ethel Skakel of Greenwich, Connecticut and the two of them went on to have eleven children.
In 1952 he made his political debut as manager of John's successful campaign for U.S. Senate from Massachusetts. The following year he served briefly on the staff of Senator McCarthy, but was disturbed by McCarthy's controversial tactics and resigned from the staff after only six months. He later worked as chief counsel for the Senate Rackets Committee and investigated corruption in trade unions and, specifically, against Jimmy Hoffa. He and Hoffa were brutal lifetime enemies.
A few months after I met Kennedy, he was named the campaign manager for his brother's presidential campaign. Kennedy beat Richard Nixon in one of the closest elections in United States history. I remember being in fifth grade at the time and we voted in class. I voted for Kennedy because I had met his brother a year earlier, but I think that Nixon was the winner in our New Haven fifth grade class at Edgewood School.
Kennedy was named by his brother as the Attorney General and waged a successful campaign against organized crime, obtaining convictions against many nationally infamous crime figures. He was also committed to the rights of African Americans to vote and attend school and in 1962 sent U.S. marshals and troops to Oxford, Mississippi to enforce a federal court order admitting the first African American student, James Meredith, to the University of Mississippi. A riot followed, but Kennedy never wavered.
He was not only his brother's closest advisor and confidant, but played a key role in several critical foreign policy decisions, including helping to salvage the Cuban Missile Crisis.
After President Kennedy's assassination, Kennedy resigned as Attorney General largely because of a strained relationship with then President Lyndon B. Johnson. He then moved to New York and ran for United States Senate against incumbent Kenneth Keating. Keating labeled Kennedy a carpetbagger during the closely contested campaign, but Kennedy won.
On March 18, 1968, Kennedy announced his candidacy for the Democratic presidential nomination. He took over the lead in that race after winning the California primary on June 5, 1968, but on that evening, at the Ambassador Hotel in Los Angeles, California, was assassinated by Sirhan Sirhan at the tender age of forty-two years. That is where my life, once again, connected with the life of then Senator Kennedy. The next day was my high school graduation from Hamden Hall Country Day School. Our speaker was the President of William Smith College in New York. I idolized Kennedy and had worked for his presidential campaign throughout 1968, having an opportunity to once again meet him in New Haven in March of that year when he came for a campaign visit on Church Street in downtown New Haven. When I woke up on the morning of my high school graduation, I was hugely excited about the graduation, but as soon as I heard about Kennedy's assassination, our graduation turned awful. I know that the school toyed with the idea of postponing the graduation, but the graduation took place and our graduation speaker had to totally adjust his speech from a speech about education to a speech about Kennedy's life. It was very moving and has stayed with me to this date. So has the memory of Robert F. Kennedy, one of the greatest Americans of all time.
Page created on 4/18/2005 1:36:39 PM
Last edited 1/6/2017 4:14:21 PM
Extra Info
MORE RELATED LINKS
American Experience: RFK -- From PBS
EXTRA INFO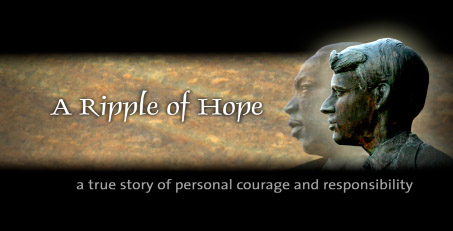 "
A Ripple of Hope
Produced and Directed by Donald Boggs
Covenant Productions

"Each time a man stands up for an ideal, or acts to improve the lot of others, or strikes out against injustice, he sends forth a tiny ripple of hope, and crossing each other from a million different centers of energy and daring those ripples build a current which can sweep down the mightiest walls of oppression and resistance." Robert Kennedy, June 1966

A generation after his death, the words of Robert Kennedy continue to speak to our political and popular culture. The independent documentary, A Ripple of Hope produced by Covenant Productions captures one poignant day in the life of RFK and explores a little known act of personal courage and responsibility.

On April 4th, 1968 the day Martin Luther King Jr. was assassinated, Robert Kennedy was in the midst of a presidential campaign that was attempting to bridge racial and economic divisions. As word of the assassination spread, riots and fires erupted in cities across the nation. Urged to cancel a rally before a mixed crowd in the inner city of Indianapolis, Robert Kennedy refused. The threat of violence was very real. But the few, simple words he spoke that night are credited with creating a sense of calm that settled over those neighborhoods during chaotic days following Dr. King's death.

A Ripple of Hope dramatically retells the events of that tragic day 40 years ago thru the eyes of those who were there. With original music by John Colby, the Grammy Award winning composer of the Ken Burns Civil War soundtrack, audiences have been inspired and challenged by a single dream shared by two very different men. Robert Kennedy's words that night are remarkably relevant today. From the inner city of Indianapolis to a Memphis Hotel, A Ripple of Hope explores the passion for justice, and the personal courage that linked these two extraordinary figures in life as well as death. A Ripple of Hope was produced and directed by award winning filmmaker Donald Boggs.

RIPPLE OF HOPE
Covenant Productions
1100 East Fifth Street
Anderson, IN 46012
765-641-4348 |
[email protected]