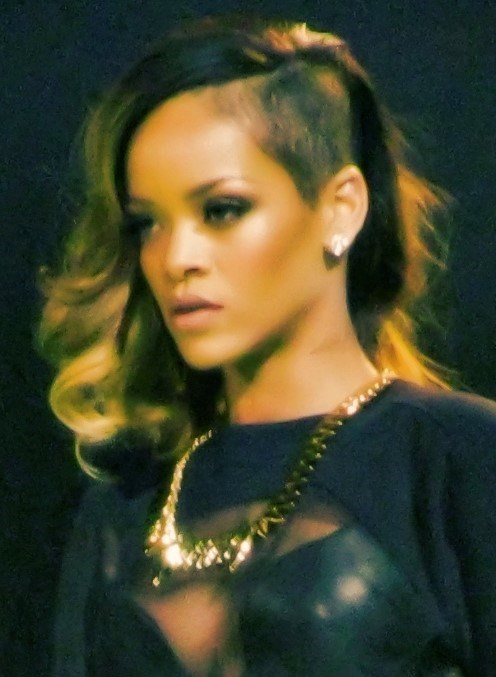 RihannaRihanna Diamonds World Tour 2013 "Every woman who thinks she is the only victim of violence has to know that there are many more" (Salma Hayek). The 20th name listed in Time Magazine's "100 Most Influential People in the World", Robyn Rihanna Fenty, known by the world as Rihanna, was born on the 20th of February in Barbados. Rihanna is a singer, actress and fashion designer. She witnessed her parents' marriage suffer from her father's drug addiction. Her father used to beat her mother, and one time even broke her nose. When she was a teenager, to forget about her troubles at home, Rihanna turned to singing. When she was 15, she landed an audition with music producer, Evan Rodgers, who was awed by her talent. At age 16, Rihanna left Barbados and moved in with Rodgers and his wife in America to pursue a music career. "When I left Barbados, I didn't look back," Rihanna recalled. "I wanted to do what I had to do, even if it meant moving to America."(Rihanna). From the release of her first single "Pon de Replay" to now in 2013, Rihanna has had ongoing success and has become one of the best-selling music artists of all time. In 2006, Rihanna founded the Believe Foundation to help children with terminal illness. In 2009, following her mother's footsteps, Rihanna was brutally beaten by her boyfriend. Because of Rihanna's troubled past, she used her strength to remove herself from bad situations, and used her fame to give generously; she is a true hero.
Rihanna shows strength through her bravery and success. In 2009, Rihanna was brutally beaten by her then boyfriend, and it became publically known by the world: "'I put my guard up so hard,' she said of the aftermath of her domestic violence incident with Chris Brown in 2009. 'I didn't want people to see me cry. I didn't want people to feel bad for me. It was a very vulnerable time in my life, and I refused to let that be the image. I wanted them to see me as, 'I'm fine, I'm tough.' I put that up until it felt real'" (Rihanna). She showed strength by not letting the situation break her. She felt publically humiliated but picked herself up and continued her pursuit of her goal to being a singing sensation. After the incident with her boyfriend, Rihanna became the face and a spokesperson against domestic violence. "The incident sparked a huge public outpouring of support for Rihanna, and she has since become a spokesperson against domestic violence."(Bio.com). It takes courage to open up publicly about the bad situations in one's personal life, and harder if the person happens to be famous. Famous people are viewed as perfect and this shows imperfection. Only a brave and strong individual could use negative events and change to a positive by influencing others not to stay in a domestic violence situation. Sharing her story with others, and allowing people to see how she struggles, could potentially help other females that are going through domestic violence and help them be aware that it can happen to anyone. A hero should show strength. Rihanna showed strength by telling the world her story.
Rihanna is also encouraging. With fame, comes the ability to influence people. Rihanna used her fame to encourage fans to not fall into the trap of body image, and that the society does not have all the answers. "Being a size zero is a career in itself so we shouldn't try and be like them, it is not realistic and it is not healthy. You shouldn't be pressured into trying to be thin by the fashion industry, because they only want models that are like human mannequins. They know that if we see an outfit on a mannequin in a shop window we will love it and want to buy it whatever size we are. That's why they have size zero models - they want to sell clothes. But you have to remember that it's not practical or possible for an everyday woman to look like that."(Rihanna). Rihanna saying this can help her overweight fans or the ones that don't think they're pretty because they are not skinny feel better about themselves. Some girls are bullied because of their weight. Watching this interview may give them encouragement that their weight doesn't define them. Rihanna became a spokesperson on domestic violence. "Rihanna believes she can be a voice to help others who may be in danger of returning to an abusive partner, warning young girls not to repeat her mistakes."(ABC News). Many females go through domestic violence each year. Rihanna's story helps other people overcome the same obstacles. The fact that this situation happened to someone famous lets other females that are in an abusive relationship know that they are not the only ones going through it. Rihanna uses her story to influence and help girls around the world and encourages them to not repeat her mistakes.
The last trait that Rihanna has that every hero should contain is selflessness. Rihanna donated 1.8 million dollars to a hospital in Barbados. "This was my way of giving back to Barbados, in a form of philanthropy, by assisting the QEH in its continued modernization program... I believe that this will have a huge impact on the people of Barbados. This was all done to save lives or at least extend them."(Rihanna). She didn't forget about her roots in Barbados. Donating a million dollars can help save lives and that is exactly what she was trying to do. In 2009, Rihanna helped a 6 year old girl with leukemia "Rihanna is stepping forward to help a 5-year-old New York City girl find a bone marrow donor - the second time in a year that the Grammy Award winner has helped a leukemia victim seek a match."(K.C. Baker). Helping this little girl find a bone marrow donor shows that she is not just focused on herself and is willing to help other people. She took time out of her busy schedule to help a girl that she didn't know. Rihanna takes time out of her schedule to give back to the community and help other children with illness.
Rihanna encourages women around the world with her strength and spoken words. She also gives back to her community in Barbados to help people with sickness, and tries to help children in America with terminal illnesses live a longer life. Rihanna inspires me by her words, actions and life. After hearing her story I am more aware that domestic violence can occur in anyone's life, and I should be cautious about whom I get involved with. Reading about Rihanna gave me a further understanding of why she was named one of the "100 Most Influential People in the World" in Time Magazine: and why she is my hero.
Page created on 4/22/2013 12:00:00 AM
Last edited 2/12/2022 5:06:34 PM