Marciano, Rocky (1 Sept. 1923-31 Aug. 1969), heavyweight boxing champion, was born Rocco Francis Marchegiano in Brockton, Massachusetts, the son of Pierino Marchegiano, a shoe-factory worker, and Pasqualena Picciuto. He was considered the roughest kid in the neighborhood, although he was not overly pugnacious. A star athlete who hoped to become a major league baseball catcher, he dropped out of school at age sixteen when the baseball coach barred him from playing on a church team. Marciano then became a manual laborer while playing baseball on local semiprofessional teams. He was drafted into the U.S. Army in 1943 and was honorably discharged in 1946. Marciano kept his baseball dream alive until the spring of 1947, when a tryout with a Chicago Cubs minor league affiliate revealed that he lacked foot speed and a strong throwing arm.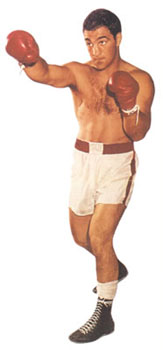 Marciano had begun boxing competitively while in the army, mainly to avoid KP duty. He trained under Gene Caggiano, a local boxing promoter, and they signed an agreement early in 1948 stipulating that Marciano would retain Caggiano as his manager if he turned professional. Once Marciano became a professional boxer, however, he had nothing to do with Caggiano, who then sued Marciano. On 3 November 1950 the Plymouth County Court ruled that their contractual agreement was still valid, which would have entitled Caggiano to one-third of Marciano's earnings. However, on 16 July 1951 the state supreme court reversed the judgment. Marciano had had one professional fight in 1947, while still an amateur, under the pseudonym Rocky Mack and earned $35 for a three-round knockout.
In 1948 Rocky participated in the Golden Gloves and advanced to the All-East championship tournament. He had aspirations to box in the Olympics, but he broke a thumb in winning a New England AAU (Amateur Athletic Union)tournament that served as a trial for the Olympics. He then decided to turn professional and gave up his job as a digger for the gas company. Experts considered Marciano too old, too short, and too light, at 5' 10" and 190 pounds, to become a successful heavyweight prizefighter.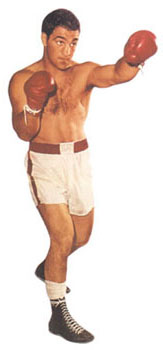 Later in 1948 Marciano auditioned in New York with fight manager Al Weill and trainer Charley Goldman. They did not consider Marciano ready to be a top contender, but they liked his heart and his strong punch. Goldman found him a defenseless, upright, wild puncher with poor balance; he kept his legs too far apart, overstrode when punching, could not throw combinations, and relied too much on his powerful right fist. Goldman corrected Marciano's poor footwork by tying his laces together, and he taught him how to fight from a crouch, slip punches, and utilize his left hand. Marciano was extremely well trained and took care of his diet. When working out with Goldman in New York he walked four miles just to get to the gymnasium. He was sent home to Brockton to hone his craft while he worked as a highway laborer. There he improved his stamina by running--often more than seven miles a day--and pounding the heavy bag to develop his power, avoiding the speedbag because of awkwardness. Marciano originally followed this regimen with an hour of weightlifting; fearful of becoming muscle bound, however, he stopped lifting and swam laps instead.
Weill's stepson Marty became Marciano's manager of record, although his father was the "undercover manager." Weill was then the matchmaker for the International Boxing Club, and thus holding both positions would have been a conflict of interest. Weill would become Marciano's official manager only in 1952, after he quit the IBC. Rocky's first professional bout under his own name came on 12 July 1948 in Providence, Rhode Island, for which he earned $40 for four rounds. Marciano mostly fought in Providence, where he eventually had twenty-eight matches. His first big break came on 2 December 1949 when he won a second-round knockout over Pat Richards in his first semifinal bout (ten rounds) at Madison Square Garden.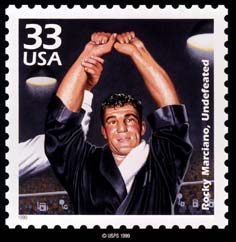 Marciano became a top contender following his sixth-round knockout of Rex Layne at Madison Square Garden on 12 July 1951. His physical style in a very rough bout made him a popular favorite, and the crowd cheered him for twenty minutes after the match. However, Marciano's heavyweight title aspirations were dashed when the number-one contender, Jersey Joe Walcott, won the heavyweight title from Ezzard Charles. With a Charles-Walcott rematch scheduled, Marciano was matched against former champion Joe Louis, who was making a comeback in order to pay off tax debts. Weill opposed the bout, but Goldman believed Marciano was ready to take on the aging Louis, who was a slight favorite. The fight took place on 26 October, with Louis receiving 45 percent of the purse and Marciano only 15 percent. Marciano won with an eight-round knockout, as youth, power, stamina, and hunger carried the day over experience and reach. With his victory over Louis, Marciano earned a title shot against Walcott, who at age thirty-eight was the oldest champion in boxing history to that time. In preparation for the bout, Marciano tuned up by defeating light heavyweight contender Kid Matthews on 28 July 1952 at Yankee Stadium in New York City; the fight drew a crowd of 31,188 and earned Marciano $50,000.
The Marciano-Walcott championship match took place in Philadelphia on 23 September 1952, with Walcott a 3-1 favorite to win. The fight was attended by more than 40,000 spectators, who paid over $500,000. In addition, the bout was neither on home television nor on radio, but it was televised into fifty theaters in thirty cities, earning a profit of $125,000. The fight began poorly for Marciano, as he was knocked to the canvas for the first time in his career during the first round. In the sixth round the fighters' heads collided, cutting Marciano and blurring his vision; he later claimed that Walcott's manager had rubbed ointment on the champion's gloves. By the thirteenth round Marciano was well behind in points, but he then knocked out Walcott with a short right. Experts have considered this Marciano's defining moment. Having made a total of $100,000 from the bout, Marciano fought in a rematch with Walcott on 15 May 1953 in Chicago Stadium. This time Marciano scored a knockout after just 145 seconds of the first round, earning $166,000 while Walcott earned $250,000. Marciano had trained extraordinarily hard for this defense, sparring a remarkable 225 rounds. Such training was not unusual for Marciano; he typically sparred 40 percent more than the average for a title bout.
On 17 June 1954 Marciano defended his title against the aged former champion Ezzard Charles before 47,585 at Yankee Stadium. Charles put forth a terrific performance, but he wearied after the fifth round and lost a split decision. A rematch on 17 September 1954 drew more than 34,000 to Yankee Stadium and generated a $350,000 gate and $650,000 from ancillary rights. In the rematch Charles completely split Marciano's left nostril in the sixth round, and the doctors considered halting the bout. Marciano responded to the crisis by knocking out Charles in the eighth round. He earned a combined $450,000 for these two fights.
Marciano's final defense came on 20 September 1955 against light heavyweight champion Archie Moore. The fight brought a crowd of 61,574 to Yankee Stadium, with hundreds of thousands attending closed circuit television theaters. The fight grossed $2,248,117, then the second largest gate in boxing history. Marciano was dropped to the canvas in the second round, but he survived to knock out Moore in the ninth round. According to Moore, "Marciano is far and away the strongest man I've ever encountered in almost twenty years of fighting." For this fight Marciano earned his largest purse of $468,374.
Marciano retired from boxing on 28 April 1956. He had lost his drive, had saved much of the $2 million earned from fights and personal appearances, and did not trust Al Weill, whose contract called for Weill to receive one-half of Marciano's earnings both in and out of the ring. Marciano had long felt that Weill was cheating him. He had also heard that Weill had scalped tickets worth thousands of dollars, without involving Marciano, and that Weill had skimmed $10,000 from the promotional costs of Marciano's title defense against Tom Cockrell on 16 May 1955.
Marciano enjoyed life in the fast lane ("If you want to live a full life then live dangerously"), disliked routine, and was fascinated by the mobsters with whom he socialized and did business, such as Vito Genovese. He was a great hero to Italian Americans. Friends and acquaintances customarily gave him spending money, bought him dinner, and paid for his clothes. Parsimonious, Marciano never picked up checks. However, he was a poor businessman who made several bad decisions, including purchasing Florida swampland, investing substantial sums with loan sharks, and lending money at usurious rates on the street. Such transactions were never written down, and the death of a Cleveland loan shark reputedly cost him $100,000. He reputedly had over $2 million loaned out or stashed away in secret locations that have never been found.
In 1950 Marciano married Barbara Cousins, with whom he had one child and adopted a second. However, their relationship was strained by incompatibility. She was a homebody, while Marciano was constantly traveling, looking for business deals, making personal appearances (he was even paid for stepping into the ring when he attended boxing matches), and meeting beautiful women. He always stayed at friends' homes or hotels that offered him complimentary rooms.
In the mid-1960s Marciano turned down $2 million to fight Muhammad Ali (then known as Cassius Clay) when he could not get into fighting shape. In 1969 he participated in a computer tournament involving former champions that grossed about $1.7 million. For this endeavor he lost nearly 50 pounds, wore a toupee, and sparred eight hours of one-minute rounds with Ali to produce a marketable conclusion. Seven different endings were prepared, with the computer giving the victory to Marciano.
Marciano's professional record was 49-0. He was the victor in all six of his title defenses, and at the end of the twentieth century he was still the only undefeated heavyweight champion in boxing history. He left with a reputation for invincibility and for being particularly dangerous when hurt. A bruising fighter, Marciano was rated as the greatest slugger of all time with an 88 percent knockout record. A member of the International Boxing Hall of Fame, he was Fighter of the Year in 1952 and 1954. Marciano died when a private plane in which he was a passenger crashed near Newton, Iowa.