by
Noah Robertson, CSM Staff Writer

from

Laurel, MD. in United States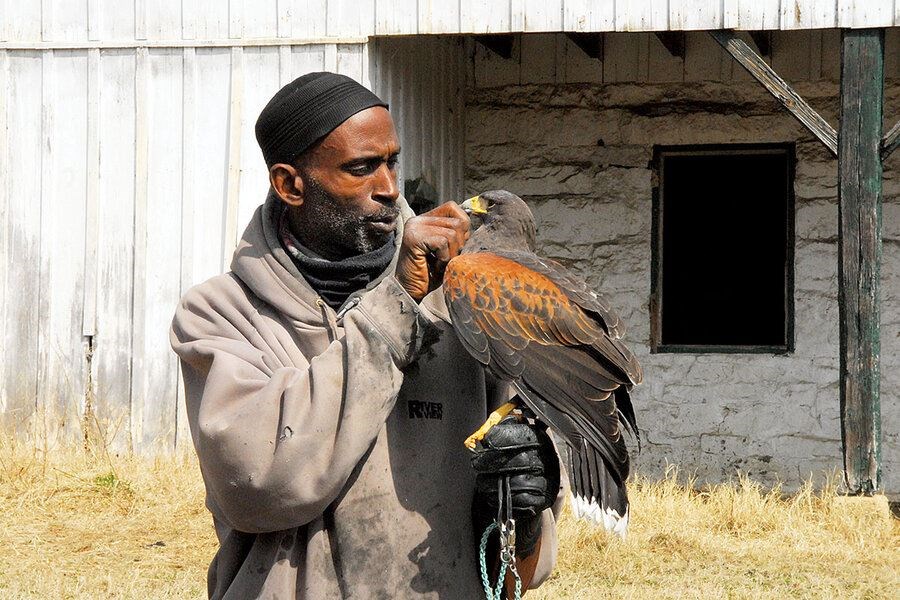 Master Falconer Rodney Stotts, founder of Rodneys Raptors, holds Petunia, A Harris' hawk at the Earth Conservation Corp CampusNoah Roberson/The Christian Science Monitor
April 7, 2021
Before young Jamaal Hyatt met falconer Rodney Stotts, the youth had never seen a bird fly from a person's finger, disappear out of sight, and return at the sound of a whistle. He'd never fed a bird of prey, or understood the trust it takes for one to calmly perch on a person's arm. He'd never even seen a raptor up close.
Mr. Hyatt grew up in downtown Washington, D.C., where birds rest on traffic lights as often as trees. Two years ago, when his family felt he wasn't focused on school, they decided to send him to Capital Guardian Youth Challenge Academy, a military school for at-risk students in Washington high schools. It was in the woods here that he met Mr. Stotts – a master falconer, mentor, conservationist, and Dr. Dolittle of sorts.
Mr. Stotts, too, grew up in Washington, and, like Mr. Hyatt, once barely knew a pigeon from a peregrine falcon. But more than 30 years ago, working with animals transformed him from a man of the streets to a man of the woods. He's since become a mentor for young people facing similar challenges.
That mission brought him to Laurel, where his office is sandwiched between Capital Guardian and New Beginnings Youth Development Center, a youth detention and rehabilitation facility. He works with young people in each facility, giving them an outlet, a role model, and a chance to learn to trust others by learning to trust animals.
"A lot of kids don't really experience that [kind of connection with animals firsthand]," says Mr. Hyatt, who graduated from Capital Guardian in 2019. "It made me want to get a pet."
In three decades Mr. Stotts has worked with thousands of people on the streets and in schools, parks, jails, barns, and Zoom calls. Along the way, he founded his own nonprofit, Rodney's Raptors, and earned his falconry license. The work is low in pay and often poignant, forcing him to confront violence, substance misuse, and loss.
But for Mr. Stotts, whose life is profiled in a new documentary, "The Falconer," it's highest in personal reward. If he could change, he tells the young people he works with, so can they.
"I would see how a young person was [struggling to find direction]. It was the same as that bird," says the falconer.
Page created on 8/18/2021 11:15:38 PM
Last edited 11/12/2021 6:00:01 PM