Romaine Brooks
by
Robin Venter

from

Laguna Beach, California in United States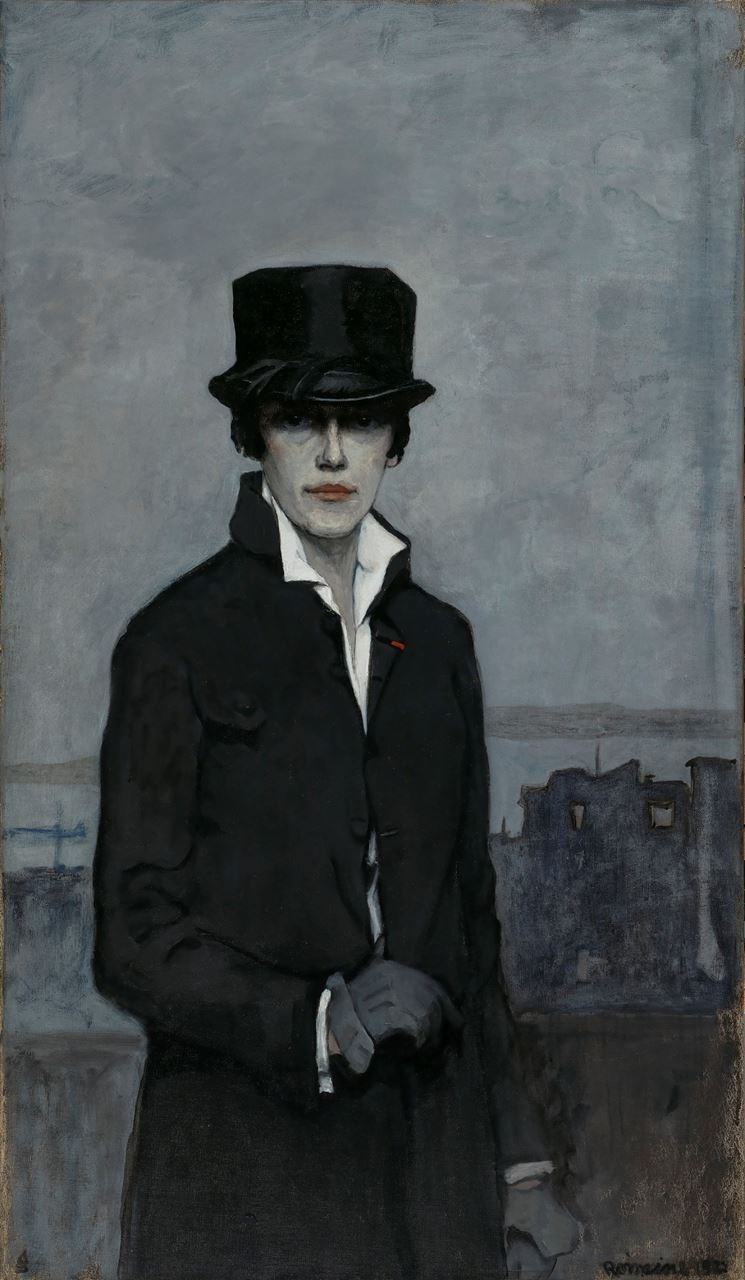 Romaine Brooks, Self-Portrait, 1923, oil on canvas, Smithsonian American Art Museum, Gift of the artist.With Permission from Smithsonian American Art Museum.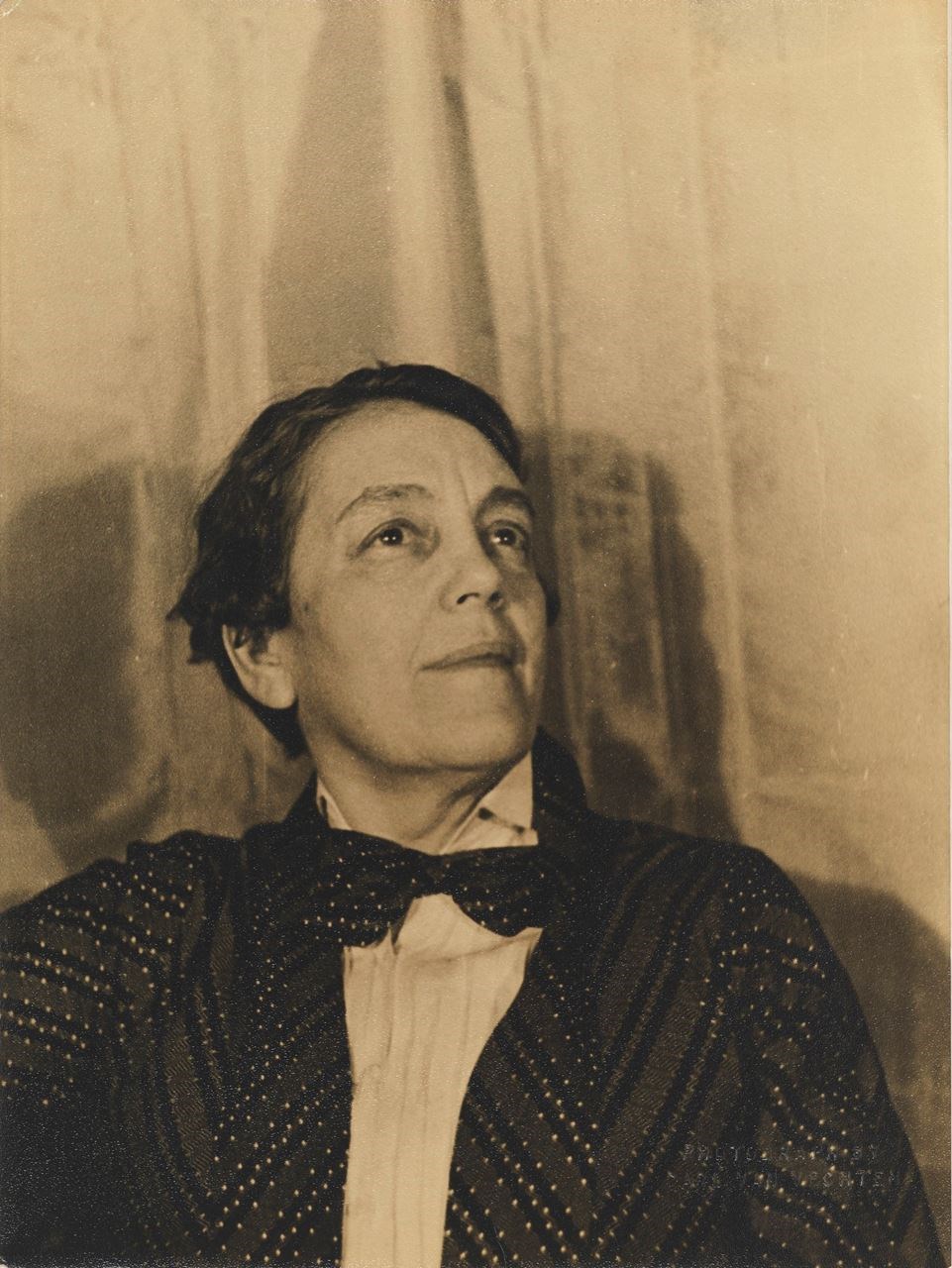 Carl Van Vechten, Romaine Brooks, ca. 1936, gelatin silver prints, Smithsonian American Art Museum, Gift of Laura Dreyfus Barney and Natalie Clifford Barney.With Permission from Smithsonian American Art Museum,Romaine Brooks was an artist born to an affluent American family in 1874. Her early life was difficult as she was neglected by her mother in favor of her older brother. Her mother later fled to Europe when Brooks was only 6, leaving her in the care of an older washer woman in New York. Her pursuit of art began when her caregiver encouraged the young artist to draw and talk to other artists living in nearby apartments. Unfortunately, Brooks was soon relocated to various boarding schools across Europe, facing various instances of neglect and abuse, but still finding the time to excel in arts and music. Her formal art training started when she moved to Rome. At the age of 24 she started attending the Scuola Nazionale, where she was the only female student enrolled. There were instances where male classmates would leave suggestive notes and drawings at the artist's seat. It took a physical retaliation from Brooks to get these instances to stop. After her education in Italy she moved to Paris.
The artist had a difficult time financially and desired to completely cut ties with her mother but could not unless she sacrificed her pursuit of art. Romaine struggled with this financial hardship until her mother died in 1901 and the artist inherited her fortune. Now unencumbered by the worry for money, Brooks became wholly independent and did not need to rely on her mother or have the pressure to find a wealthy husband. However, she did marry a man out of convenience. Brooks was a lesbian but entered a heterosexual marriage to remain respected in society and keep other men from pursuing her. Her husband, John Ellingham Brooks, was also homosexual, so this arrangement worked out for both of them, as he could pursue his own partners and did not have to worry about money.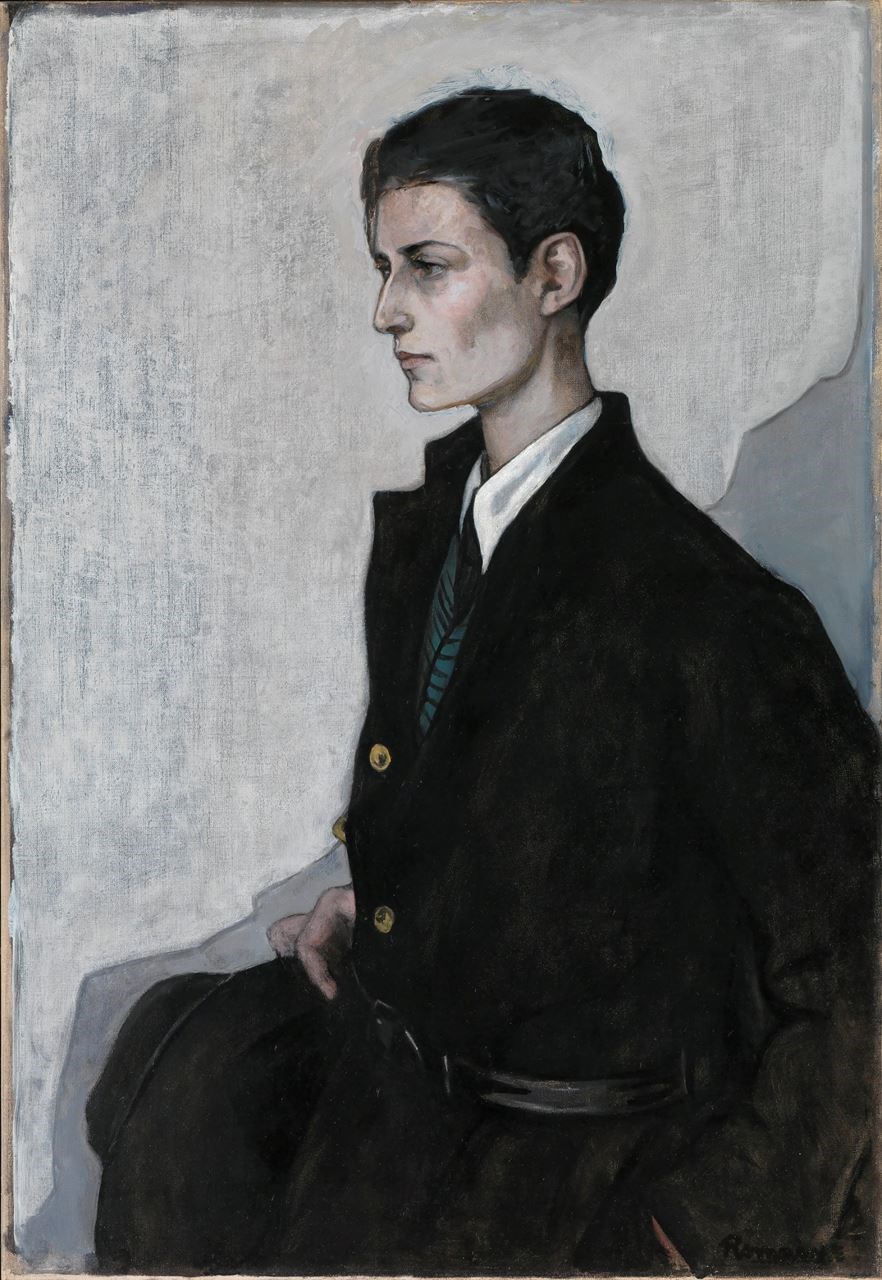 Romaine Brooks, Peter (A Young English Girl), 1923-1924, oil on canvas, Smithsonian American Art Museum, Gift of the artist.With Permission from Smithsonian American Art MuseumBrooks' color palette is composed of muted grays and browns, and her subject matter is mostly portraits. She painted friends, socialites, female lovers, and fellow members of the LGBT community (although it did not exist in Brooks' time in the same way it does today). In "Peter (a Young English Girl)," the artist portrays her friend and artist Gluck (which was the artist's chosen professional name, as their birth name was renounced later in life). Gluck is painted with a man's haircut, wearing men's clothes, and their face is androgynous. Many lesbians of the time renounced femininity, unapologetically dressing in masculine clothes and drawing a connection between lesbianism and gender nonconformity. A lot of lesbians and gay men never settled into the traditional family structure, choosing to live with their same sex partner and not settling into expected gender roles. In Brooks' portraits, the women aren't painted in domestic settings, filling their assigned roles dictated by society. They are painted to look stoic and self-assured, carrying a tone of heroism. Artists like Romaine Brooks and Gluck became cultural icons for future generations of LGBT individuals and are often thought of as pioneers.
Page created on 6/7/2021 12:43:38 AM
Last edited 6/7/2021 5:21:45 AM
The beliefs, viewpoints and opinions expressed in this hero submission on the website are those of the author and do not necessarily reflect the beliefs, viewpoints and opinions of The MY HERO Project and its staff.