Rosa Parks
by
Rylee D

from

New Jersey

Rosa Parks is called The Mother Of The Civil Rights Movement because she accomplished many things. Like standing up to people and being brave. She helped black people get rights so they weren't disrespected because everyone was tired of not being able to do stuff white people did.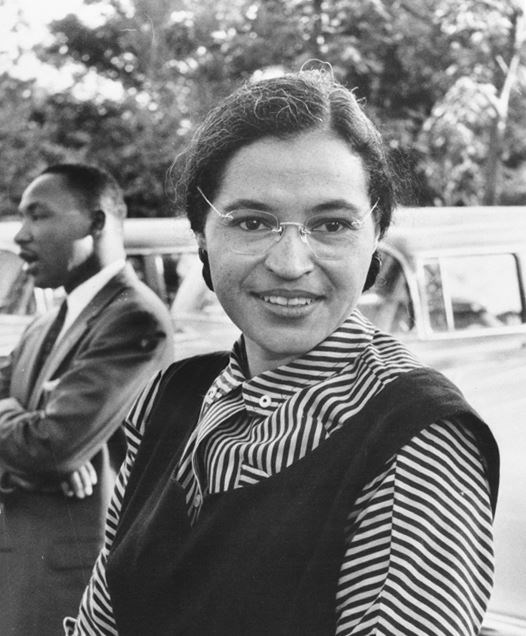 Rosa ParksPublic Domain


On February 4, 1913 Rosa Parks was born. She was born in Tuskegee, Alabama. Rosa Parks went to many schools. She was going to go to Alabama State Teachers College but her grandma got sick so she couldn't go. After her grandma got better, she decided to go to Alabama State Teachers College. When she was there she met a man named Raymond Parks and they got married and moved to Detroit, Michigan. She lived in Michigan for the rest of her life until she died on October 24, 2005.
On December 1, 1955 in Detroit, Michigan. Rosa got on a bus. There was a white man who didn't have a seat, so he yelled at Rosa and told her to get out of her seat and stand, but she didn't move. They threatened to call the police, she still didn't move until the police came and she got arrested. The only person who was able to bail Rosa out of jail was her friend Virginia. After people heard about what happened to Rosa Parks, they boycotted the bus for over a year. This left the buses without a lot of money, so they changed their rules. When Rosa got older she wrote a book about why she did what she did, and how she thought it would help people.

I think that Rosa Parks was a true hero who really helped black people get the respect that they deserved. It made a change for the better for black people. I hope you think this too, after learning about her early life and civil rights accomplishments.
Page created on 1/16/2019 6:58:29 PM
Last edited 1/18/2019 7:17:04 PM
The beliefs, viewpoints and opinions expressed in this hero submission on the website are those of the author and do not necessarily reflect the beliefs, viewpoints and opinions of The MY HERO Project and its staff.