Ruth Bader Ginsburg
by
Mrs. M

- Middle School - from

Abu Dhabi in United Arab Emirates

Women belong in all places where decisions are being made.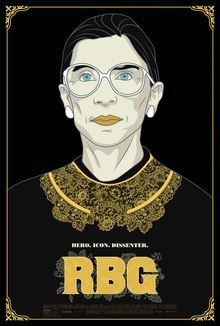 Poster for RBGMagnolia Pictures [Fair use] Wikimedia Commons
Ruth Bader Ginsburg was born in New York City in 1933. Her name was actually Joan when she was born, but when she went to school there were so many other girls with the same name in her class that she started using her middle name, which was Ruth.
Ruth went to college in New York and studied very hard. She was the highest ranking female student in her class when she graduated. She got married soon after college, and enrolled in law school at Harvard University. She was one of only 9 women in a class of about 500 men. Even though she did very well at law school, she had a hard time finding a job when she graduated, just because she was a woman.
Early in her career, she spent a lot of time in Sweden working on a book and some research. She was amazed to see that women were treated much differently in Sweden, and that inspired her to work for women's rights in America.
She held several jobs back in America, and she worked hard to promote women's rights and gender equality. Eventually, she became an associate justice of the Supreme Court of the United States. She was the second woman ever to do so. She argued and won many cases helping women to have fair and equal rights.
Justice Ginsburg died recently, but she has inspired so many people around the world and brought a lot of attention to gender equality. Her memory will always be an inspiration for me to do the right thing, even when it is not the popular thing.
Page created on 10/7/2020 11:01:35 AM
Last edited 10/7/2020 6:02:16 PM
The beliefs, viewpoints and opinions expressed in this hero submission on the website are those of the author and do not necessarily reflect the beliefs, viewpoints and opinions of The MY HERO Project and its staff.