"Women belong in all places where decisions are being made. It shouldn't be that women are the exception."
Whispers echoed through the halls as she walked by. Everyone was staring at someone they thought would never enter there. Many yelled at the woman, catcalling or demanding that she was in the wrong place. As the 5' 1" woman turned around at what she had just encountered, she saw her future and a long journey ahead of her. As Ruth Bader Ginsburg took her first steps onto the Harvard Law School campus, she was immediately asked by professors and peers why she and her other eight female peers were taking the places of more qualified males ("Ruth Bader Ginsburg." Newsmakers,). Ginsburg, who was born in a middle-class family in New York, was not suspected to be a woman of power, or even to work. During the 1960s, women were often looked at as objects or less than a man, which is why it was surprising when Ruth finished high school, college, and law school. She was a part of the small sum of women attending school past the high school level. After years of competing with far less experienced men and losing, she slowly but surely worked her way to the top. In 1993, Ginsburg was appointed as the 2nd female Supreme Court Justice ever (Carmon and Knizhnik). Her journey was far from over, and she used her experience to weigh on high profile cases involving women's rights and gay marriage. She was able to relate to many women around the world facing discrimination and continued to work for those without a voice. Now, at eighty-one years old, Ginsburg is far from retiring and still works to end discrimination against women and the minorities. Ruth Bader Ginsburg exemplifies a hero not only because of her outstanding achievements, but also because of her tenacious attributes and optimistic outlooks.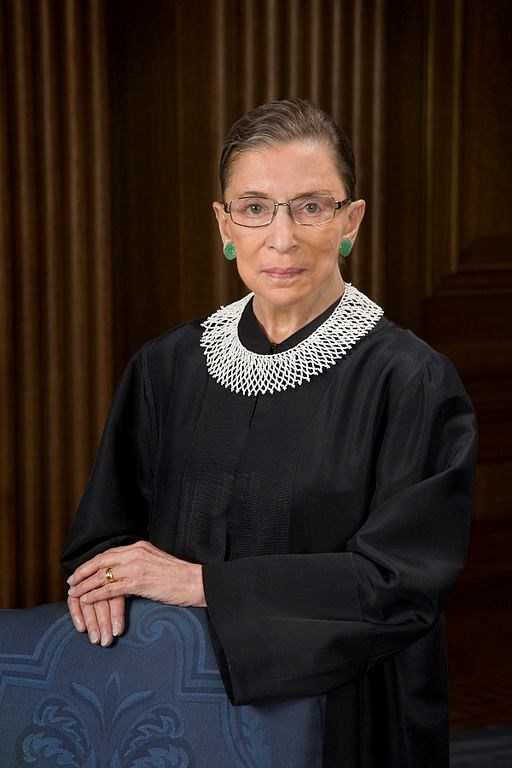 Ruth Bader GinsburgSteve Petteway, Collection of the Supreme Court of the United States [Public domain]Ginsburg's perseverance through discrimination displays how her tenacious grit was able to lead her straight to the Supreme Court. During the 1960s, the number of women going to or getting into college was significantly lower than the men. When Ruth Bader Ginsburg was able to get into Harvard Law, she and her other female peers were representing less than 1% of the whole law school's student total population (Carmon and Knizhnik). Ginsburg was a fantastic leader and student: "But gender discrimination continued to overshadow her scholastic achievements. Although she graduated at the top of her class, law firms, which normally enter fierce bidding wars for such a star, refused to hire her" ("Ruth Bader Ginsburg." Newmakers,). It was clear that Ginsburg was being fiercely discriminated against, yet she couldn't say anything about it. She knew at the time what was happening to her and still continued to look for jobs and opportunities to continue her journey. Her "never take no for an answer" attitude landed her jobs that many believed women should have never of had. She plowed through the stereotypes against women to succeed in her goals and to fight for the women without a voice. Ginsburg explained during an interview to write her book that when she became the second woman to teach full time at Rutgers School of Law, "[The dean explained] it was only fair to pay me modestly because my husband had a very good job" (Carmon and Knizhnik 17). Although Ginsburg's husband Marty had gone to Cornell Law School with Ginsburg, he was far less successful than his wife, especially after contracting cancer in 1956 (Mcneil and Gillette). Yet, during that time most women were judged by their husband's status or wealth. Although Marty had a job at a law firm, this could arguably be because he was a man, despite having less credentials and experience than his wife. Ginsburg's worth was only based on her husband even though she had worked twice as hard as all of the men. Although being constantly discriminated against and insulted, Ginsburg never let that affect her work and attitude. By maintaining her tremendous work ethic, she was able to pass those who doubted her as a woman and continued to work for what seemed to be an unreachable fantasy.
By continuing to search for the light at the end of the tunnel, Ginsburg was able to stay optimistic even in times of heartache and struggle. Since she was sworn into the job of a supreme court justice, "Ginsburg has not missed a day of oral arguments, not even when she was undergoing chemotherapy for pancreatic cancer, after surgery for colon…" ("Ruth Bader Ginsburg." Oyez). Just like the people of the United States, RBG has a job to attend to every day. Although she has the means the stay home and even retire, she is an inspiration to all by working through her troubles just as anyone else would have to as a working American. During Ginsburg's first year at law school, her husband Martin was diagnosed with testicular cancer, but "Ginsburg took on the challenge of keeping her sick husband up-to-date with his studies while maintaining her own position at the top of the class" ("Ruth Bader Ginsburg." Oyez). In Ginsburg's life, she has faced many tragedies and losses in her family, including her mother the day before she graduated high school. Determined to not let her husband die of this dreadful disease, she kept up with her work, helped him with his treatment, and managed to keep him on track in Cornell, staying optimistic and hopeful throughout the whole process. She could have easily given up her work and dreams to take care of her husband, but she was sure that this disease would not take the life of her husband and didn't let it affect her work or her husband's work. When Martin was diagnosed with metastatic cancer, he spent most of his time left with his family and Ruth, even celebrating their 56th wedding anniversary: "He died 10 days later, on June 27, 2010. The next day Ruth returned to work on the bench. When asked why, she had a simple answer: "Marty would have wanted it that way" (Mcneil and Gillette). Ginsburg would not let anything get in the way of her doing her duty to the people of America. Despite her devastating loss, Ginsburg did not let her husband's death stop her, for she knew that he had always believed in her from the beginning. Although many tried to use this as an excuse against Ginsburg to get her to retire or take a leave of absence, Ginsburg used it to strengthen herself and focus on the future and what she could do for her remaining years. Staying optimistic even through times when Ginsburg could have given up gave her strength to continue on her seemingly impossible journey.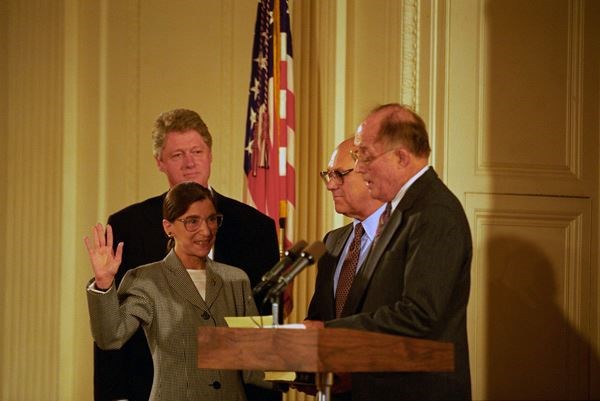 RBG being sworn inRalph Alswang/White House Photograph Office [Public domain]From working through family hardships and refusing to give up her career, Ginsburg is an icon of our century. When Ruth was asked when she was thinking of retiring, her response was: "'As long as I can do the job full steam...I think I'll recognize when the time comes that I can't any longer. But now I can,' she said, ending any discussion of her retirement" ("Ruth Bader Ginsburg." Newmakers). Ruth Bader Ginsburg, who is a working mother, wife, widower, and woman, is an inspiration for many. By working her way through high school, college, law school, and clerkings, RBG has practically broken the glass ceiling for women following in her footsteps. Women now walking into college aren't stared at or questioned about why they belong. Ginsburg helped them in being one of the pioneers of women in law and in professional job settings. She is a role model for girls and women of all ages, proving that even I can go to college and pursue a career in whatever passion I may have. Ginsburg has taught all women and even men that if you persevere through misfortunes, you can accomplish whatever you put your mind to.
Works Cited
Carmon, Irin, and Shana Knizhnik. Notorious RBG: the Life and Times of Ruth Bader Ginsburg:
Summary & Highlights. Level Press, 2016.
Mcneil, Liz, and Sam Gillette. "Ruth Bader Ginsburg Her Great Love Story." People, vol. 90, no.
28, Dec. 2018, pp. 65–67. EBSCOhost, search.ebscohost.com/login.aspx?direct=true&db=aph&AN=133679887&site=ehost-live.
"Ruth Bader Ginsburg." Newsmakers, Gale, 1993. Biography In Context,
https://link.galegroup.com/apps/doc/K1618002136/BIC?u=powa9245&sid=BIC&xid=aa390c10. Accessed 21 Mar. 2019.
"Ruth Bader Ginsburg." Oyez, 22 Mar. 2019, www.oyez.org/justices/ruth_bader_ginsburg.
Page created on 4/8/2019 9:09:38 PM
Last edited 4/12/2019 6:29:34 PM
Related Links
Ruth Bader Ginsburg and Feminism
- This article displays some of Ginsburg's biggest attributes and accomplishments she made during her time in the Supreme Court. Also explains how some of her choices and decisions have affected the modern society.
Unlikely Path to the Supreme Court
- This New Yorker article explains how many people did not like Ginsburg during her rise to the Supreme Court and she was able to preserve through the disapproval.
Ginsburg Wants Five More Years
- This explains how Ginsburg's work is not yet over and how she uses her past to push forward to help her and our country's future.