"Fight for the things that you care about, but do it in a way that will lead others to join you," - Ruth Bader Ginsburg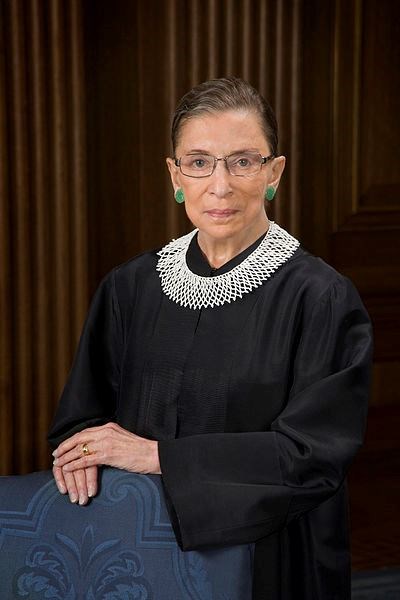 Ruth Bader GinsburgSteve Petteway, Collection of the Supreme Court of the United States [Public domain]
During the 1970s, men in the workforce thrived, while many women suffered silently in the background as though they were trapped in a cage. Rather than remain silent, Ruth Bader Ginsburg, a strong-willed lawyer, saw this as an opportunity to better herself and pioneer new ways to improve the status of women. Ginsburg, now on the Supreme Court, is continuing the fight for women's rights. Ginsburg was born in 1933 into a New York middle-class family. Growing up, her mother was a major inspiration: "My mother told me two things constantly. One was to be a lady, and the other was to be independent" (History.com Editors). While these might seem to be contradictory for that time, Ginsburg lived by this creed; unaided, she attended Cornell University, Columbia University, and Harvard Law School, where people deemed her presence to be unnecessary. Instead of believing this, Ginsburg graduated at the top of her class from Columbia University ("The making of a judicial phenomenon"). After graduating, Ginsburg became the director of the Women's Rights Project of the American Civil Liberties Union. She argued six major cases based upon gender before the Supreme Court (History.com Editors). Ginsburg was confirmed to the Supreme Court on August 3, 1993, as its second female jurist ("Ruth Bader Ginsburg"). She decided many significant cases that helped to ensure equal rights. Defying the odds in an inspirational manner, Ruth Bader Ginsburg heroically blazed a new path for women through her determination to confront her doubters and fearlessly broke through intense social norms which could have controlled her life.
Rather than accept the traditional role of women in the mid-twentieth century, Ginsburg was determined to follow her passions and succeed. She aspired to become a legal and female leader even though she faced many challenges: "There were only nine women in a class of five hundred. At a dinner he hosted for the women students, Dean Erwin Griswold asked each to explain how she justified taking a place in the class that would otherwise have gone to a man. A room in the Lamont Library was closed to women, making it impossible for Ginsburg to get a periodical she needed to do a cite-checking assignment for the law review. Professors sometimes called on women students 'for comic relief'" (Halberstam). Ginsburg was underestimated, even though she was an accomplished student. Being considered 'comic relief' angered Ginsburg especially because she, in reality, was brilliant. Ginsburg was at a major disadvantage because she was unable to obtain the proper materials needed for an assignment. Despite this disadvantage, she continued to thrive. Many would have felt discouraged when the dean asked her to justify her presence, but Ginsburg saw this as a challenge, provoking her to work harder. Ginsburg would not let social norms define her: '"The study of law was unusual for women of my generation. For most girls growing up in the 1940s, the most important degree was not your B.A., but your M.R.S.' —RBG'… RBG has never been one to shrink from a challenge… 'Put another way, RBG was already a radical just by being herself—a woman who beat the odds to make her mark" (Carmon and Knizhnik 43, 72). Early in her career, Ginsburg knew what she desired and was willing to work hard for it. She understood how difficult it would be to break away from the strict social norms. While her goals were uncommon during this time, she saw this as a chance to prove her naysayers wrong. The world was not ready for a fiery feminist like Ginsburg. She once stated in an interview, "I don't know how many meetings I attended in the '60s and the '70s, where I would say something, and I thought it was a pretty good idea... Then somebody else would say exactly what I said. Then people would become alert to it, respond to it" ("The making of a judicial phenomenon"). The actions of Ginsburg's coworkers was aggravating and unjust. While Ginsburg could have allowed her coworkers to discourage and demoralize her, she persevered and ignored them when they failed to see her brilliance. She would stop at nothing until there were equal rights and opportunities for all genders. Rather than accept the traditional role of women in the mid-twentieth century, Ginsburg strived for both men and women to have an equal chance. Ginsburg was determined to succeed and follow her passion, even when facing the doubts of society.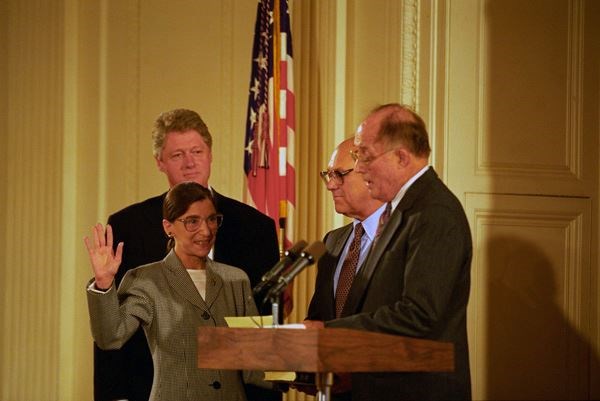 Ginsburg being confirmed to the Supreme Court on August 3, 1993Ralph Alswang/White House Photograph Office [Public domain]Throughout her life, Ginsburg fearlessly challenged superiors, classmates, and coworkers who underestimated her ability and inner strength because she was a woman. She courageously broke through gender barriers that were thought to be impenetrable and worked tirelessly to promote equal rights: "Ginsburg was on the Columbia Law School faculty... she directed the ACLU Women's Project, taught courses and seminars in civil procedure, conflict of laws, constitutional law, and sex discrimination, wrote a number of articles, and prepared the first casebook on gender-based discrimination" (Halberstam). Ginsburg worked to make a difference for society. She decided that the only way to stop the discrimination was to take action and therefore worked tirelessly for the ACLU Women's project. While arguing before the Supreme Court, Ginsburg did not hesitate to speak her mind, even when it could have cost her a case: "RBG looked the justices in the eye and quoted Sarah Grimké, the abolitionist and advocate for women's suffrage. 'She spoke not elegantly, but with unmistakable clarity,' RBG said. 'She said, 'I ask no favor for my sex. All I ask of our brethren is that they take their feet off our necks'" (Carmon and Knizhnik 160). Ginsburg addressed the court fearlessly without hesitation, knowing the quote from Grimké must be said. Ginsburg was also not afraid to disagree with her colleagues once she was on the Supreme Court: "...Ginsburg deliberately and subtly concluded her decision with the words, 'I dissent' — a significant departure from the tradition of including the adverb 'respectfully.'" (History.com editors). She acknowledges others' opinions, but is confident in her own, and is willing to express her views even if they are unpopular. Pioneers like Ginsburg have heroically paved a new path for women in the workforce. Ginsburg courageously paid no attention to those who misread her strength and ability.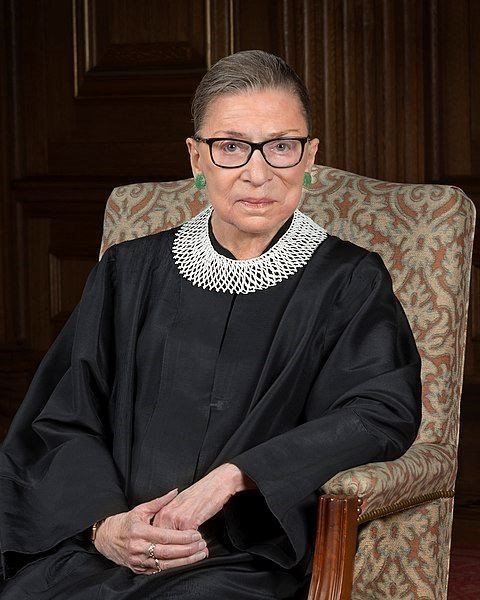 Ruth Bader GinsburgSupreme Court of the United States [Public domain]Bravely breaking through the harsh social norms that could have governed her life, Ruth Bader Ginsburg helped change the workforce through her willpower, proving her skeptics wrong. Ginsburg has been fighting for women's rights for countless years. Fearlessly, Ginsburg blazed a new trail for women in the workforce, particularly in law. She continued to fight so women would not experience the discrimination she faced throughout her education and career. Ginsburg once stated: "I would have been long retired from a law firm, rather than in a life-tenured position on the nation's highest court. Things that look bad at the time can turn out to be the greatest thing" ("The making of a judicial phenomenon"). Even though Ginsburg had to deal with many hardships, she is grateful for them because they got her to where she is now. She is an optimist, knowing that things can be made to be better. She worked as hard as possible for other women, understanding the difficulties women face in the workforce. Ginsburg truly wanted to make a difference where things were unjust and used her power to help those in need. She worked to create an equal society, in which women could receive an education and compete in the workforce. Ginsburg inspired others to fight for what is unjust and never to back down. She worked persistently throughout her education when no one believed in her and throughout her career when no one valued her opinions. She is beyond question a fighter, willing to do whatever it takes to get where she needs to be. Ginsburg provides a voice to those who are mistreated and teaches others to take a stand against the injustice in society. Ginsburg does not allow women to stand in the background any longer in the workforce or in life, making her a hero.
Works Cited
Carmon, Irin, and Shana Knizhnik. Notorious RBG: the Life and Times of Ruth Bader Ginsburg. HarperCollinsPublishers, 2018.
Halberstam, Malvina. "GINSBURG, RUTH BADER (b. 1933)." Jewish Women in America: An Historical Encyclopedia, Nov. 1998, p. 515. EBSCOhost, search.ebscohost.com/login.aspx?direct=true&db=b6h&AN=43863312&site=brc-live.
History.com Editors. "Ruth Bader Ginsburg." Biography.com, A&E Networks Television, 15 Jan. 2019, www.biography.com/people/ruth-bader-ginsburg-9312041.
"Ruth Bader Ginsburg." Newsmakers, Gale, 1993. Biography In Context, https://link.galegroup.com/apps/doc/K1618002136/BIC?u=powa9245&sid=BIC&xid=aa 390c10. Accessed 26 Mar. 2019.
"The making of a judicial phenomenon: Ruth Bader Ginsburg marks 25 years on the bench." CNN Wire, 10 Aug. 2018. Student Resources In Context, https://link.galegroup.com/apps/doc/A549612255/SUIC?u=powa9245&sid=SUIC&xid=1014b172. Accessed 26 Mar. 2019.
Page created on 4/8/2019 7:23:31 PM
Last edited 4/13/2019 7:23:43 PM