Scott Joplin
by
Adam from Center Valley
Scott Joplin was born near Linden, Texas, in 1867 or 1868 (the exact year is unknown). He resided there until the age of seven. His father was a former slave, but when Scott was only around seven years old, his father left work in the fields and took his family to Texarkana, which is a small town nestled directly on the Texas-Arkansas border. Even at age seven, he was quite good on the banjo and beginning to learn piano. This is really where it all began for Scott Joplin and his talents. At age 11 he began lessons with a German man by the name of Julius Weiss. Weiss introduced him to the European world and style of music and really encouraged his efforts. Some sources suggest that this is where his real passion for opera and ragtime music came from and what inspired him to write the two operas and more than 40 ragtime pieces in his short, but fruitful life.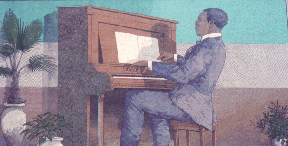 After graduating from Lincoln High School in Sedalia, Missouri, Joplin went on to join and create several bands and compose about 60 pieces. He also maintained several part-time jobs in Sedalia when not traveling. These included teaching piano, playing at special occasions and events and performing at local social clubs. In those years, Joplin produced such classics as "The Maple Leaf Rag," "Cascades," and "The Gladiolius Rag."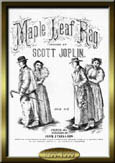 There were quite a few problems that arose during his life because he was black. In those days, that made all the difference. When he began his musical career, no one cared except his friends and family. At that time, a black person trying to convince a white person of anything, whether or not it was concerning music, would be similar to an ant walking up to an anteater and saying, "You know, caterpillars really are more nutritious." The "King of Rag" was faced with many challenges involving race and wealth, but he defied the odds and became one of the most superior musicians of all time.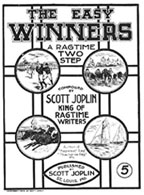 Unfortunately, in 1916, Joplin was found to have an incurable disease, which ended his career. On April 1, 1917, the life of a truly great musician came to a close. Scott Joplin never received the credit, nor the recognition he deserved until over half a century after his death. In the 1970s, some of his compositions were featured as background music in such films as "The Sting." Also, in 1976, his opera, "Treemoshina," was revived to win him a Pulitzer Prize just three years after the production of "The Sting" was released and won an Academy Award.
I'd like to tell you exactly why I believe Scott Joplin to be a hero. First, let me say how important he was to the history of ragtime music. This style of music was just catching on in America back then and he enforced the style called "rag," and cut a straight line for those who came after him to follow. This amazing composer was also a courageous and intellectual man. For all these reasons, he is my hero.
Page created on 9/17/2006 1:19:47 PM
Last edited 10/26/2020 5:44:02 PM
The beliefs, viewpoints and opinions expressed in this hero submission on the website are those of the author and do not necessarily reflect the beliefs, viewpoints and opinions of The MY HERO Project and its staff.
Related Links
Related Books