Saquon Barkley
by
Ryan L

from

Montvale, New Jersey in United States

Saquon Barkley

By: Ryan Lafferty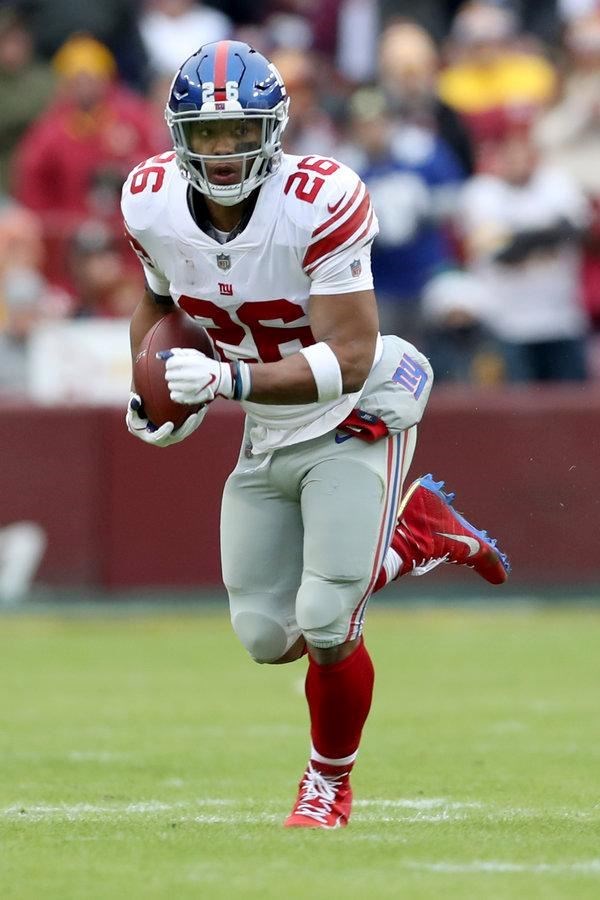 Saquon Barkley Running for a TouchdownWikiBlog.infoImagine sitting in the stands at a football field, watching an eleven year old Saquon Barkley sprinting 98 yards for his 15th touchdown of the season in a number 23 jersey. Saquon Barkley is a personal hero to me and many others as well. But many do not know the origins and accomplishments of the boy who came to be the legendary number 26 on the Giants.
On February 7, 1997, little Saquon Barkley was born in the Bronx, NY. He liked football from a young age, watching Jets games when he was 3. The Bronx wasn't an ideal place to grow up. If you don't believe me, just ask Saquon's dad. In his teenage years his dad was surrounded by fights, drugs, crime, and people that made those things easier. This eventually led to a gun charge which cost him a year on an isolated island prison called Riker's Island.
Furthermore, Saquon had asthma growing up. Because of this, his family moved to Bethlehem, PA, where it was easier to breathe. Saquon Barkley took interest an in football. Every day he would walk to the field because his family didn't have a car. On his team he was a star running back. Around 13 or 14, he wanted to stop playing. His father was an amateur boxer and he knew if Saquon quit he would go through the same pain he did when he quit. His dad convinced Saquon to keep on playing. Skip ahead a couple of uneventful years and it was time to choose what college he wanted to go to. He had committed to Rutgers but thankfully he went to Penn State. Three years later he was drafted to the NY Giants for a 7.8 million dollar contract. Pretty crazy huh?
Saquon Barkley is a hero for me personally. Last season the Giants had the infamous 3-13 season which made most fans jump off the bandwagon. But when Saquon was drafted it restored hope to the Giants. To play football like he does, especially what he went through growing up, shows that he's strong and brave. Saquon Barkley bought his parents a house, such a selfless act. His determination and hard work fits the definition of a hero and so does his positive impact on society, inspiring young athletes like myself hoping one day to be like him.
Saquon Barkley truly is a hero, not coming only from me. A lot of people will agree with me when I say this. He inspires young athletes and whether you like football or not, we can pull this from his life story: hardwork and determination can get you anywhere!
Sources
https//:espn.com
https//:mcall.com (Born to Run)
Page created on 1/17/2019 2:43:33 PM
Last edited 1/19/2019 5:41:18 PM
The beliefs, viewpoints and opinions expressed in this hero submission on the website are those of the author and do not necessarily reflect the beliefs, viewpoints and opinions of The MY HERO Project and its staff.