260 million children aren't in school today. And by 2030, if nothing changes, more than half of the world's 1.6 billion children won't have basic skills. Now is the time to end the global education crisis. #WritetheWrong campaign
Sarah Brown is a passionate advocate for global education and health issues. She is the Chair of children's charity Theirworld and Executive Chair of the Global Business Coalition for Education.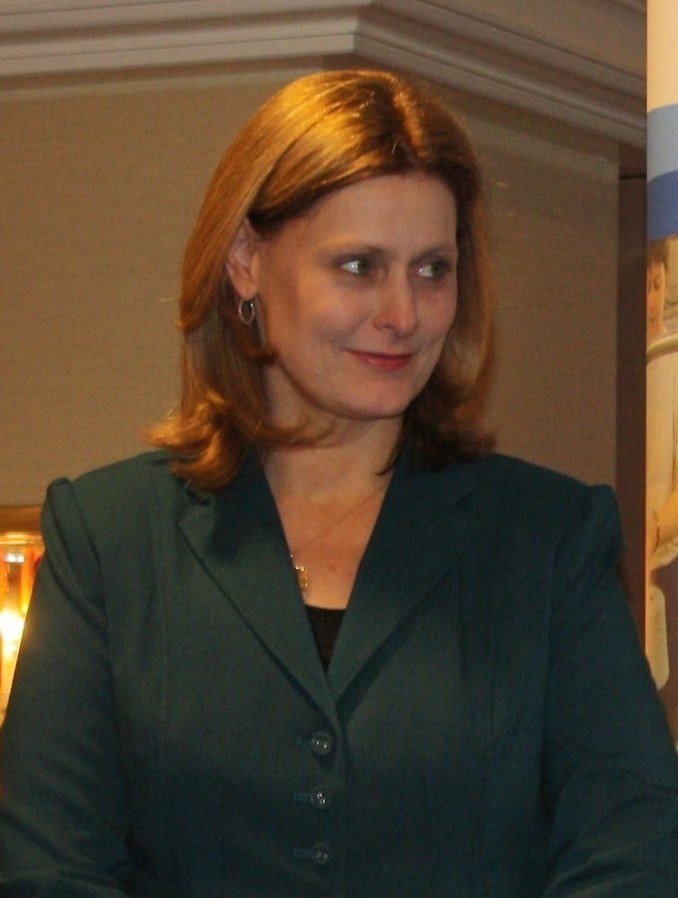 Sarah BrownCC BY-SA 2.0, via Wikimedia CommonsBrown (née Macaulay) was born in Beaconsfield, Buckinghamshire, UK on 31 October 1963. Her mother Pauline was a teacher and her father Iain worked for a publishing company. She spent her early years in Tanzania where her mother ran a school but returned to North London, England when her parents separated, aged eight. There, she was educated at local secondary schools and later graduated from the University of Bristol with a degree in psychology.
After leaving university, Brown worked for and became Managing Director of one of Britain's most dynamic independent communications companies, Wolff Olins, but left in 1993 to found and lead Hobsbawm Macaulay, a global arts PR firm.
In 2000, she married Gordon Brown, former UK Prime Minister and Leader of the Labour Party, and in October 2001 left Hobsbawm Macaulay after finding out she was pregnant with her first child. Tragically, the baby, Jennifer, was born seven weeks prematurely and died just over a week later.
In memory of their daughter, Brown founded the charity Theirworld – originally known as PiggyBankKids, which, in 2002, began as a research fund to tackle complications in pregnancy, and in 2004 the charity founded the Jennifer Brown Research Laboratory at the University of Edinburgh.
Over the past 19 years, the Jennifer Brown Research Fund has grown to reach across the globe, providing funding for new innovative health research, community health and education projects.
In 2012, Theirworld launched the Global Business Coalition for Education - a movement of businesses dedicated to ending the global education crisis in order to unleash 'the potential of the next generation.' Committed to bringing together the expertise and resources of the business community, their mission is 'to ensure that every child has the best start in life, a safe place to learn, and skills for the future.'[i]
#UpForSchool was initiated in September 2014, 'a global movement that organised a petition of over 10 million signatures to enforce the right of every child to go to school, without danger or discrimination. This led to a successful campaign to support funding for education in emergencies.'[ii]
Theirworld also organised the first ever "youth takeover" of the United Nations in July 2013 and has campaigned on the provision of education to children effected by conflict and disaster, particularly including refugees of the Syria crisis in Lebanon.
In September 2021, the film, 'Children can transform the world - but first they need an education,' was created to send a message to world leaders about the importance of investing in education during the post-pandemic rebuilding operation. Voiced by celebrated actor David Tennant, the film highlights the role of education in addressing some of the greatest challenges we face, from climate change to civil unrest. Watch it here: (https://youtu.be/EaAhwa-Zv94)
The charity currently works with global communications group Omnicom on the UN Common Ground initiative for SDG4 (education for all) and is steering the new #WritetheWrong campaign – 'a campaign to build mass awareness of the global education crisis and mobilize the political will and financial support to give every child a chance to achieve their potential.'[iii]
To join the campaign, log on to: http://act.theirworld.org/signup/WriteTheWrong-19/
As well as chairing her own two charities, Brown is also a Patron of Maggie's Cancer Caring Centres and SHINE Education Trust, a member of the Advisory Council of The Asia Society Centre for Global Education and a Global Champion of the White Ribbon Alliance for Safe Motherhood. She serves on the global board of UNICEF Executive Director's Young People's Agenda. Her contributions over the years have been recognised with Honorary Fellowships from both the Royal College of Obstetricians and Gynaecologists and the Royal College of Paediatrics and Child Health as well as the Recognition Award from the International Federation of Gynaecology and Obstetrics. She has received Honorary Degrees from the Universities of Wolverhampton, Brighton, Roehampton and the Open University.
To find out more about Theriworld go to: https://theirworld.org/
To find out more about the Global Business Coalition for Education go to: https://gbc-education.org/
To Find out more about Sarah Brown check out her Podcast: 'Better with Angels' or read her best-selling memoir: 'Behind the Black Door' https://www.amazon.co.uk/Behind-Black-Door-Sarah-Brown/dp/0091940583
[i] https://gbc-education.org/about-us/
[ii] https://gordonandsarahbrown.com/sarah-brown/
[iii] Ibid
Page created on 11/10/2021 2:56:21 PM
Last edited 11/10/2021 3:10:33 PM