Being surrounded and supported by friends and family is what most people in our society have. It's what gives you a sense of belonging and safety. These are the things that Saroo Brierley, a young, poor Indian boy longed for and wished to have, living on the treacherous streets alone. Saroo Brierley was "born in Khandwa," a small village in "rural India" ("Saroo Brierley"). After his father abandoned his family for another wife, his mother, "Fatima Munshi, struggled to support the family," some nights not being able to put food on the table ("Saroo Brierley"). The siblings resorted to the streets to beg for food. As they rode the trains, scavenging for forgotten coins, Brierley was never far from his brother, Guddu. One night when Brierley was four, he fell asleep at a train station after the long hours of constant begging with his brother. He awoke to find himself alone. Jumping on the closest train, he soon realized he had traveled over 1,000 miles away from home, to a city foreign to him, known as Calcutta. At that moment, he became another one of the "15 million children fighting on the streets-for the few-scraps of food" (Elder). After three whole weeks, defying all odds, and overcoming a few near-fatal and harrowing experiences, four-year-old Brierley found his way into an orphanage and was miraculously adopted by an Australian "couple in Tasmania" (Dunlop). Twenty-five years later, he was able to locate and reunite with his mother, solely from utilizing his childhood memories of his village and the newly developed Google Earth. Saroo Brierley is a hero. A hero is a person others look up to and are inspired by their actions and the values they portray. Saroo Brierley possesses the traits and values of unending perseverance, as well as the resilience and sheer grit to overcome impassable hardships, therefore making him a hero and inspiration.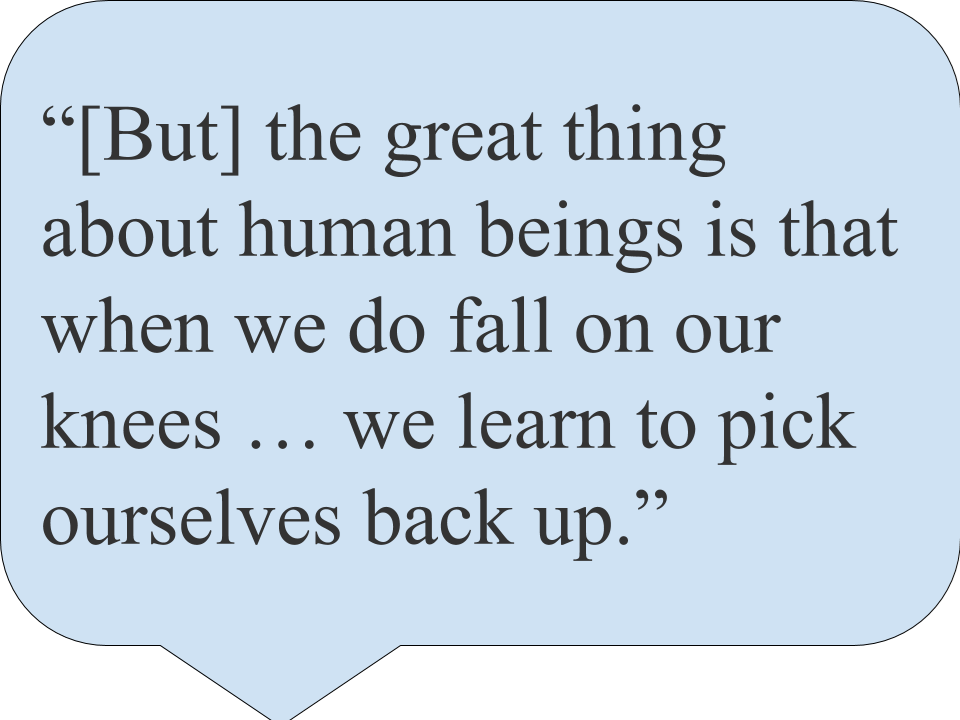 Original Workhttps://www.lds.org/church/news/saroo-brierley-speaks-on-finding-his-family-and-how-to-soldier-on-with-hope-at-rootstech?lang=engFrom not knowing his family's last name to fighting alone on the streets, Brierley's resilience kept him from losing hope, even when all of his leads were leading him to dead ends. During the weeks while he was lost and on his own, suffering through deprivation, danger, and vulnerability, Brierley relied on himself through these times. "Abandoned children on the streets of Calcutta were often sold into the sex trade or slavery, or even killed for their organs" ("Saroo Brierley"). Without the will to survive, a child's life could easily be taken. But Brierley's "dream[s] of his family and lost home" gave him a determination to stay alive. Any young child, living in Brierley's position, would endure and be in a constant state of fear, incapacitating them, and leaving them hopeless. But he was able to adapt to those stressful situations and continued to combat his hardships in those hard times.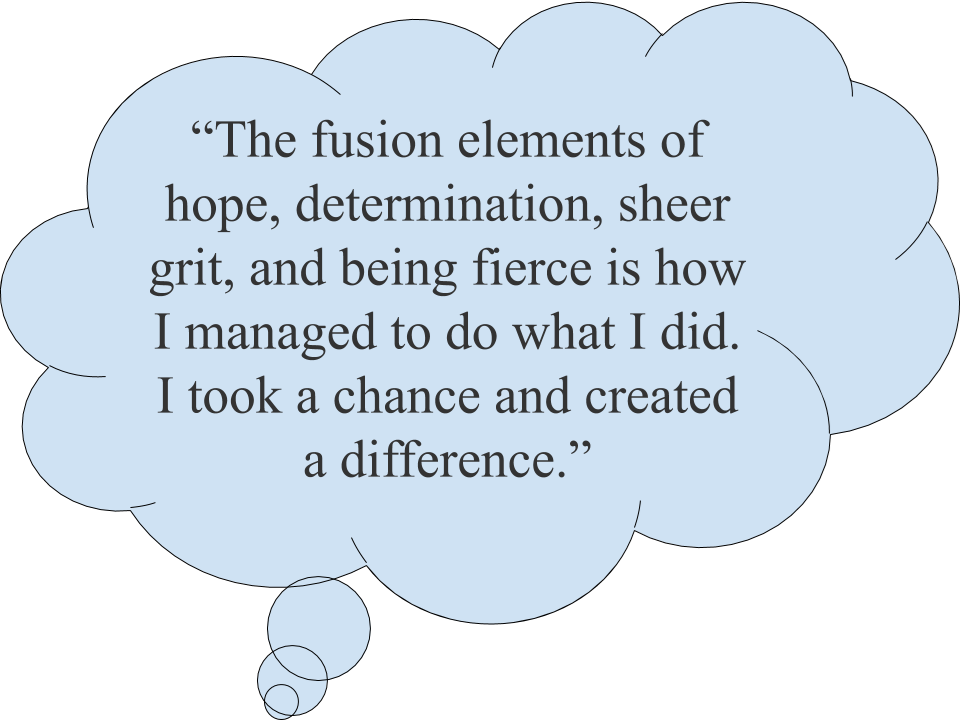 Original Workhttps://www.lds.org/church/news/saroo-brierley-speaks-on-finding-his-family-and-how-to-soldier-on-with-hope-at-rootstech?lang=engPersistence is the ability to continue to get up in spite of obstacles, no matter the number of times you've been knocked down. Positivity burned throughout Brierley, despite failure and discouragement, and it was what kept him from giving up on trying. Brierley described the time when he was searching for his family that he had lost many years ago. "For years, he pored over satellite photos night after night," "looking for landmarks he remembered from his childhood" (Dunlop, Izenberg). Brierley fought to hold onto the roots of his past and early life, solely from his memory. When Brierley had only his own memories and Google Earth to assist him in his painstaking search, many of his friends and peers pleaded for him to give up and stop. "It was so easy to give up. My friends were telling me, 'You should give up, Saroo'" (Gardiner). But Brierley could only cultivate this skepticism and use it to drive himself to progress, later finding his mother and village after 25 years. Through Brierley's persistence and determination, he was able to persevere and advance in his path, despite all of the opposition portrayed through his peers and surroundings at the time.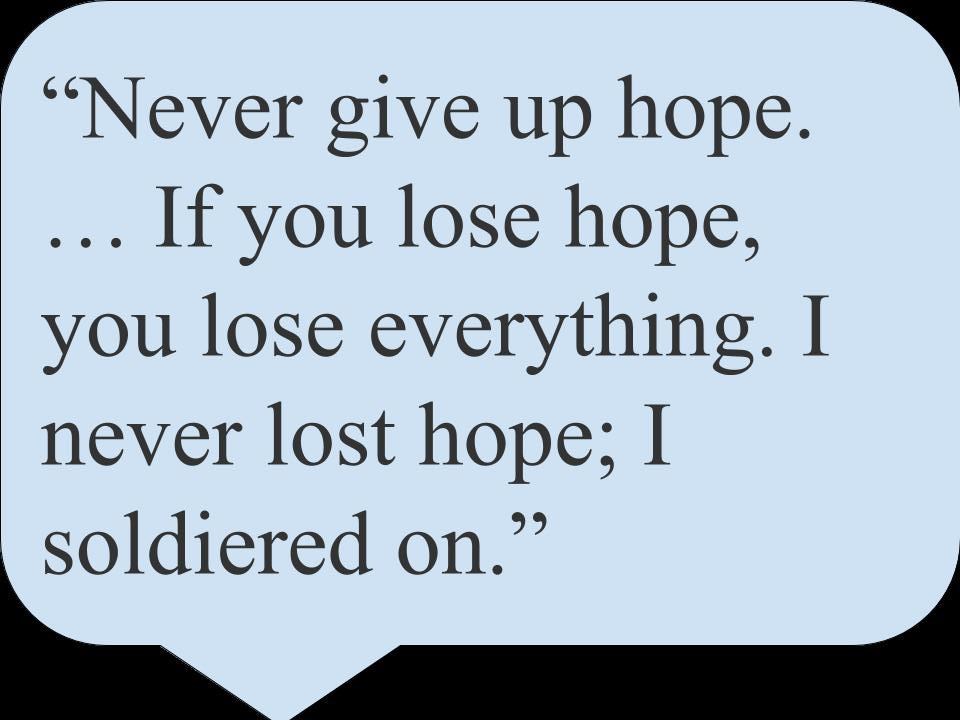 Original Workhttps://www.lds.org/church/news/saroo-brierley-speaks-on-finding-his-family-and-how-to-soldier-on-with-hope-at-rootstech?lang=engBrierley is an inspiration and example of how hope and determination helps you overcome the obstacles in your life that will challenge the strength of your spirit. During an interview with Root Tech, he said, "...the great thing about human beings is that when we do fall on our knees … we learn to pick ourselves back up" (Gardiner). He described the feelings of fear and panic that flooded over him, until he learned to rise up from his hardships. Brierley's story makes people strive to continue fighting and push for the impossible, even when all else tells them to do the opposite and give up. Experiences that an average person describes as being "tough" pales in comparison to Brierley's tough experiences. He had hit rock bottom, and yet he was still able to pull himself out. When I think of the times when I feel hopeless, I just want to let go and give up completely. But knowing Brierley was able to find even the smallest glimpse of hope in his traumatic conditions, I know that I also have the capability to persevere and push through. In sports, failures of the human body are unavoidable. Recently, I started a sport in track and field called pole vaulting. For the past year, I have been training every day, preparing for CIFs, the most important competition of the season. The week before CIFs, I felt great at practice. My vaults were consistent, and my form nearly perfect. It wasn't until the day before, only 12 hours prior to the competition, that my throat started to burn. I started to feel what felt like a fireball, blazing inside my head and throat. I tried to shrug it off, hoping it was not as bad as I thought it was. Soon it became too much to handle, so I made a hard decision to rest instead of going to practice. Prior to this meet, my season had not been going exactly how I had hoped. After a few no heights, meaning I didn't clear my starting bar, my teammates would always assure me that I still had time to improve, that the only time it mattered was at the end of the season. The morning of CIFs, I woke up with a 102 degree fever. I wasn't even able to physically lift my arms up to wash my hair in the shower. I had lost almost every last bit of energy and hope, but I knew that I couldn't accept this as the ending to my season. I knew that if I went, I would still have a chance of competing, but if I didn't, then I would essentially be giving up. After finding the mere last bit of hope, I was able to qualify, clenching one of the top 9 spots to advance to the finals. This couldn't have happened if I had never took that chance, even when all else was saying not to. Even though my dire situation was not even close to what Brierley endured, I was able to find some hope and persevere to achieve what I strove to do. Saroo Brierley is an inspiration to me because he was able to continue to persevere and never let an obstacle interfere with or prevent him from accomplishing what he set his mind to.
Works Cited
Dunlop, Greg. "Saroo Brierley: The Real-Life Search behind the Film Lion." BBC News, BBC,
19 Jan. 2017, www.bbc.com/news/world-australia-38645840.
Elder, Sean. "'Lion' Chronicles Mothers' Love, Transcending Continents; Oscar-nominated film tells the incredible story of Saroo Brierley, an Indian boy adopted by an Australian family who finds a way to return home." Newsweek, 24 Feb. 2017. Biography In Context, https://link.galegroup.com/apps/doc/A481470570/BIC?u=powa9245&sid=BIC&xid=97fdba66.
Gardiner, Emmy. "Saroo Brierley Speaks on Finding His Family and How to 'Soldier on' with Hope at RootsTech." Church News and Events, 2019, www.lds.org/church/news/saroo-brierley-speaks-on-finding-his-family-and-how-to-soldier-on-with-hope-at-rootstech?lang=eng.
Izenberg, Dafna. "A Long Way Home." Maclean's, 23 June 2014, p. 67. Biography In Context, https://link.galegroup.com/apps/doc/A372098983/BIC?u=powa9245&sid=BIC&xid=e1c5772a.
"Saroo Brierley." Gale Biography in Context, Gale, 2014. Biography In Context,
https://link.galegroup.com/apps/doc/K1650009405/BIC?u=powa9245&sid=BIC&xid=e97fbe51.
Page created on 5/10/2019 8:11:43 PM
Last edited 5/1/2020 9:17:37 AM