"Education is when you read the fine print," he said.
"Experience is when you don't."
Pete Seeger
Throughout history, folk music has been used to spread a message, and to inspire community involvement. Pete Seeger is one of America's most well-known and revered folk singers. Seeger's music has been an iconic symbol of touchy political topics; it started with workers rights, and evolved into social justice, environmental appreciation and simply peace. His songs ring true to so many situations decade after decade. He strived to write and perform songs that held importance to the causes he was passionate about.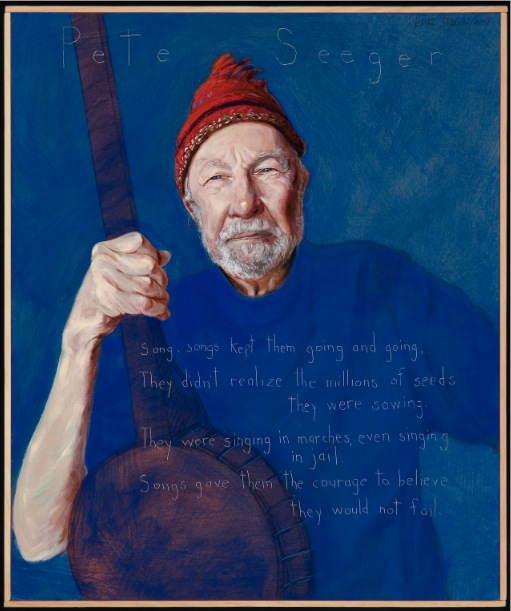 Music was in Seeger's blood. His family was very distinguished in the music industry. Charles Louis Seeger, his father, studied music at Harvard and Constance de Clyver Edson, studied music at Juilliard. They were both violinists. His stepmother was also a well known composer. Seeger was very interested in the affliction in humanity and the environment, and the struggle for its justice. He once dreamed of speaking out through journalism, and he spent two years at Harvard in the 1930's studying to become one. But because of his harmonic childhood, Seeger was also absorbed with folk music. When he combined his passion for an improved world and his musical talents, he quickly realized his true communication gift was through songs. In his own words, "Songs won't save the planet, but neither will books and speeches. Songs are sneaky things; they can slip across borders." As he became more and more interested in music and politics, he became less and less interested in scholarship and classes. He opted to pursue a non-traditional educational path. Instead of being taught in school, he believed, you should learn through your own experience. "Education is when you read the fine print," he said. "Experience is when you don't." Seeger dropped-out in the spring of 1938.
Pete Seeger and Lee Hays wrote the song "If I Had a Hammer" in 1949 as part of the progressive movement to support labor rights. The song symbolically uses a hammer, a bell, and a song as the change that people wanted. Throughout the song, Seeger and Hay's simultaneously use the hammer, bell, and song to say, "If I had a song...I'd sing out love between my brothers and my sisters." The final verse says, "It's the hammer of justice, it's the bell of freedom, it's the song about love between my brothers and my sisters." The purpose was to encourage people to voice their rights, and their opinions. The song was not originally a huge success, but it's message was timeless. When thousands of people crowded around the Washington Monument- 14 years later- to listen to Dr. Martin Luther King Jr. speak, Peter Yarrow, Paul Stookey, and Mary Travers, known as 'Peter, Paul, and Mary,' sang 'If I Had a Hammer.' This year in Oslo, Norway, a gunman killed 77 people because of his anit-Muslim integration belief in Europe. More than 20,000 people showed up to show support for the victims. They held roses up to the sky and sang a translated version of Pete Seeger's song, " The Rainbow Race." Everyone knew the words, and everyone participated. As the chorus says, "Some hope to take the easy way: Poisons, bombs. They think we need 'em. Don't you know you can't kill all the unbelievers? There's no shortcut to freedom." To this day, his songs are classic and inspirational for movements in the past, present and future.
He also has a love of the environment. The Hudson River has always been close to the heart of Pete Seeger because he grew up around there. In the mid-sixties, the river was devastatingly polluted. Fish were rare, and the river had become a place for industries to dump toxic waste. The river was in desperate need to be cleansed. Pete Seeger saw this for the travesty it was. He vowed to do what he could to clean up the river. He had the idea that he would build a boat to sail down the river as an attention getter. By this time, Seeger was a well-known folk artist, so he decided to hold several small concerts to raise funds. The concerts, held throughout the Hudson River Valley, soon became rallies. As the official Clearwater Festival website says, "he literally passed his banjo among the crowd, collecting contributions to build the elegant tall ship that would become a symbol of environmental advocacy, the flagship of the American Environment Movement, the sloop Clearwater." Once the boat was built, Seeger would sail the boat down the river, singing "This Land is Your Land" as he went. While Woody Guthrie wrote the song, it is in perfect harmony with Pete Seeger's vision. The Clearwater Festival uses art-music, dancing, and storytelling-to celebrate our environment. It is still held annually as one of the nation's largest, and most well-known, environmental commemorations.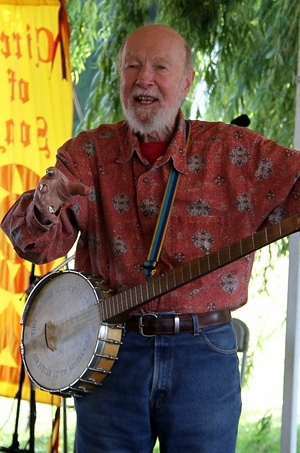 Pete SeegerWikiTo this day, Pete Seeger's words of peace and justice are loud and clear. He took his art and put meaning behind it. His belief in community involvement has inspired so many to come together and stand up for their rights, and for the environment. His song's are timeless and will always be heard. He is truly an inspiration.
Page created on 6/20/2015 3:52:42 PM
Last edited 4/26/2022 12:56:15 PM