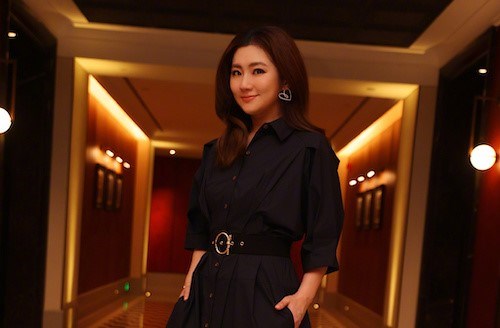 Selina posing for a picturehttps://38jiejie.com/2022/03/04/s-h-es-selina-jen-admits-to-first-relationship-since-divorce-6-years-ago/You've probably heard about S.H.E, inarguably the greatest and most successful Mandopop girl group in this generation. The members consist of Selina, Hebe, and Ella, and they debuted in 2001. Each of them has a unique personality, but Selina has qualities that endear to many fans. She is best known as the winner of the singing competition that brought S.H.E together. Of the three girls, her voice has been described as the sweetest and most angelic.
In October 2010, a tragic accident on the set of the TV series 'I Have A Date With Spring' left Selina with third-degree burns, bringing her career to an abrupt halt. She was severely injured to the extent that she had to undergo a skin grafting process and took a year to recover. This incident nearly cost her life, and her rehabilitation journey did not make things easier for her. Already at the peak of her career, she was slated to marry lawyer Richard Chang and become a popular variety show host. Naturally, this had to be postponed till the next year.
I woke up to the shocking news of her divorce which she announced through a Facebook post in March 2016. At first, it was too unbelievable to accept. Richard seemed to be the perfect husband who doted on his wife and always stayed by her side throughout her entire ordeal. Their wedding was nothing less than an emotional fairytale and the Chinese-speaking world was very happy for them. He went wrote a book detailing her experiences as a burn survivor, titled 'The Lord Chose You: Selina's 90 Days In Hell'. While I have not read the book because I don't have access to it in my country, I've heard that it's a tearjerker. I believe that.
What inspires me is how Selina transformed from an extremely sensitive and easily hurt teenager into a woman of strength, character, and resilience. I practically grew up watching S.H.E perform, and I've been following her story more closely than Hebe and Ella's. I'm sure Selina questioned her pitiful fate and why God subjected her to such a horrible yet eye-opening experience. It's because she was stronger than she could have imagined.
It's also remarkable how she managed to live with the thought of the TV drama's director Chen Ming Zhang's indifferent attitude towards the incident. Selina's family, friends, and fans alike slammed him for his callousness, and I couldn't agree more with their actions. Now, if I were to believe online reports (although they could be rumors), he compensated Selina with a mere S$ 2 million. I certainly hope it's much more than this amount because, for all that she went through, Selina deserves so much more.
Selina's gratitude for a second chance at life, love, and all the people who matter to her is poignant. As a solo artist, she has made impressive progress with record sales of her first album 3.1415. She gives motivational speeches at academic institutions, raises funds for Sunshine Social Welfare Foundation, runs Ren Sing Eat Shot, and most importantly, is happy and healthy.
Wherever I am in the world, I promise her my unwavering support. Let this courageous lady be an example to all of us, and how we should never give up in the face of adversity!
Page created on 5/9/2022 5:05:04 AM
Last edited 5/10/2022 12:59:50 PM