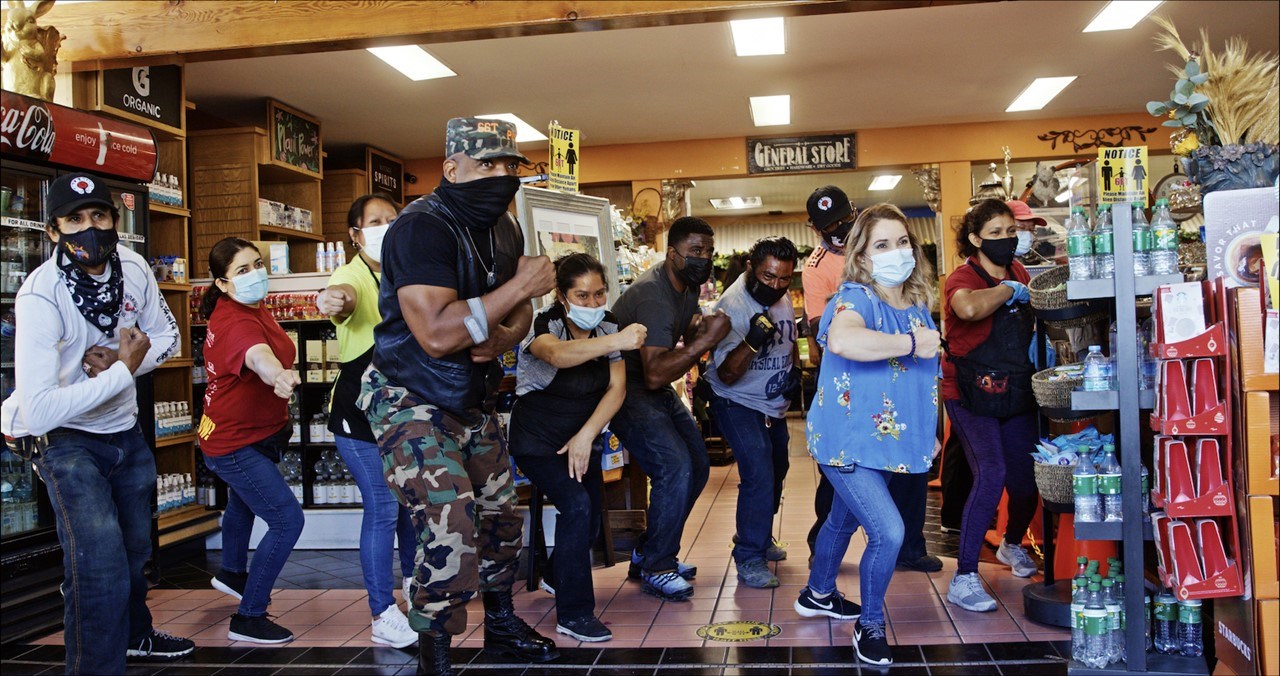 Sgt. Pushup at workBrandon Hill, with permission
"We met Sgt. Pushup for an interview at the food bank; he kept cranking out pushups for 1 ½ to 2 hours, more pushups than I had done in my entire life," said Brandon Hill, co-producer and director of the trailer and film, Sgt. Pushup: Helping Children One Pushup at a Time. "He actually keeps a notepad of how many push-ups he does, one per meal to feed children in need."
The three-minute trailer to the 13-minute documentary film, Sgt. Pushup, won the Humanitarian Award in MY HERO's 18th International Film Festival. The subject of the trailer is Patrick Parker, a.k.a. Sgt. Pushup, a decorated war veteran who created the character of 'Sgt. Pushup' to feed children by partnering with food banks across America. Through millions of pushups, Patrick has raised over 400,000 meals for children. In his goal to raise 1,000,000 meals for children, Sgt. Pushup continues his campaign on the road one meal, one heartbeat, and one pushup at a time.
"He's made himself into a mascot, a cartoon character to prevent childhood hunger. He doesn't have a stable life: he lives out of his van, comes home to a truck-stop to sleep," co-director and filmmaker Maverick Farrah told MY HERO. He still wears his dog tags from his service in Desert Storm and is, according to Maverick, the embodiment of pure selflessness. His energy is infectious.
"Patrick is dedicated and does what he preaches: he's close to one million meals now," Maverick told MY HERO.
Brandon and Maverick were really impressed with the brutal honesty of his message: "Every day, 13 million children in the US don't eat." Unbelievable. Patrick Parker takes his work throughout the country, providing 68,000 meals per day through partnerships with local food banks. He lives with excruciating pain, but his pain, he says, is nothing like the pain of a child waiting to eat.
"I have no children, and I want to leave a legacy: what am I doing every day to help this nation?" he asks in the film.
We asked Maverick and Brandon how they came up with the idea to make a film about the work of Sgt. Pushup. "It is a funny story," Maverick said:
I was visiting my parents in Ft. Lauderdale on my Christmas break. My dad and I were walking down a city street--it was holiday season, and all of a sudden, there was a man in a van with an intercom. The van said, 'St. Pushup,' and he was wishing everyone a Merry Christmas. A year went by. Brandon texted me that he wanted to shoot a documentary together. We looked up Sgt. Pushup and found he was in Sacramento at the time. Brandon drafted a letter and made contact on Facebook.
Brandon made sure to send him samples of his previous work--as a courtesy, he said, because we would be living with him, following him, so the question was, "Can I tell your story?"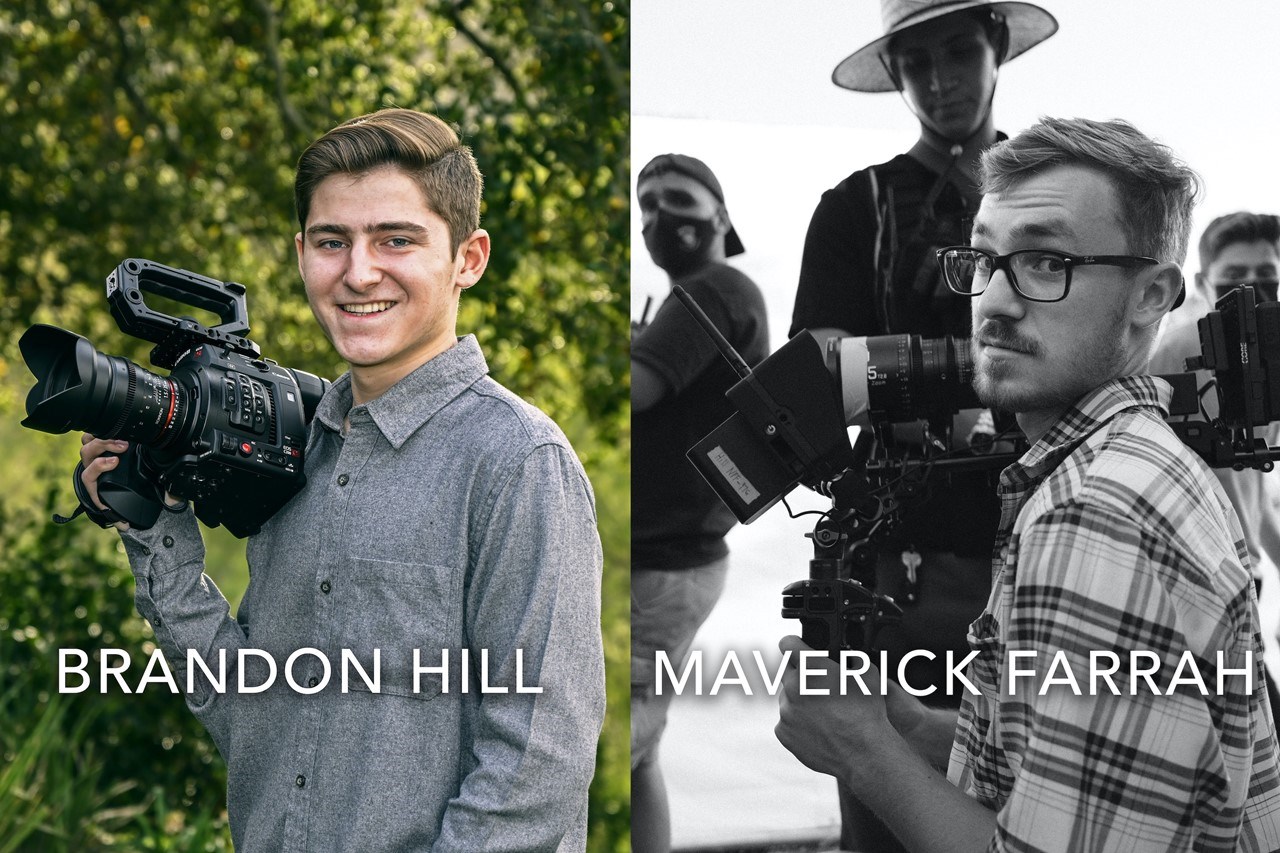 Brandon Hill and Maverick Farrah, Co-DirectorsBrandon Hill, with permission
The filmmakers
Brandon Hill, a junior in filmmaking at Chapman University, loves making both documentary and narrative films.
Maverick Farrah studies production at Loyola Marymount University: while he has worked on several narrative films, Sgt. Pushup is his first documentary.
Brandon, from Orange County, and Maverick, from Marietta, Georgia, met in 2018 at a summer filmmaking program at USC and have been working together since: luckily, they both live in LA now. "We always help each other out," Maverick said. Brandon added, "If we are shooting, and we're both available, we're on set together. It's great because we're always on the same wavelength."
Making the film
The filmmakers told MY HERO that they shot the film in just a day and spent another half-day doing interviews.
"Making the film together was great: we could shoot multi-cam—separately, which allowed us to do different forms of shooting, resulting in different coverage. We could catch life happening, capture the moment," Maverick said.
Both men did the cinematography and co-directed the film; Brandon did the editing.
Unlike narrative filmmaking, they said, there was no specific shot list or script: "With documentaries like this you had a plan, an idea, and then you show up," said Maverick.
"With a documentary, editing is everything: the script is written here," added Brandon. "You have to adapt to what is happening: be prepared in the ways you can, but remember that the story is the most important. When the story changes, you can only nudge it in the right direction."
Before closing the interview, we asked Brandon and Maverick if they had any advice for young filmmakers:
A lot of people talk about making a film, but you don't do it until you do. Just shoot it and keep going. In this industry, it's a matter of doing. Don't let planning get in the way of what you can accomplish. Don't get caught up with what you don't have: focus on what you do have. People will overlook bad audio or visuals before they overlook a bad story. People want a good story. Don't be afraid to make a mistake.
LINKS for more information:
SGT. PUSHUP | Helping Children One Pushup at a Time (Trailer)
Directed by: Brandon Hill, Maverick Farrah | Documentary | 2022 | United States
https://myhero.com/helping-children-one-pushup-at-a-time
Full Documentary - https://www.youtube.com/watch?v=ogEn72iqnRc
Sgt. Pushup - https://sgtpushup.com
Brandon Hill Films - www.bdhfilms.com